Are you working in a company or network where you have to share one file with different members at different places? Dropbox is program which is providing you a very best option for sharing files and folders. Technically we said that Drop box is an online cloud storage or backup service. One can use his/ her dropbox account on windows, android phone as well as iPhone. In computer it is available in software program while in mobile it is an application or app which you can download. So now you just have to learn that what is dropbox used for windows and android. Here I am telling you about how to share files and folders in dropbox in Urdu guide. This multi tasking program will make it easier to share one file or folder of any version or extension to different computers or you can say dropbox users. There is a specified server is working online for a dropbox that save your data online and keep a backup with your account you have login with it. So you can access your data at any place. Now just keep on reading to be familiar that how to share files and folders in dropbox in Urdu guide.
Things to Learn:
How to Install Dropbox
How to join a shared dropbox folder
How to upload a file in a shared dropbox folder
How to share a file from Dropbox folder to a non-dropbox user
How to send a dropbox link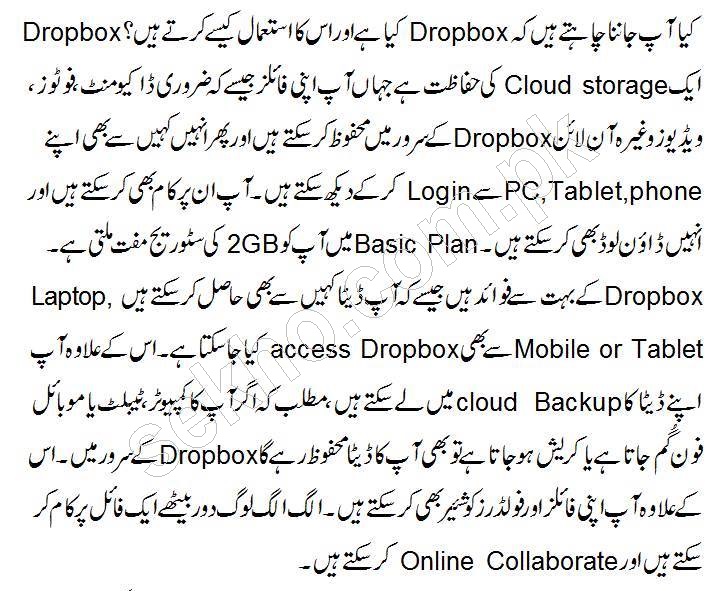 How to Install Dropbox In Urdu
To start sharing files and folders in dropbox you have to install the dropbox in computer or mobile. After downloading it you have to sign-in with it wit if you already have an account. In case you are new with it you have to click on the sign up button as shown in the below image.
Go to www.dropbox.com and download the app
Click on sign up for a new account and sign in for existing account
Complete all the installing steps and done it
A dropbox icon will comes on the desktop as well as it will also start showing in the task bar
 Join shared folder means that someone is already using dropbox and he or she want to add you in his folder. He will send you an invitation which is called as dropbox invitation. So for joining this invitation you have to do the following steps
Go to dropbox website by right click on the dropbox icon
Now a sharing option is showing on the left side of the page
When you click on sharing option a new page will open and you can see the invitation on this page
Just click on accept the invitation and that's it
Share Files and Folder in Dropbox In Urdu
So in this step you can learn how to share files and folders in dropbox in Urdu guide. This is very simple and easy as you just have to copy a folder from your computer and paste in dropbox folder. You can get further guide about it from the following Urdu tutorial.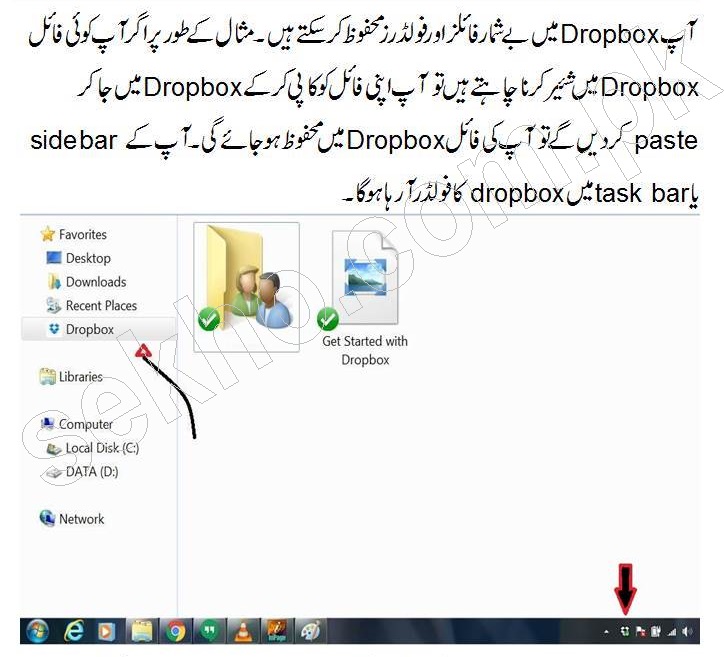 If you want to share some file with a user who don't have a dropbox installed or he is not sign in with dropbox. You have to open your dropbox website by right click on the dropbox icon. Now open that files which you want to share. In front of this file you will see an option to create a link. Click on it and now you can copy this link to send any one. The other can just see this file but he or she cannot edit it until he also install the dropbox.

So this is all about how to share files and folders in dropbox in Urdu guide. I think you are all well acquire with this process and can easily add or remove files and folders from Dropbox. But for getting any type of further guide about this topic you can send your query through the comments box below.