Ufone is offering Ufone Call Packages All Network to its customers. Ufone always provides interested call packages to its customers so that the cost will never come between two people who are habitual of making unlimited calls. Making calls with Ufone has become easy because the Ufone rates are cheaper than other networks. Furthermore, it has different call packages on the daily, weekly and monthly basis for its customers so that they can choose plans according to their desire. Through this post, you can check how to subscribe and unsubscribe Ufone Daily, weekly, Monthly Call packages 2019.
Ufone Call Packages  All Network
Ufone Users can choose the best call package from these Ufone Daily, Weekly and Monthly Call Packages to all networks. Through these packages, you will not only get free minutes for own network but also will get free minutes for other networks too.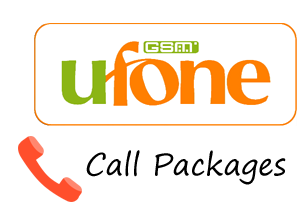 Ufone Daily Call Packages:
Ufone users can activate Ufone call packages 2019 for a daily basis and here below to this passage I am sharing the details of all hourly and 24 hours call bundle for Ufone. Ufone has more than one daily call packages so that their subscribers can choose the best package according to their need.
Package Name
Volume
Activation Charges
Validity
Activation Code
Ufone 3 Pe 3 Package
120 Free Minutes
RS 5
2 Hours
*343#
Ufone Power Hour Call Package
Free On-Net Minutes are 60
Free SMS 60
Free MBs 60
RS 6
1 Hour
*99#
Ufone Beyhisaab Offer
Unlimited Ufone Free Minutes
RS 10
1 Day
*5700#
Ufone Daily Pakistan Offer

100 Free On-Net Minutes, 10 MB Free Internet Data
RS 18
1 Day
*888#
Ufone Weekly Call Packages:
Ufone is also offering various Ufone Weekly Call Packages 2019 to its customers. All Ufone users can choose from three different weekly call packages which are designed for three different types of users. So the Ufone Call packages 2019 All network details are as follow.
Package Name
Volume
Price
Validity
Activation Code
Ufone Asli Chappar Phaar Offer
100 On-Net Minutes
100 Free SMS
1000 free MBs
RS 120
7 Days
*5050#
Ufone Weekly Pakistan Offer
700 Free On Net Minutes
100 MB
RS 100
7 Days
*8888#
Ufone Super Minutes Package
130 Minutes to All Network
RS 100
7 Days
*210#
Ufone Monthly Call Packages:
Ufone is also offering Ufone Monthly Call Packages 2019 to its customers. Now all Ufone users who want to make calls on a regular basis without subscribing any package on a daily basis can activate any of these monthly Ufone Call Packages 2019. the Packages details are as follow.
Package Name
Volume
Price
Validity
Activation Code
Ufone Monthly Pakistan
4000 Ufone Minutes
400 MB Internet
RS 418
30 Days
*8888#
Ufone Super Card 520
1000 Ufone Minutes
150 All network minutes
4000 SMS
1200 MB
RS 520
30 Days
*240#
These are the Daily, Weekly, and Monthly Ufone Call Packages 2019 all Network that a person can subscribe and enjoy unlimited calls. The packages activation codes and deactivation codes are also given in this post so check the complete details.