The article will give you complete guidence about ufone balance inquiry code. Ufone Balance Inquiry Code which is available on this website. Ufone is offering many services to its customers including basic services like remaining balance checking. Ufone is providing so many packages to its users at cheap rates. It is one of the big company in Pakistan with good coverage. But a lot of users don't know how to check their Ufone balance so in the article we share How To Check Ufone Balance. There are different ways to check the remaining balance by simply calling on the short number which is specified for getting information.
Ufone Balance Check Karne Ka Tarika
Ufone Users who want to check the Ufone Balance inquiry code. They can check by following the below steps. We are sharing the Balance checking code for the users. Ufone Balance inquiry code is *124#. 24 paisa will be deducted from your account every time you check your balance.
Dial: *124#
Charges: 24 paisa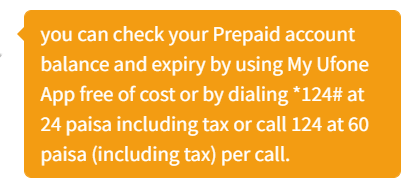 ufone balance check karne ka code
| | |
| --- | --- |
| Code | Price |
| Dial *124# | 24 Paisa |
| Call at 124 | 60 Paisa per call |
Ufone prepaid users can follow this procedure to check their remaining balance
The price and procedure are the same for all Ufone-activated packages
The company can change this code at any time
Standard taxes will be applied as per the terms and conditions of the Ufone company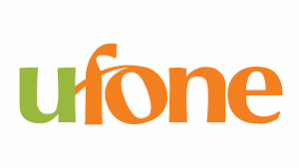 Balance Check Code Ufone Postpaid:
Unlock your mobile screen
through upside steps, you can avail of the Total bill date subscriber date to the last date
you can also get the Usage % of the credit limit
through this code, you can also get Minimum payment details for a top-up account to resume outgoing service.
Ufone Balance Save Code is also given here.

How to Check Ufone Balance Free:
If the users want to check the balance free of cost then install the Ufone app;
Visit the Google Play Store and search for 'My Ufone'. Download and install the app on your mobile device.
Once installed, open the My Ufone App.
Signup via your Ufone number and check the dashboard.
Charges for this Inquiry:
You can follow in order to check your balance. If you want to check the balance check without charges then follow this procedure because only 24 Paisa will be deducted from your account after checking the balance. All the Ufone users must have to know that every time you will check their balance some paisa will be deducted as the Balance inquiry fee which I also have mentioned above too.
Also visit,
How to Check Remaining Minutes in Ufone
How To Check Ufone Balance Online:
Ufone facilitates their customer to launch their app through which you can check Ufone Balance online without charges. Android users can download the Ufone Android app from the Google Play Store and install it on their mobile phones. if you are using a first-time mobile app then you sign up with your mobile number and email, and after that, you sign in to the Mobile app.
after that, you go to the mobile app home page where you find usage click on it and after that, you find the mobile Balance option.