Whatsapp has become one of the most use full and use too socializing application on android phones these days. This is very easier and convenient way to send and receive photos and photos. But generally people use only a single whatsapp account on a single mobile while it is informed you that now you can use two whatsapp accounts on a single mobile phone. Here I am telling you the way that how to use multiple whatsapp accounts on android in Urdu. Well there are two ways through which you can install and run two whatsapp accounts on your single mobile phone. In these two ways one way is through a third party application while the second option is about some settings which you have to make in your mobile SD card by making a data backup. These days almost each mobile phone is of dual sim with 3G and 4G networks but once you have download whatsapp once it will not allowed you to install a new whatsapp beside one account. So now what you have to do is to keep on reading this post where you will get complete procedure about how to use multiple whatsapp accounts on android in Urdu.
How To Use Multiple Whatsapp Accounts On Android In Urdu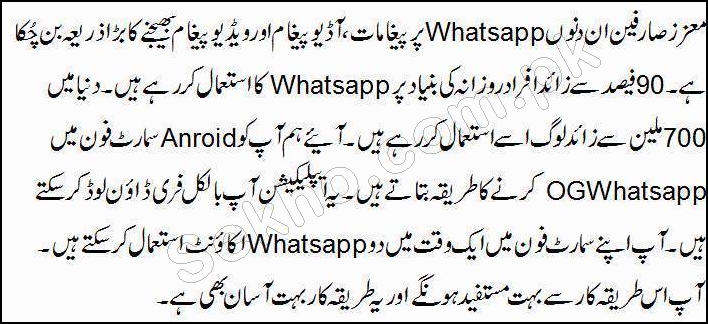 Method No 1
Go to whatsapp settings and create a backup for your conversations in your memory card
Now go to PlayStore and go to my apps and games. Open whatsapp here and tap on clear data
After clearing your data you have to go to your SD card and change the name of your whatsapp folder with the name as OGWhatsapp
Now install OG whatsapp application in your mobile phone after deleting the whatsapp from your mobile
Now enter your old mobile phone number and all of your data will be uploaded on your OG whatsapp account
Now you can again download and install whatsapp application for a new account that is your primary account

Second Method
The second way is about to downloading and installing the third party application called as Parallel Space. Through this application you can use any application with 2 different accounts. When you have installed the parallel space in your mobile it will show duplicate app of all those apps which are already installed in mobile. Now here you can use one more account with not only whatsapp but also you can make two accounts for any of your other application like Facebook, Skype and Gmail as shown and written below.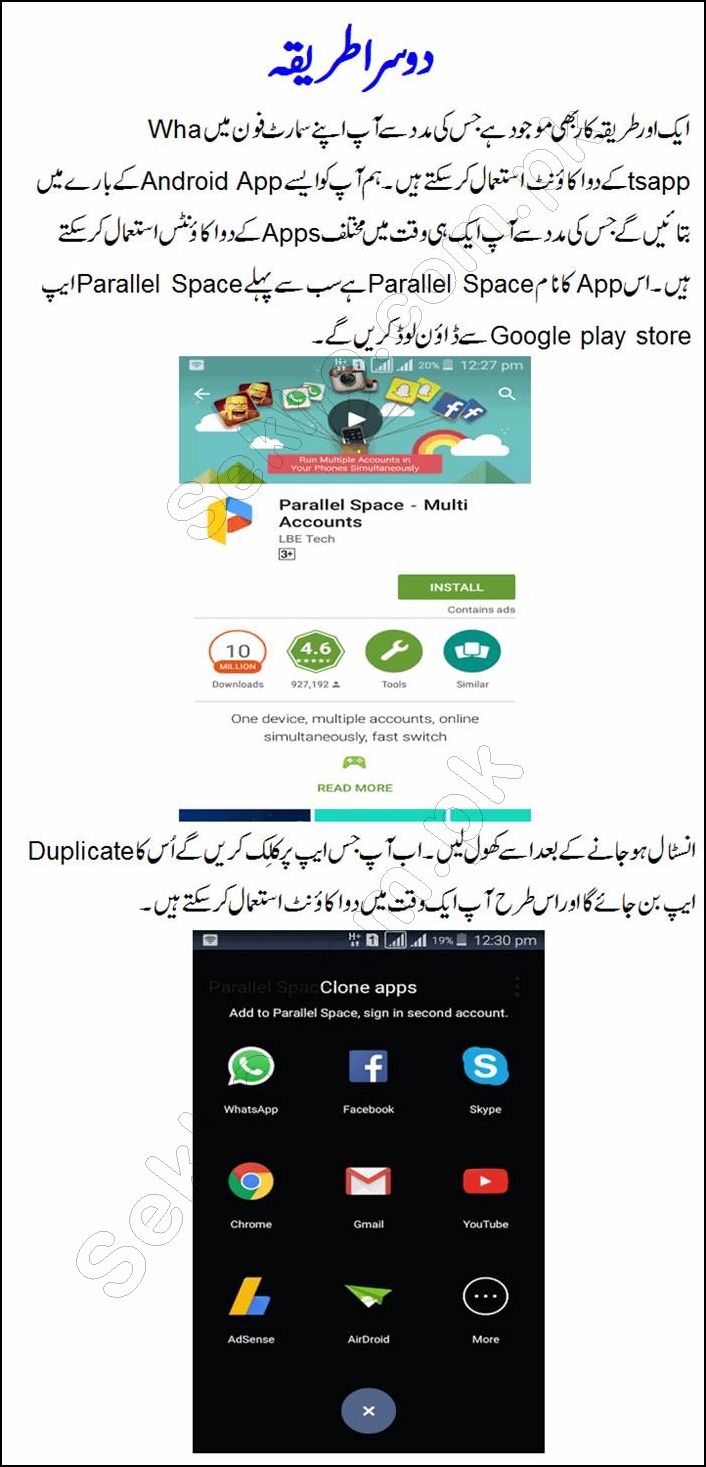 Hence this is all about How to use multiple whatsapp accounts on android in Urdu. Hope fully you are all now fully aware with both these methods but in case you have any confusion or query in your mind set relating to this post you can ask me via comment section below of this passage and we will reply you as soon as possible.