Your computer is running slower? Don't get worry about it because there are some process and functions which if you make you habit your computer will never go slow. You must have noticed that when we install a new and fresh window in our computer it performs smoothly gives a good speed. But with the passage of time when we have installed many software and programs in it, it starts running slow. It never means that your computer becomes useless. Of course computer is a machine and window is an operating system that is actually making this machine use full for human beings. So whenever a computer functioning slower it means that your computer window needs to get fresh once. Here we are telling you about how to speed up computer window. You just need to have basic computer knowledge and this function is very simple and easy which anyone can adopt to boost the window speed in computer or laptop. Read the below written method about how to make computer faster window in Urdu tips.
10 Tips to Increase Computer Speed
Discover Resources Hungry Programs
Delete System Temporary Files
Disk Defragmentation
Closing System Tray Programs
Disabling Startup Programs
Reducing Animations
Lighten Web Browser
Scanning System for Malware and Adware
Uninstalling Unused Programs
Resetting PC or Reinstalling Windows
How To Make Computer Faster Window In Urdu Tips

Discovery Resources Hungry Programs
Resources programs are those programs which you have recently open in your computer and you have closed them. Sometimes there are many programs which keep on running on the backend of your front screen. So you have to regularly close these programs which are consuming the RAM of your computer. Process to close the start up task manger program is written in Urdu below.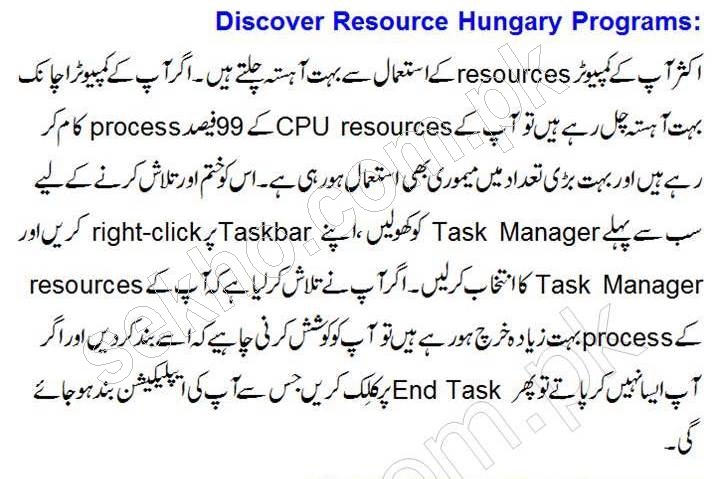 Delete System Temporary Files
Temporary files generate after even a single click or when we open any program, page or file it generate temporary files on RAM and ROM. These temporary files are totally useless for us but they consume system speed and slower the computer speed. Sometimes these temporary files harm or corrupt window. You can delete the temporary files by following tips written below.
Press "window Button" plus "R" together to open the run box
In run box you have to type "%temp% and press enter button
A new box will open with temporary files. Select all and delete all files. Sometimes some files don't deleted because these are temporary files for run box and or the program you are currently using.
Disk Defragmentation
With continuously using computer, the hard disks fragment the space and files that harm your hard drive speed. So you have to open start up menu and search for disk defragment. A new window will open which will have an option for defragmentation.
Closing System Tray Programs
When we minimize different files without closing they go in to the system tray but they keep on running in the back end of computer and slower the speed. So must close these files…

Disabling Startup Programs
Many times we have seen that when we start our computer some program start automatically running at start up. These are really power consuming and irritating programs. You can permanently close these programs by following the method written below.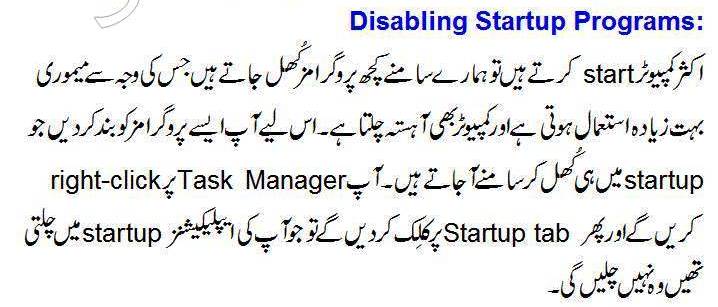 Reducing Animation
As we are discussing about how to make computer faster windows in Urdu tips, so this tip is also important for improving the speed which is known as reducing the animation. Animations are also powerful feature that reduce the speed and slower the window. You can speed up your windows by reducing animation.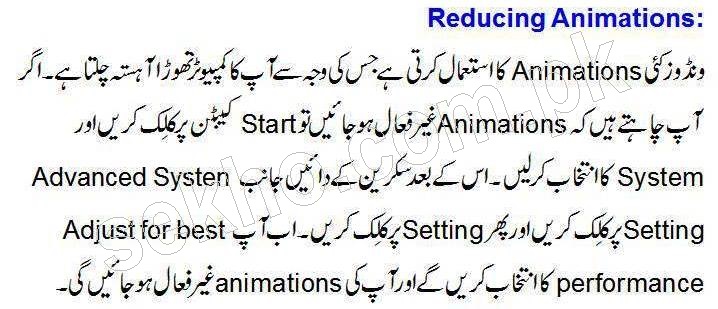 Lighten Web Browser
Try to use one browser in your computer but mostly people use to install Chrome and Firefox as well as Opera Mini at one time. When you open all these browsers at same time, it directly affects the speed of your computer. So you can increase the computer window speed by lighten web browser.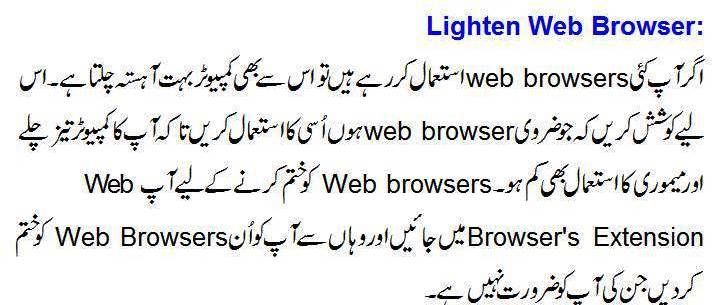 Scanning System for Malware and Adware
Malware and Adware are viruses in your computer. These are harmful files and programs which perform the main role for slower computer windows. So there are different antivirus programs which can be downloading and install in computer to scan the computer for virus.

Un-Install Un-Used Programs
Many times we keep on installing games, software, programs and many other use less programs and keep them saved in computer without un-installing them. These programs affect the window speed and your computer gone slower.
Resetting Window or Reinstalling Windows
Resetting or repair the windows or re-installing the windows is the last option for you to fresh up the window. When you are learning about how to make computer faster windows in Urdu tips, you can also adopt this tip to boost the computer speed.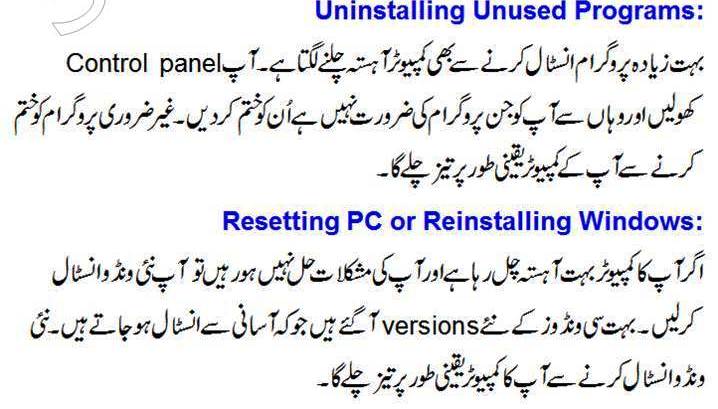 So these are the very important and use to tips for faster the speed up of your computer speed. Hope you have learned all about how to make computer faster windows in Urdu tips. But if you have any other problem and still your computer speed is not increased then share your problem with us we will tell you a better solution that will keep you away from any fraud from shop keepers.