There are some people who prefers to use a mobile phone in Urdu language instead of English. So here I am telling you about how to install Urdu language in android mobile phone. Before going towards the method I would like to discuss some important and informative things about to Install Urdu keyboard in mobile phone. Well first of all you are informed that the Android or any IOS or other mobile phones comes in United States U.S. English by default. There are so many countries in this world so the people there can select an input method according to their country or verbal communication. Mobile phone has become smart phone due to its usage of ease with lots of convenient tools and apps. Almost every mobile is coming with different languages and one can select a language as per the desire. This is the reason now you have no need to download and install any third party software, application or tool into your phone for writing in Urdu in Android Phone. Now keep on reading this topic about how to install Urdu language in android mobile phone and get change your mobile typing language.
Every mobile phone have the built in option for Urdu typing but if you are using an android phone in which urdu is not already available then you can follow the following option to install Urdu language in android mobile phone.
Go to mobile Settings
Now select the input and keyboard settings
Here you will see different options
Select the language option
In languages you will see different options of lanuage
Look for the Urdu lanauge there and select it
If Urdu is not already available in this list then you can tap on more lanauges option
In more langaues you can download online Urdu lanauge
So when Urdu lanague is downloaded now again repeat the above method and select Urdu from the language and input list
How To Install Urdu Language In Android Mobile Phone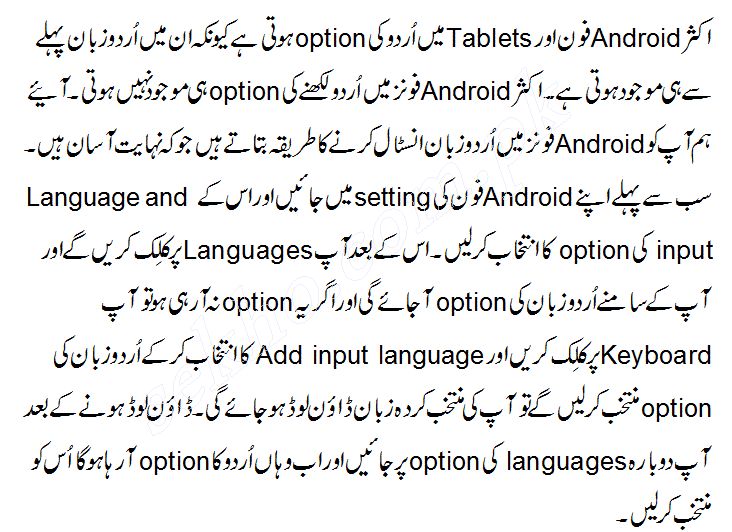 Through the process you can also use WhatsApp in Urdu. This is the complete method about how to intall urdu language in android mobile phone. Hope you have understand all the method and ready to convert mobile english to urdu langaue.