Are you a Photoshop master or you are newly learned Photoshop? As we can write English in Photoshop easily but do you know that we can also write Urdu in adobe Photoshop? Yes of course! The procedure is very simple and easy but you have to read this entire post and follow each step simultaneously. After reading this post you will learn about how to write Urdu in Photoshop 7.0, cs6 or latest versions. Method is written below to this informative passage. Adobe photo shop is the only software which is using at initially professional level for editing a photo. Most of the times we have to write in Urdu above the picture so in that case some people write Urdu in other software like in In-page and then make a picture and paste this picture in front of the editing picture. But now after this method you can easily write in Urdu. So keep on reading this post to get the method about how to write in Urdu in Photoshop 7.0, CS6.
How to Write Urdu In Photoshop 7.0, CS6
Install Google Input Tool and select Urdu as your primary language
In Photoshop select middle eastern feature
Go type and select middle eastern as your language
Click on add tool
Type from keyboard and it will be written in Urdu
Google Input Tool
Google input tool is a third party software. Go to Google chrome or any of your internet browser and type Google input tool. Open the official website and select "On Window" and then you have to check the Urdu language and download it. When you download Google input tool and install it, a new option (EN) will appear on the bottom right corner of your task bar. When you move your cursor on the EN option there you will see two options for English and Urdu. If you choose Urdu everywhere in typing software like Photoshop or MS world, it will be write in Urdu.
Middle Eastern Language In Photoshop
Now option your Photoshop page and click on the "Edit" tool from the top given tools
Now you have to click on the "reference" option which is in the last of the list
Click on the "type" option
A popup box will be open where you have to select the "middle eastern" and then click on the right side "Ok" button
Now "Exit" The Photoshop
Reopen the Photoshop page
Go to "Type" tool on the top of the page
In type options you have to click on the "Language options" and click on "Middle Eastern Features"
Now from the right corner of "EN" option select Urdu
It is writing in Urdu now in your Photoshop. You can also read this method in Urdu about how to write Urdu in Photoshop 7.0, CS 6 or later version…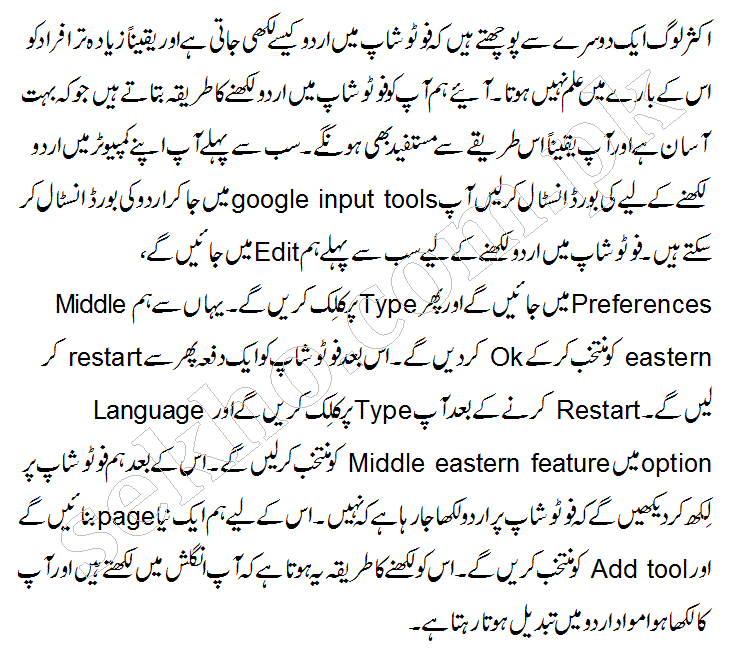 So this is all the procedure about how to write Urdu in Photoshop 7.0, CS6. Hopefully you are all now well aware with writing Urdu in Photoshop with or without in page. If you have still any confusion or query in your mind relating to this method you can send your FAQs to us in the following comments box below.