Here you will get the Russian salad recipe in Urdu by Chef Zakir. But before going towards the method I would like to make you familiar with what is Russian salad means. It is actually a traditional dish of Russian people who use to eat boiling fruits and vegetables. This style of salad is been liking not only in Russian but also in other eastern European Middle Eastern countries. The reason is there are so many health benefits of Russian salad are available for a human body. moreover this is not a bounded recipe such as you are not only limited with fruits or vegetables but you can use any eating and boiling material in it such as you can also make a chicken Russian salad instead of vegetable or fruit you can also make a mixture of all things which is a new variation in this recipe. In Pakistan famous Chef Zakir has present a very different method for making Russian salad. Keep on reading this post to get the Russian salad recipe in Urdu by Chef Zakir.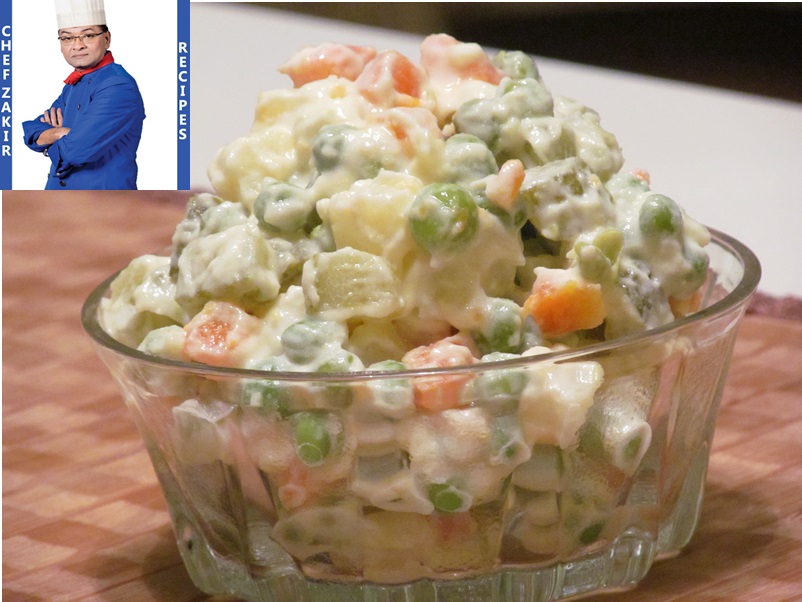 Ingredients
1 Cup mayonnaise salad
2 Apple
1 Cup Boil Peas
1 Tea Spoon white chili
3 boil potatoes
3 boil carrots
Salt as per taste
Note: Try to use fresh ingredients for getting better taste
Russian Salad Recipe In Urdu By Chef Zakir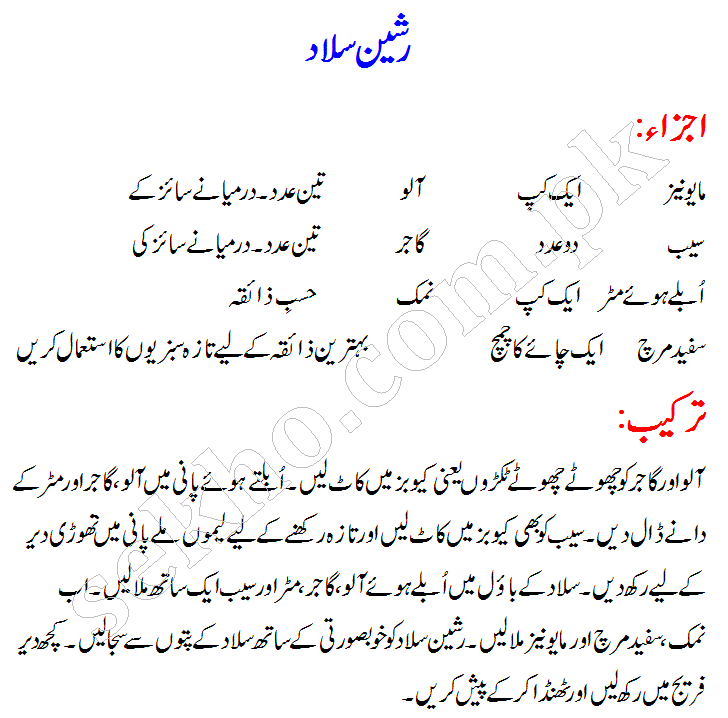 Russian Salad Recipe In English
Cut the carrot and potatoes in equal size small cubes. Now put these cubes and peas into boiling water. Cut the apple in small cubes and dip it into lemon water to give a taste and to keep apple fresh. Now take a bowl and put all these cutting cubes in it and add salt in it according to your taste. Also add mayonnaise in this material and mix all the things together with hands (recommended). Wear gloves on hands so that you're salad could be pure and healthy and free of germs as well as you hands will also keep clean. Our tasty Russian salad is ready to present now place this salad bowl into frig for some time and then you can present after garnishing and toping with different concepts you like. So this was the Russian Salad recipe in Urdu by Chef Zakir.