Here I have assembled the health benefits of fruits and vegetables in Urdu. Anything which is natural and we use them in their original natural form is more suitable then of those things which are transformed such as eating apples are more benefitted then of the apple juice in box available at shop. God has placed a lot of benefits in the form of vitamins and minerals in every vegetable and fruit of every season but it's on us that how we are taking these vegetables and fruits according to our body needs. Moreover these abundant are also medically suitable in various diseases to take a natural medication about a specified disease. So the purpose for writing this post is to make you aware with the benefits and doses of fruits and vegetables about to increase your health. Medical said that taking an apple in breakfast keep us away from various skin and blood diseases. Similarly in order to fulfill the lake of blood in our body we doctors suggest to take pomegranates and to increase the health of our bones and to build up the calcium level in our body we use to eat banana. Similarly there are various other fruits which are beneficial for us in different types of health problems which are discussed in Urdu of this passage.
Health Benefits Of Fruits And Vegetables In Urdu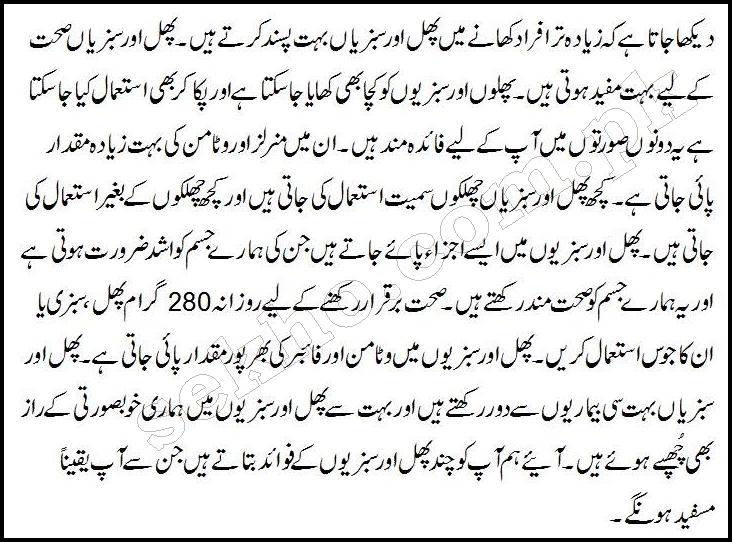 Benefits of Some Fruits
Apple is beneficial to stop risk of cancer and diabetes which is most increasing diseases these days in Pakistan
Banana is best for growing calcium level in our body to stronger our bones
Oranges and Grapefruit are so beneficial for skin issues and to reduce fat
Mangos are beneficial to increase body weight
Pomegranate is suitable to innate blood and to refine the blood from harmful cells
Benefits of Some Vegetables
Carrot and cucumber are the most beneficial vegetables to innate blood and to reduce skin problems
Pumpkin and apple gourd are beneficial for piles, stomach burning problems
Spinach and other green like vegetables are beneficial for our digestive system
Coil and beet are so important for increasing mental health and memory and also to innate new fresh and pure blood
In order to get more health benefits of fruits and vegetables in Urdu, keep on reading the below shown image. You can click on the image shown below to make it bigger so that you can read it clearly.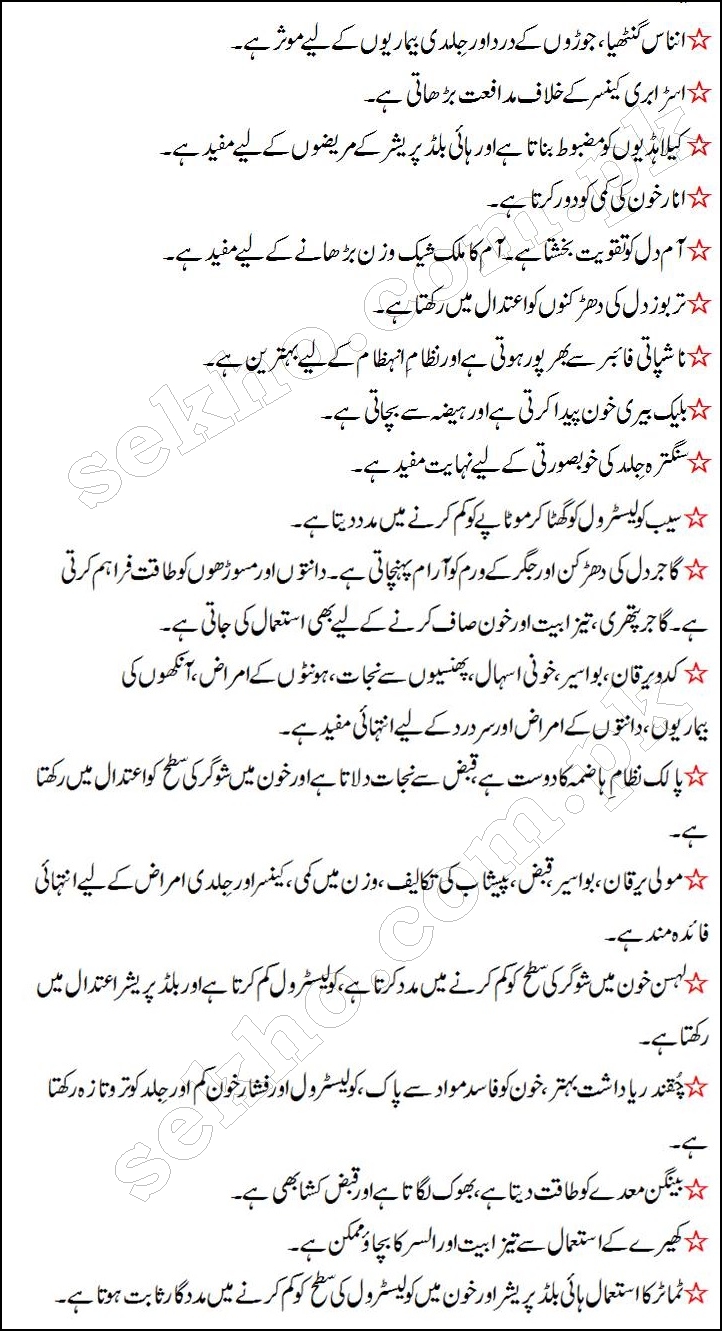 Health is very important for living a happy life and there is no any other way to keep a healthy lifestyle except fruits and vegetables. So we must use to make this as our habit to use fruits and vegetables in our breakfast, lunch and dinner. Moreover if you have any further knowledge about the use of fruits and vegetables in our life you can share with us through the comments in the below comment  box.