Here I am telling you about the homemade cappuccino recipe at home without Machine in Urdu. The procedure will help you out about how to make the perfect cappuccino at home with Nescafe and or beans. This is very easier to understand and apply for each and every one without having a machine. Most of the homes don't have a machine but what it means? You cannot enjoy a cappuccino at home? Not at all… after reading this entire post you will learn some very easier steps that will make you familiar with the complete method how to make cappuccino at home without machine. Well cappuccino is a type of coffee that is made up with espresso and milk that has been frothed up with pressurized steam and in a machine this function is automatic but in case you don't have a machine you have to manually create steam.
Cappuccino Recipe At Home Without Machine In Urdu
Heat Milk until bubbles popped up on the surface of milk but don't heat the milk to simmer form
Now off your burner and add mashed milk cream in milk (quantity is written in below passage) and mix it with mixer until the milk and cream turned into a but thick foam position, you can add chocolate in this steamed milk and cream foam to add a taste
Now you have to make coffee according to your regular way and add this milk-cream-chocolate foam in the coffee and let them on the burner for 50 seconds
Now you can enjoy your cappuccino at home without a machine
Homemade Cappuccino Recipe At Home Without Machine In Urdu Is Written Down For The Nescafe as well as The Beans Method! So Enjoy It 🙂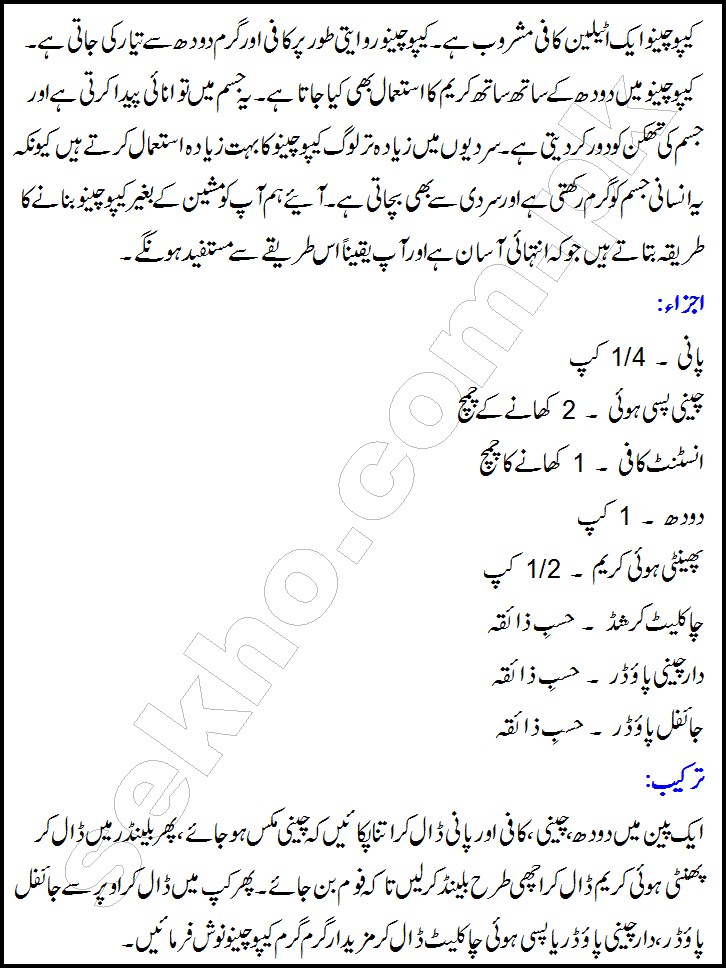 What is A Coffee and A Cappuccino Coffee Recipe?
Homemade cappuccino recipe at home without machine is not just like a Nescafe you made at home. There is a minor difference in both of these. Well, these days there are some companies which are selling ready-made cappuccino powder which has made much easier to it but that is not actually a real cappuccino because until you don't have steamed and frothed milk your coffee will not be called a cappuccino ant that is a basic difference between a coffee and a cappuccino. So keep on reading this post to get step by step procedure for cappuccino recipe at home without a machine in Urdu.
Cappuccino coffee is a good drink in winter to keep our body temperature hot and balanced with the season. Moreover, it is also good for those who are fatty and want to lose their weight. It is also good for the food digestion when we are not walking enough. This is all about cappuccino recipe at home without machine in Urdu.