Here today I am going to discuss a very interesting and common search by the users about how to write Whatsapp status in Urdu. These days whatsapp is one of the most use full and convenient mobile application that allows us to send, receive and share pictures, audio, videos as well as we can also make an audio and video live calls to anyone who is even in contact list or not. Well by default whatsapp is available in US English. But there are so many users who want to use whatsapp in Urdu. If you are also among these peoples then here we are telling you very easy procedure that will convert whatsapp in Urdu language without installing any outsource application or software. Well before going towards this method I would like to mention one important thing which is; must remember that whatsapp does not allows to change language settings so one has to choose any language from the mobile's keyboard setting and input methods. Keep on reading this post to get about how to write whatsapp status in Urdu in android and IOS.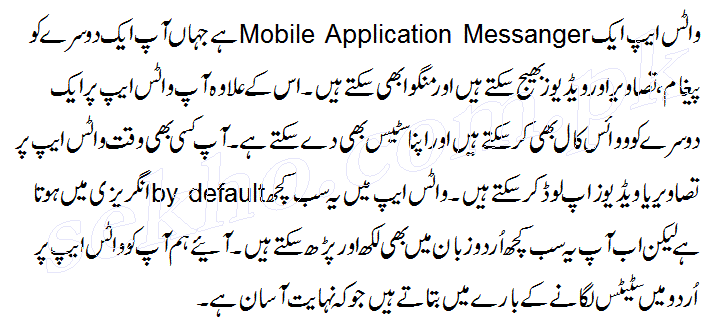 How to Write Whatsapp Status In Urdu?
Open your mobile setting (not whatsapp settings)
Now from your mobile settings select the keyboard and input settings
Tap on language setting
Here you will find a list of different languages including Urdu just select the Urdu and close the settings
But if Urdu is not already listed in that list then you can choose the option of add more languages
In add more languages you can search for Urdu and download it into your mobile
Now again go the mobile settings and from language and keyboard select the Urdu from the list
Open the whatsapp and go the whatsapp status and tap in writing box for typing your status
While you are going to type your whatsapp status you have to tap and hold on space button and move forwards this button without releasing it. You will see Urdu language under your thumb. Just release the thumb after selecting the Urdu
Your mobile keyboard will be converted into Urdu and now whatever your type will be in Urdu.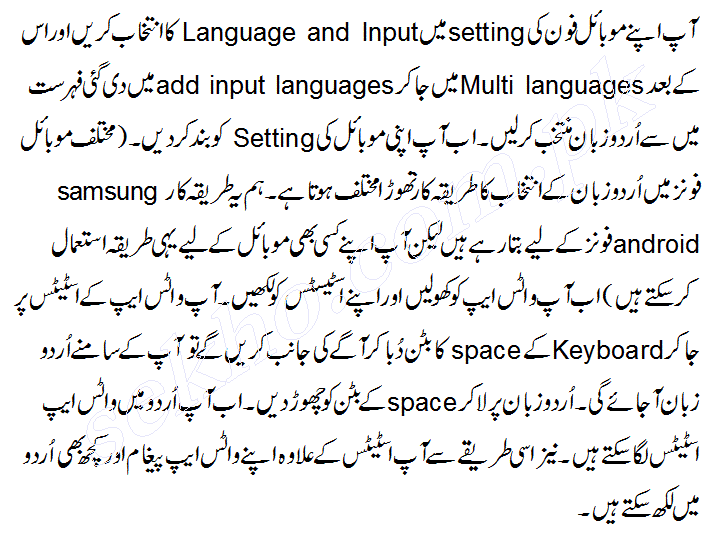 How to Use Two Whatsapp Accounts on One Mobile
So this is the complete and easier method about how to write whatsapp status in Urdu in android and IOS mobile phones. If you have any confusion or question in your mind relating to this post you can send your comment to me through the comments section. While if you have suggestion about this post you can also add that in the comment box.