In this post, you are getting the Zong Whatsapp Package 2022 Monthly, Weekly, Daily then you choose the right place. Due to the rise in the use of Whatsapp, Zong has introduced Zong Whatsapp Packages. Zong is the best 4G internet provider and mobile network in Pakistan. The main purpose of preparing these packages is to provide customers with a customized package in which they can only use Zong WhatsApp, thus not wasting their money on purchasing a complete internet package if their only use is Whatsapp. As a result, you will only be paid for the MBs you consume on WhatsApp and not for any other streaming.
Zong Whatsapp Package 2022
Zong has introduced the Zong WhatsApp Plus Offer Activation Code, Unsubscribe. The package prices are given on the following page so that you can check the Zong Whatsapp Packages 2022. All the details of these packages are mentioned, including how to subscribe to the Zong Whatsapp package.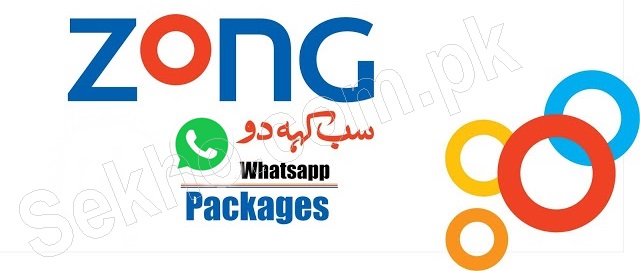 Zong WhatsApp Package Monthly Code:
Zong is offering Zong Monthly Whatsapp offer 2022 to its customers. It is also offering a WhatsApp Plus package that offers you minutes along with WhatsApp MBs.  These are one of the best Zong Whatsapp Packages in 2022. The details about these packages are below.
Package Name:Zong Monthly WhatsApp Package
Data :5GB Internet for WhatsApp
Price: Rs.62.00 + tax
Code: Dial *247#
Remaining MBs: Dial *102#
In Zong WhatsApp offer, you can enjoy audio and video calling, chats, images, and video sharing plus downloading from Whatsapp.
Zong Whatsapp Package 2022 Activate:
Zong is not offering specific Zong Daily Whatsapp Package 2022 but it is offering Zong Social packs to its customers. You can check daily social packages in which you can use free Whatsapp, Facebook, and Twitter.
Package Name:Zong Daily Whatsapp Package
Data :1 MB Internet and 30 MB whatsapp
Price: Rs.7.00 + tax
Code: Dial *700#
Remaining MBs: Dial *102#
Zong Whatsapp Package Weekly Code:
When you subscribe to Zong internet packages, you pay for the whole usage of your data for browsers and other applications, but when you subscribe to a Zong Social package, you only pay for the MBs for WhatsApp, and you can only consume the MBs for WhatsApp, but not for other applications or browsers. Keep on reading this post to get the Zong WhatsApp package subscription and unsubscribe procedure.
Package Name:Zong Whatsapp Package Weekly
Data : 200MB whatsapp
Price: Rs.29.00 + tax
Code: Dial *102#
SMS : 1300
How to Activate Zong Whatsapp Package 2022:
Zong customers can also check How to Activate Zong Whatsapp Package 2022 by dialing its Activation code. The procedure for activating the Zong internet package for Whatsapp usage and you can activate it by following this method.
Go to call dialer
Dial *6464#
Select the daily or monthly Zong Whatsapp package
How to Unsubscribe Zong WhatsApp Offer:
After activating the offer, if you want to unsubscribe from any offer, then the procedure is very simple. You just have to send an SMS by following the procedure that is given below.
Type unsub
Send it to 6464
You will receive an offer unsubscription code
Terms and Conditions
Charges are inclusive of tax which is 14% WHT
The package will be automatically ended after completing 24 hours
The package will automatically renew
When the package has been consumed before the given duration the charges per 1 MB will be applied as per the basic package
Sim usage without Biometric verification is a crime
Also, check Zong Social package 2022.
FAQs
What is the Zong WhatsApp bundle?
Zong Monthly Whatsapp Offer:
Volume: 4GB Whatsapp
Price: Rs.38+tax
Validity: 30 days
Subscription Code: *247# and subscribe
How unsubscribe Zong monthly WhatsApp package?
Dial *247# and type "2" and send it to unsubscribe from the offer. You can also unsubscribe by sending a message of UNSUB to 6464.
How can I use WhatsApp for free?
After subscribing to the Zong Monthly Whatsapp offer, you can use the features like audio calls or video calls for free.
How can I check my current Zong package?
Dial *310# to check your current Zong package.
So these are the Zong WhatsApp Plus Offer Activation Code, Unsubscribe. You can add your suggestions and comments in the following comments box to suggest to others which Zong 4G package is the best for normal usage.
Save