The company just started a monthly Zong WhatsApp Plus Offer Code 2023, which makes it easier to stay in touch with friends, family, and coworkers. For 30 days, you'll have 5 gigabytes of storage room on WhatsApp. Because of this fantastic deal, Zong customers can stay in touch with their family and friends no matter where they go. This deal is open to anyone who signs up for prepaid or regular service. It's easy to take advantage of the offer, and the benefits last for the whole month that the calendar is up. To get the deal, users must dial *4000#. Here below you can find the complete information regarding Zong monthly plus offer code and subscription in detail.
Zong WhatsApp Plus Offer Code 2023
The package includes 5 GB of data, which can be used for WhatsApp and IMO, 200 text messages, 200 minutes on-net, and 30 minutes off-net. Because of this, people can talk to their friends, family, and coworkers without worrying about spending more money.
Zong WhatsApp Plus Offer Code 2023 Code & Details
| | | | |
| --- | --- | --- | --- |
| Charges | Data | Remaining Check Code | Subscription Code |
| Rs.220 | 5GB (WA+IMO)+30 Off-net Mins+200 Zong Mins+200 SMS | *102#(10 Paisa+Tax per inquiry) | *4000# |
What does the Monthly WhatsApp Plus offer give you?
The best thing about WhatsApp Plus is, without question, that the monthly subscription is very cheap. This deal gives you one entire month of service for just Rs. 220 every month.
This offer is perfect if you want to use WhatsApp for 30 days without worrying about losing your link. You can get 5 GB of internet data (WhatsApp, IMO), 200 SMS texts, 30 off-net minutes, and 200 on-net minutes for just Rs. 220. IMO and WhatsApp are also free for you to use. You can text and call your best friends and family as often.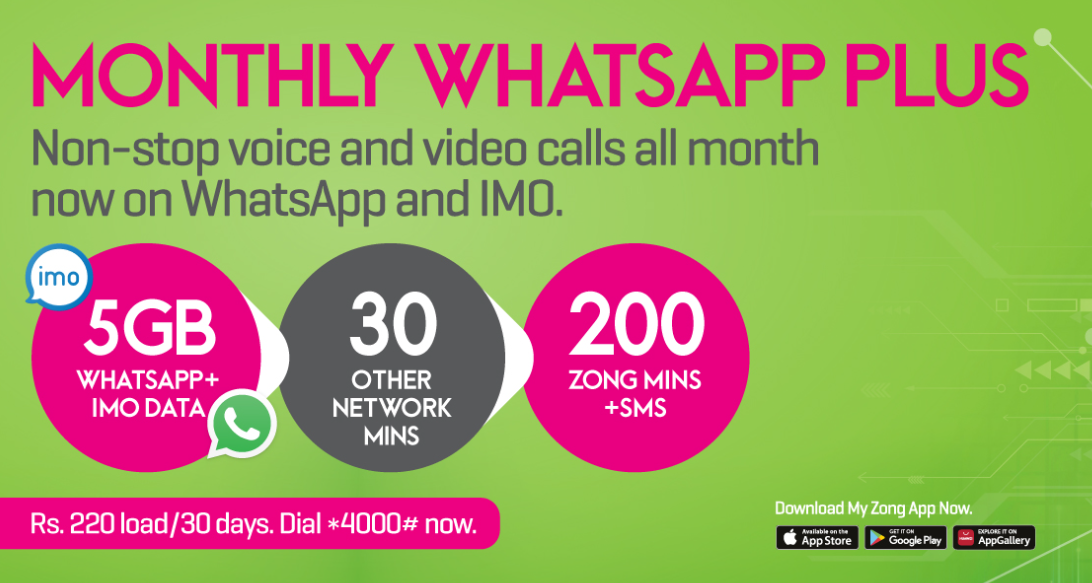 Zong WhatsApp Plus Offer Check Code 2023:
Everyone wants to know how much data they use and how fast they use it. Here is a guide to help customers determine how much product is left in their order.
Just type *102# on your cell phone's keypad. In a pop-up box, you can see how much data you can access and when it will disappear.
How do You Subscribe Whatsapp's 5 GB Monthly Offer?
If you want to maximize this chance, please consider these rules. Follow below mentioned instructions step by step:
Call *4000# on your phone, and the job will be done quickly and easily. Soon, a message with a verification code to set up your account will be sent to your mailbox.
Second, the MyZong app works with Apple's iPhone, Android, and other devices that use different running systems.
Enter the number on your Zong SIM card to sign up. Keep an eye out for the Whatsapp Monthly Plus offer to start. Once you've found it, click "Subscribe."
Please go to www.zong.com.pk, which is the leading website for Zong. Just use the phone number you entered with Zong 3G/4G that can connect to the Internet to look for the deal that interests you. The right time has come to press the button.
A verification message will soon be sent to the phone number you provided. Whoever wants to participate in the Whatsapp offer is told to answer with the number "1."
Terms and Conditions to know
The price of each megabyte of data not included in your plan is Rs 1 + VAT. For this offer, there is no difference between regular Zong sims and prepaid Zong sims.
Only Prepaid Zong users can take advantage of this offer while it lasts, which is only for a short time.
SIM cards can only be used if they are linked to your CNIC-PTA and given to you after you have gone through a biometric identification process.
A 15% Advance Income Tax (AIT) rate will be added to all amounts charged.
The current government sales tax rate is 19.5%, and states with it must pay it.
If you decide to use this WhatsApp Plus plan, the 19.5% Goods and Services Tax (GST) will be added to the plan's total cost.
How much does Zong's Whatsapp+ service cost each month?
This deal will cost you Rs. 220 for 30 days. You must sign up for the deal again after the time limit.
What is the subscription code?
You can sign up for this deal by calling *4000#.
 Zong WhatsApp Plus Offer Code 2023 is an excellent choice for people who use WhatsApp and want to find ways to save money. The users can use it monthly without worrying about internet costs.