Flash SMS is next step technology which is very useful in busy life. In the busy life people usually have less time to open an important message or receive an important call during their busy schedule especially during driving. Sometimes they miss important messages from their beloved ones due to busy schedule. For these types of busy users, android has introduced a latest technology in Pakistan which is Flash SMS. But for this time the matter is how to send flash SMS from android mobile in Pakistan. Flash Message is a simple type of message in which a person has not to open his phone lock or even his inbox to check the message. This is one of the easiest ways to convey important message to anyone. When someone forwards a flash message, message will directly appear on the screen of the mobile so that the receiver can read the massage immediately and come to know about the circumstance. Flash SMS has also many other benefits too, like SMS will not save in receivers phone until he choose save SMs. SMS doesn't go directly in the inbox and appears on the screen. Moreover message will disappear when you press back key or end key. If you want to learn, how to send flash SMS from android in Pakistan than you can check below instructions.
How To Send Flash SMS From Android Mobile In Pakistan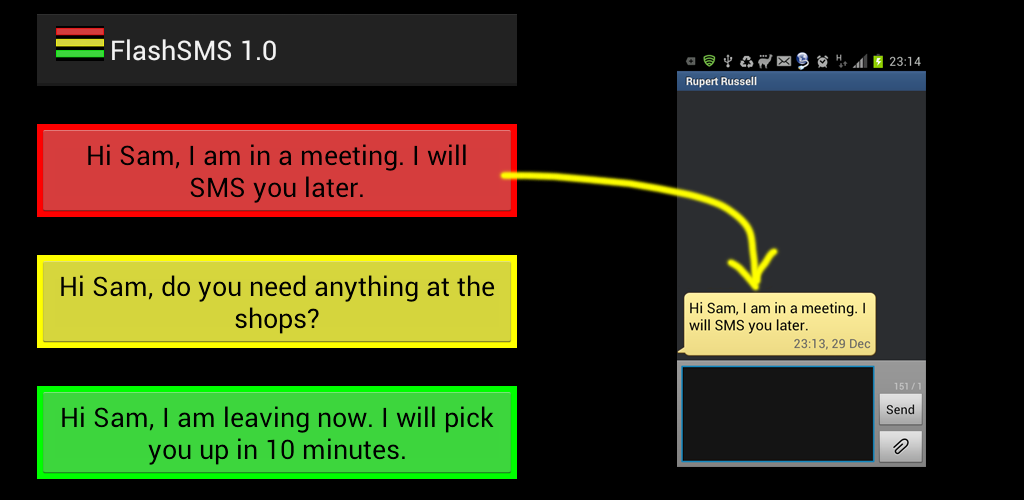 How to Send Flash SMS:
Type your message by going into write message option
Choose sending option
Choose send SMS as Flash SMS
Enter Receiver's phone Number
Send
(When your message will displayed by the receiver, you will get a delivery message too)
This method is for old versions of Android and some Nokia phones. In case, if you have upgraded your android version to the latest version, than you are unable to send flash Sms directly from your android in Pakistan. For latest versions, you have to download any flash SMS app from your play store to send flash SMS.
So this is the method about how to send flash SMS from android mobile in Pakistan. You can enjoy this amazing functionality in your android phone. Add your comment in the following comment box!