WordPress is a famous blogging tool which is been using to design and manage a website. When you bought a website's domain or you have created a blog you are required a graphical interface such as a theme and a Content Management System (CMS). You just have to install WordPress on your website or domain and then you will be able to work on your website properly. Until you have not installed WordPress your website is nothing because you cannot edit, design or upload anything on it. So here this post is providing you a complete tutorial for how to install wordpress step by step guide in Urdu. Well before going towards the tutorial I would like to mention here, that your website hosting server is just used to serves the HTTP files but it never manage or design your website's arrangements. It is only proved you through the wordpress which is a prepared platform for designing and publishing the data you want to deliver to your visitors. Keep on reading to get those details about how to install WordPress step by step guide in Urdu.
How to Install WordPress Step By Step Guide In Urdu
What is WordPress
How to Install WordPress
Upload WordPress with Filezilla
Creating My SQL Database
Connect your Database with the WordPress Files
Change Wp-Config File Name
Create Username and Password for your wordpress website
What is WordPress?
It is an online website management tool that provides you a layout. Through this tool we can design theme of our website which is called as graphical interface designing. We can also write and upload written material on our website which is called as Content Management System (CMS). WordPress is designed in PHP language but you have option to choose your own language which you can easily understand. It provide a platform where you can create a free website on wordpress.

Why We Choose WordPress for Our Website
There are different plate forms through which we can run a website but we WordPress is the most easier and friendly tool. It consists on readymade themes, layouts and sidebars that is efficient and easier for a user who doesn't know PHP, C++ and Java script.
How to Install WordPress
Open the official website of wordpress.org and install latest version of WordPress
Download Filezilla to upload wordpress files on your website
Create My SQL Database
Specify the user name and password from control panel (c/panel)
Configure WordPress admin on your website
You can also install Google Analytical Code to design a website's theme
Download and Install WordPress

First of all download WordPress in your computer as per the below written method…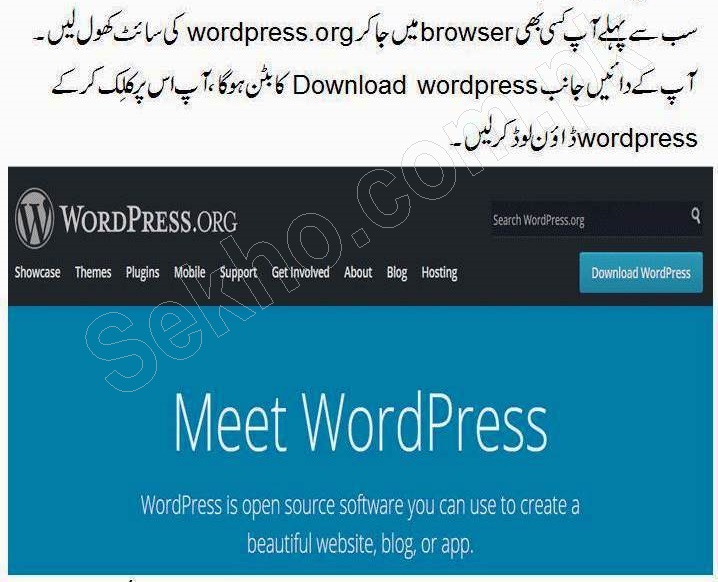 Upload WordPress with Filezilla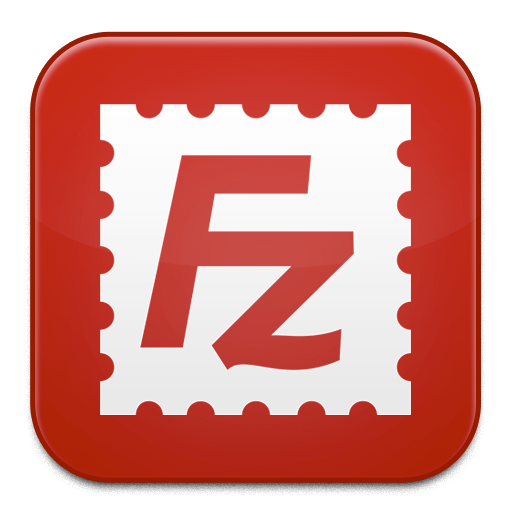 Filezilla is third party software which you have to download in your computer. When it is installed you have to enter your FTTP domain user name and password and it will automatically show your domain files on the right side. You have to select these files and upload it on your HTTP server by following the method written below.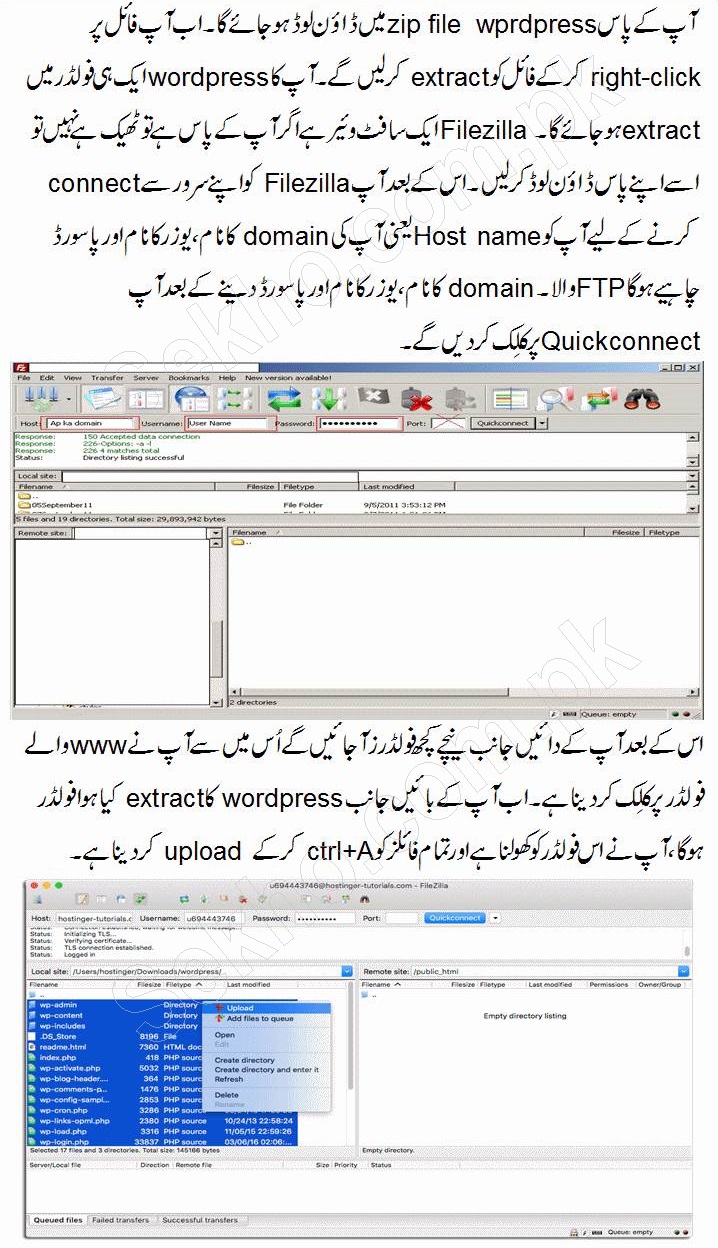 Creating My SQL Database
When you have installed and upload the wordpress on domain, you will necessarily be required to create MY SQL Database. It provides a database management system that is a direct source to manage your data on wordpress using your username and password.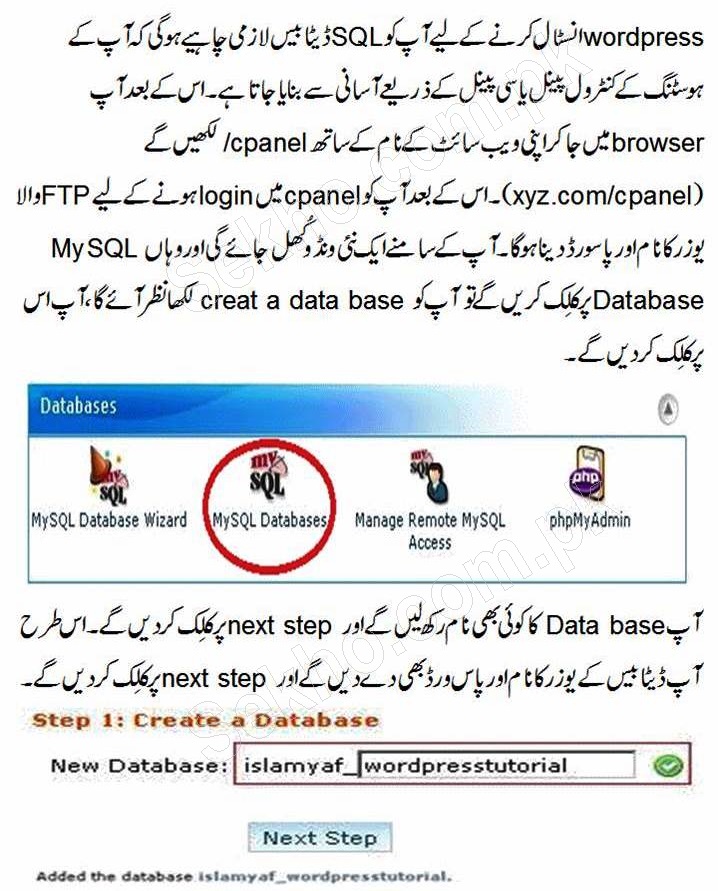 Create Username and Password of Database

When you have done the above written method you will see a page like shown below. This page or form will require your user name and password. This password is actually your username and password that will allow you to enter in the wordpress admin section on your website which is back-end for working for your website to design, writing and other settings like side bars, headers and footers.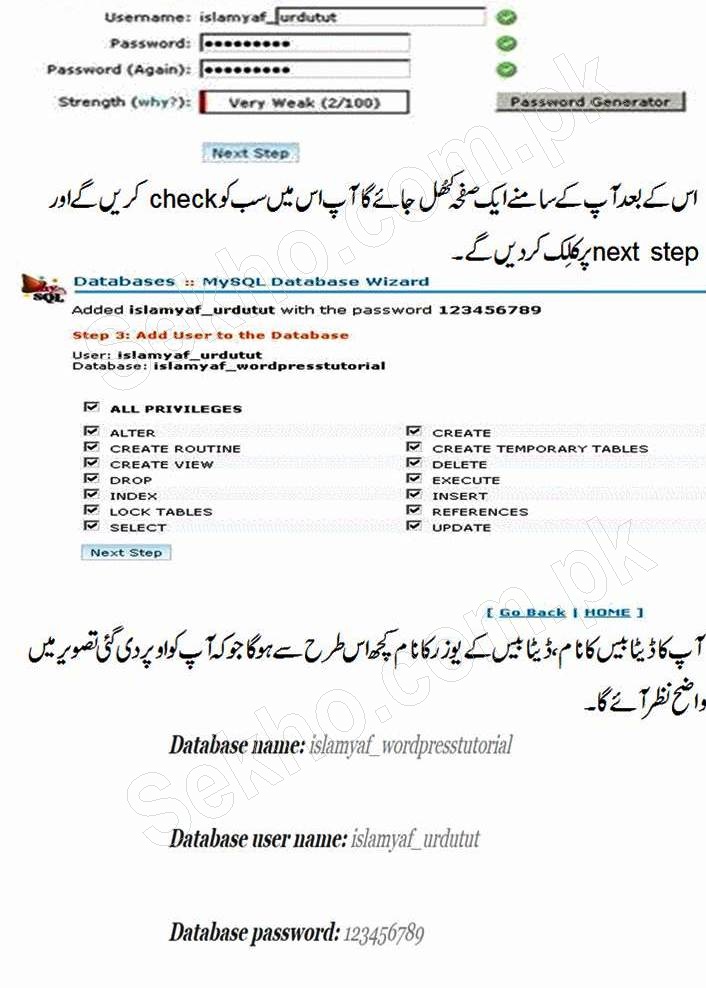 Configure Your Worldpress With Domain
Now again open the Filezilla and rename the wp-config.php file by clicking on edit button. write following code your file and save it.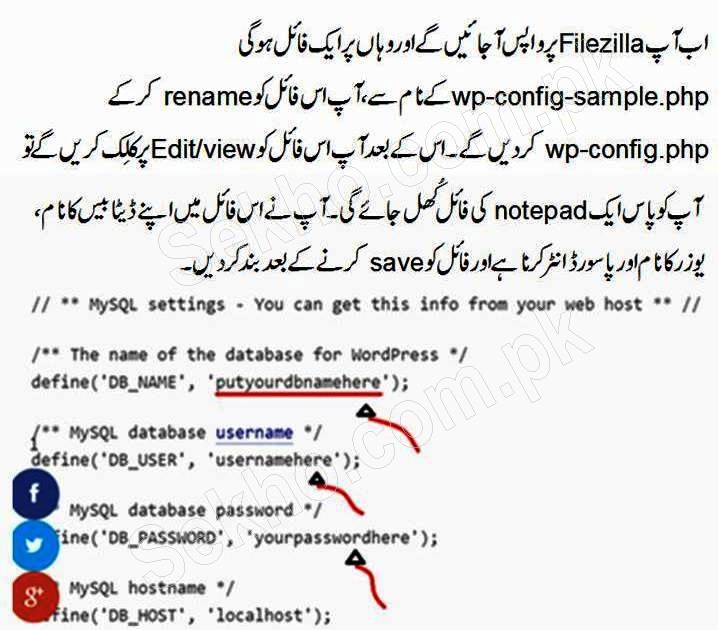 WordPress Configuring Form
now open the chrome or any web browser and write your website name and then put / and write wp-admin. A form like shown below will be open only for first time. you have to fill this form by entering your user name and password you have decided in My SQL database. Now click on Install wordpress and thats it…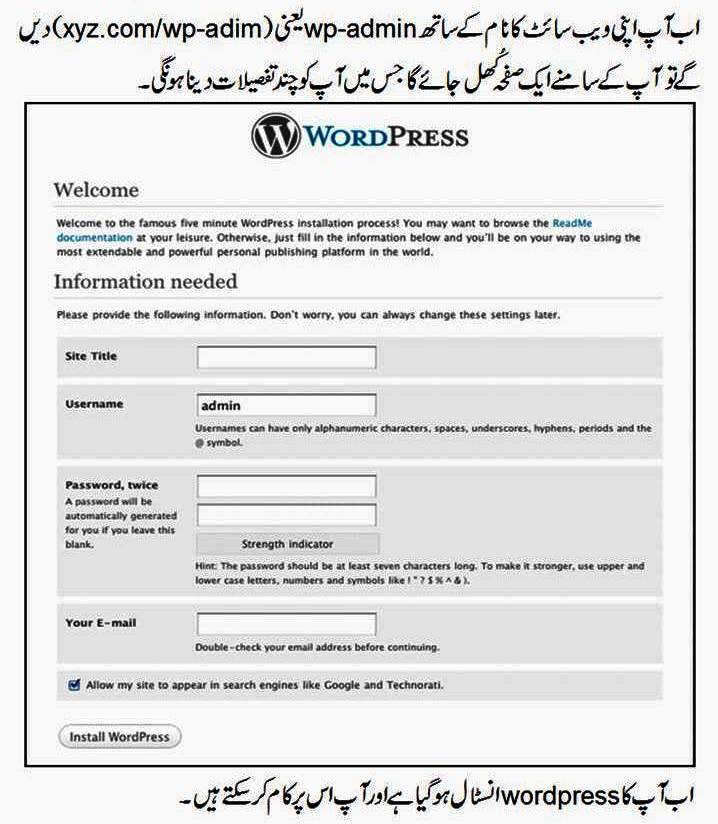 Hence this was all the method for how to install wordpress step by step guide in Urdu tutorial. always configure your domain with this tool because its so easy and friendly to use and to design your layout. moreover you are not required to do complexioned coding. I am hoping that you are all now well aware with installing wordpress on website or domain, but if you have any question relating to this post you can ask us via comments box below this post.