Do you know about what is domain and hosting? If you know then no worries because we are telling you about what is domain name and web hosting in Urdu. we are also telling you about the important topic of discussion i.t. difference between domain name and website name. Through this tutorial, you can understand that why the hosting server is necessary for a registered domain website. When you develop a website by your own or you get a website developed by the developers, and you also want it to be published on Google to get views on it, you have to get a web hosting and register your website on hosting server. Now one more question will be generated what is domain name server? and here we will discuss all these points in Urdu so that you can easily understand all the terms and conditions relating to this query what is domain name and web hosting in Urdu for beginners.
What Is Domain Name And Web Hosting In Urdu
Following are all the details of the domain name and website hosting which are being discussed one by one. These are entirely different from each other. But some beginners are confused among these and we are hoping that this article will make you clearer about this point.

What is Domain Name In Urdu?
Domain name system is the name of a website given to it by the owner or the global-address that is given to a website to identify it over the internet. This name is the real identity of a website. A domain name helps the user to search the website easily from anywhere in the world using any browser. An owner chooses the name of a website according to the work and the purpose for what he is going to launch that website. But it is not necessarily one can choose any domain name but it must not be matched to any other domain name. A domain name is always unique and there will not any other domain existing in the world with the same name. Such as the www.olx.com.pk is a famous online buying and selling store or a website. Similarly, www. google.com.pk is also a domain name for a search engine.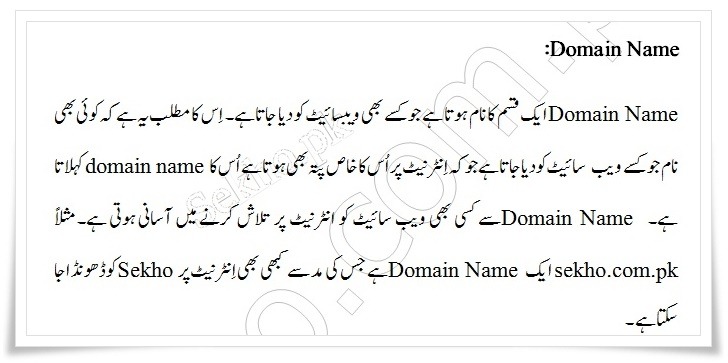 What is Website Hosting In Urdu?
in the meanwhile what is domain name and web hosting in Urdu; After developing a website you have the question about what is web hosting service? When you have done with your website development or you have bought a website and want to publish it online on the internet, you have to buy a server. you will contact a website hosting company. When you will call to these companies they will provide a server for your domain. You simply have to select the hosting package and then pay the charges and the charging company will upload your domain on that server for a specific storage space and then after indexing your domain, you can find it in any search engine like Google, Firefox, or Opera mini.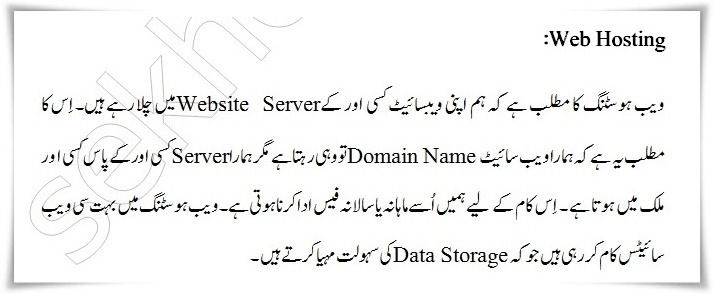 Difference Between Domain Name And Web Hosting:
As you have learned about what is the domain name and web hosting in Urdu. Now you have no need to be confused among these. But still, you are confused then you are informed that the domain is a website while the server is a special computer or a software on which your website is being stored. All of the pictures, videos, and written content will be stored in that server. The basic function of a web server is to provide websites hosting and to deliver website content from its hosted websites over the internet. It will make your website dynamic and to publically viewable over the world. So never get confused among these basic statements.
Hence I have discussed all your query what is domain name and web hosting in Urdu. hope you have well aware now about this matter but in case of any further query or inquiry or you have any further assistance for our readers then must write into the comments below.