Hopefully you are well aware with Payoneer master card. This is the only way to transact international payments for withdraw or debit. In my previous post I have discussed about how to withdraw cash through Payoneer, so now here in this post I am gonna to try my best to convey you the method about how to deposit money in Payoneer card / account from Pakistan. Well before stepping up towards the procedure let's have a general back ground about international transactions of payments. If you is a freelancer or you are doing some online work with any worldwide project and you have to deposit some payment for any purpose then you know that how much difficulties and tax deductions occur in this method. The Payoneer is an only card yet in Pakistan that allows users to withdraw or deposit payments easily with in a very small amount of deduction. You just have to follow some simple and easier steps and you will be able to deposit money in Payoneer card / account from Pakistan. Keep on reading to get those further details…
How To Deposit Money In Payoneer Card / Account From Pakistan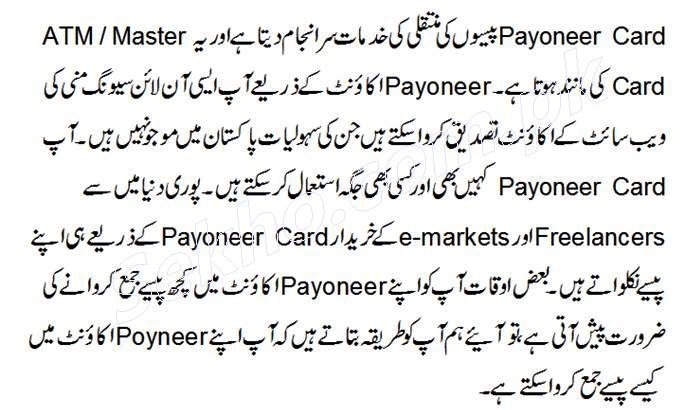 Activate eCommerce On Your Bank Debit Card
Login to Payoneer Account For Request a Payment
Add Debit Card eCommerce As Payoneer Deposit
Fill In the Form
You Are Ready to Deposit Funds into Payoneer
Debit Card eCommerce Activation
First of all you have to contact with your bank on a phone call or you can also visit the account branch. After that you have to say for the ecommerce session activation on your debit card. Some banks provide ecommerce services free of cost but some bank charge for it.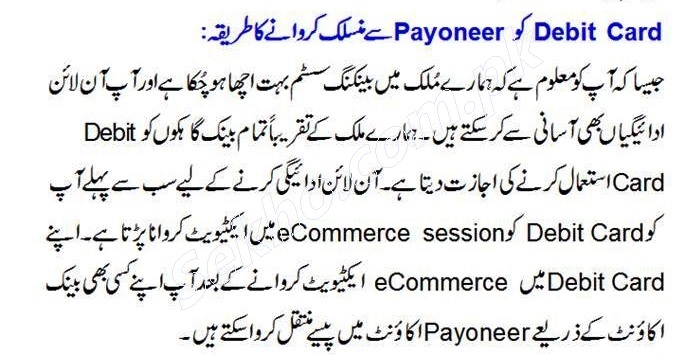 Process to Deposit Money In Payoneer From Your Debit Card:
Now when your Pakistani bank debit card has been activated with ecommerce and you have a debit card number for ecommerce written backside of your debit card.
You have to login to your Payoneer account with your user name and password.
In receive tab you have to go to the Request a Payment section
An application form will be open where you have to insert the details about how to deposit money in Payoneer card / account from Pakistan
Remember that while you are filling the form never rewrite the same Email ID which you have written for the Payoneer errors recovery
Now open your Email inbox and there you will see an email received in your inbox. Open this email and click on the link given there for the verification and confirmation of your ecommerce account with Payoneer account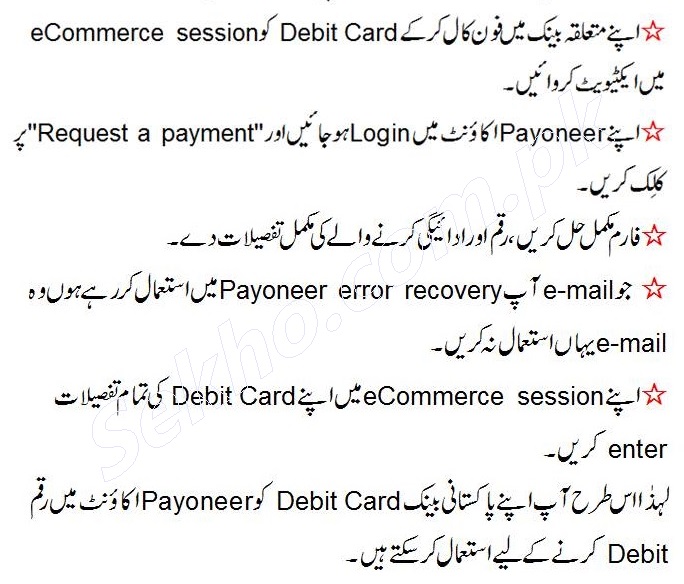 So now you can deposit payment in Payoneer account. And I am sure that you have understood the method and procedure about how to deposit money in Payoneer card / account from Pakistan. But in case you have any further confusion or you think that I am missing something then please share your comments in the following comment box.