Here we are telling you the compete procedure about how to withdraw money from Fiverr in Pakistan in Urdu. It will be easier now for you to get your money from Fiver account from all over the Pakistan. Well Fiverr is an online earning source that doesn't provide a debit or a credit card. You sign up with Fiver and start providing your service and in returns Fiverr pay you for it. The money or cash you earned from Fiverr is transferred into your account which you can withdraw from your Payoneer master card or Paypal debit card. So here in this post I have discussed this method in very simple and easy method. After reading this post you will be able to easily withdraw your Fiverr money from any bank without paying those charges or any hazard. So just have a look on the below written tutorial in Urdu about How to withdraw money from Fiverr in Pakistan in Urdu.
How To Withdraw Money From Fiverr In Pakistan In Urdu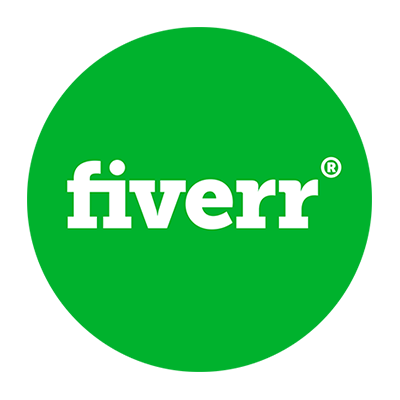 Steps to Withdraw Money from Fiverr
Fiverr is an online freelancing websites on which you deliver your services in different categories like web designing, digital marketing, writing and editing,  programming and technology. So when you deliver your services in any of these fields, Fiverr give you rewards in returns of your services in the form of money which you can withdraw through the following methods.
Through PayPal
Paypall is not an easier way to withdraw money from Fiverr and the other thing is, it is not easily available in Pakistan for a common user. So here we are skipping the Paypall methods will discuss it in the other post. So read the following method with is most use full in this way…
Through Payoneer
Payoneer is an online money transferring website in Pakistan. It is one of the most reliable and trust worthy website or service in Pakistan to transact online money for online business, blog holders and online shopping.
Go to Payoneer officials website for sign-up free
enter your complete information including bank account details and click on submit
Your Payoneer master card will be delivered at your given address
When you receive your card you have to log-in at your Payoneer account and enter the card number for activation of your account
when your acount is activated and verified then you can use this card for withdrawing money from fiverr
You can tap or click on the following link for getting the Payoneer activation method
How to Attach Payoneer Card with Fiverr
Once your Payoneer master card has been activated you have to perform the following steps as written below
Go to your Fiverr profile and click on the "selling" tab
Click on "Revenue" option and choose the "Withdrawing money"
In withdrawing money tab you will see the option of "Fiverr revenue card"
Now you can add your Payoneer card details
After entering your Payoneer masters card details just click on the login button and that's it
Now you can use your card for withdrawing Fiverr money at any bank's ATM
For getting more ease relating to this method of how to withdraw money from Fiverr in Pakistan you can read the following image that is written in Urdu.
Note: – The following procedure after the activation of your Payoneer master card.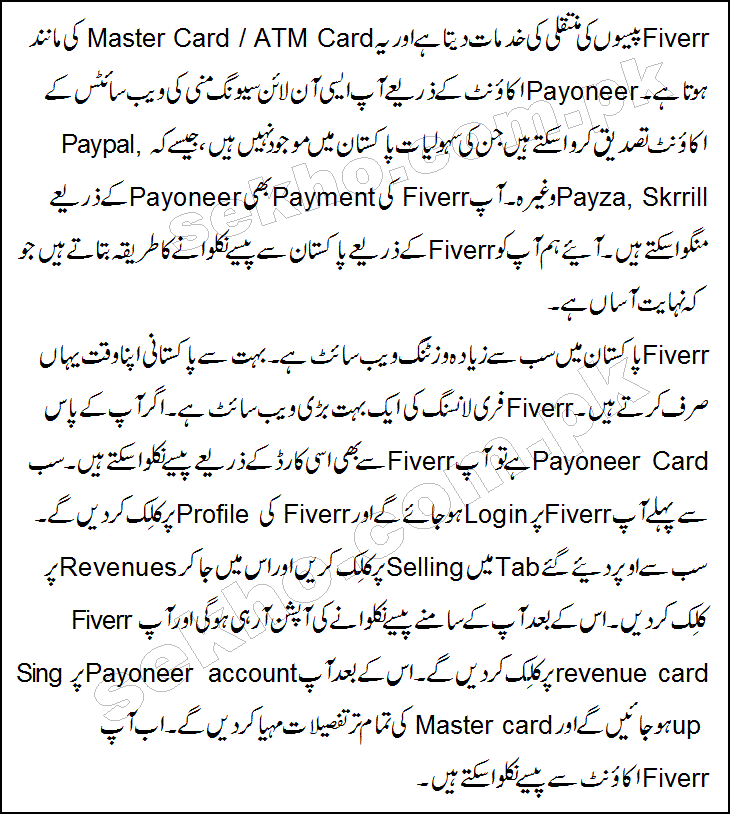 Hence this is all about How to withdraw money from Fiverr in Pakistan Urdu. Hope you have understood all the procedure and ready to do this procedure as written as in this page. But in case you have any confusion relating to this post you can ask your question or query through the comments section below of this passage. Our team will reply you as soon as possible.