Are you holding an online business and you have to transact your payments from United Kingdome to Pakistan? Here you have the best money booker company Skrill that allows you to withdraw the money from US dollars to Pakistani rupees. Here I am telling you the procedure about how to withdraw money from Skrill in Pakistan in Urdu. Skrill is actually a master card that allows you to withdraw your international transactions from any bank in Pakistan. Its first transaction is free of cost while from the second and onwards transactions will be charged with the base rate of $3.2 and moreover you cannot withdraw an amount less than $15. Moreover you are informed that it is your master card that uses as a debit and credit card through which you can withdraw your amount at any online bank branch that are supported to Skrill. Transactions are made under the committed criterion which you will get from this page below of this passage and you just have to keep on reading this article to be familiar with how to withdraw money from Skrill in Pakistan in Urdu.
How To Withdraw Money From Skrill In Pakistan In Urdu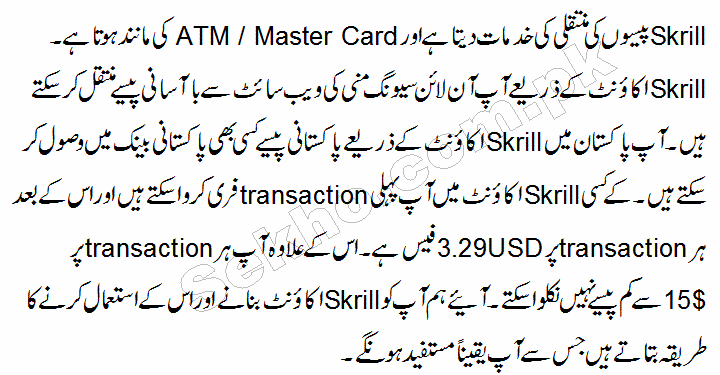 Sign-Up and Verify With Skrill
First of all you have to go on the official website of Skrill for sign-up
Fill in the sign-up form by providing all of your correct profile
Now verify your Skrill account by your contact number and then the Skrill will ask you the documentation verification for what you have to enter your utility bill
After that you will receive a verification letter at your home address. Open the envelop and again open your Skrill account and enter the verification code written in that envelop
Your Skill account is verified now and you can now withdraw money from skrill in Pakistan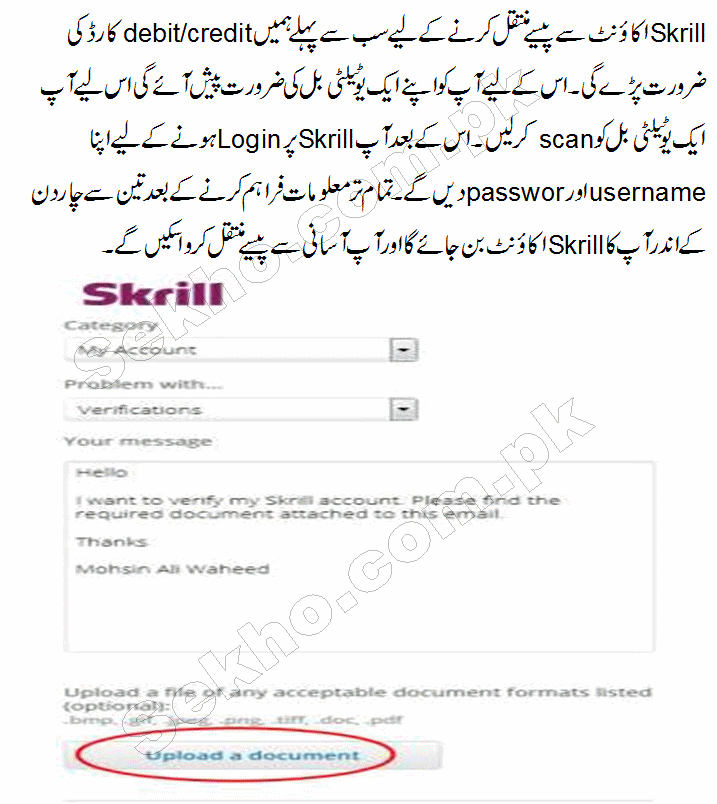 Method of Withdraw Money From Skril
Now as you have verified your Skrill account so you can go to a bank (Faysal bank and standard chartered banks are recommended). So here in the bank you have to insert your correct account details there containing your user name and password and that's it.
In My account
Go to profile
List of bank accounts
Bank section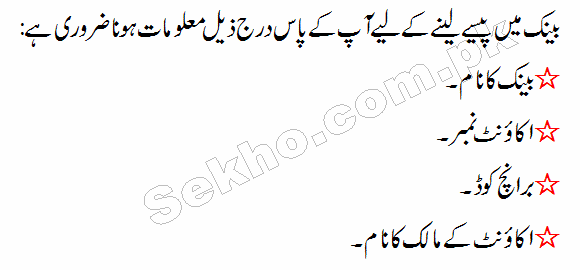 Now the bank will get attached with your Skrill profile and here you can withdraw your amount. Bank will charge 3.2 dollars on each transaction after the 1st free transaction.
So this is all the method about How to Withdraw Money from Skrill in Pakistan in Urdu. Hope you are all now well clear with this method and preferring to receive your online cash by using skrill.