There are so many different methods of online earning in Pakistan such as blogging, Fiverr, and freelancing. So if you are doing any of this work and you have to collect your money in Pakistan through Paypal then here in this post I am telling you the complete method of how withdrawing money from Paypal in Pakistan in Urdu. Paypal is an easier and more famous online cash payment account that is usually easily available in foreign countries but in Pakistan, it is not providing its direct services. So when you are registered with a Paypal account and want to withdraw money from Paypal in Pakistan you have to take assistance from a third-party source which is known as a Payoneer account.
How to Withdraw Money from Paypal in Pakistan in Urdu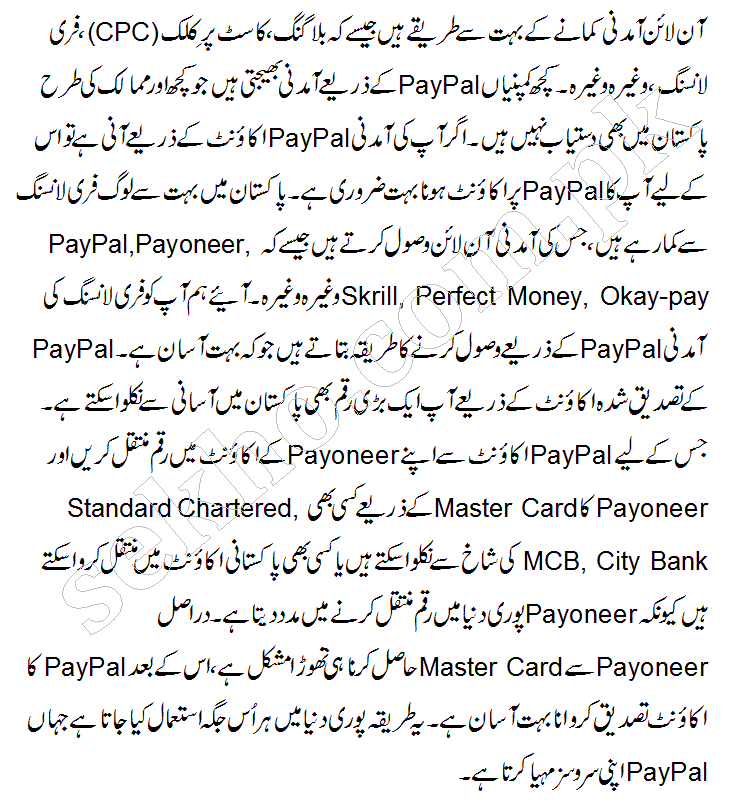 Paypal is online money transferring website working all around the world. Its services are very limited and short in Pakistan. One cannot withdraw money from Paypal in Pakistan. But if you want to work on Fiverr or you are doing a freelancing jobs, your money will be delivered through the Paypal. So for this purpose you have to get a registered Paypal account. First of all you have to sign up with Paypal and then you will be allowed to receive your money online.
Payoneer is an easier way of withdraw money in Pakistan from online works. You can sign up with Payoneer master card free of cost and master card will be delivered to your home address you have mentioned while filling the form. You have to verify the master card once and now you are ready to withdraw Paypal money through Payoneer master card. You can get your cash from any online branch of Standard Chartered Bank, MCB and City Bank. Payoneer card is also use able at western union shops…
Transfer Paypal Amount into Payoneer Account
For transferring your Paypal amount into Payoneer account you have to open your Paypal account profile on your laptop or PC. Here you will see the payment methods. Here you will see the options and you have to choose the Payoneer master card. You have to enter your Payoneer master card PIN number here and you will receive a confirmation message that you have to enter in Paypal confirmation. Now whenever your amount is delivered in Paypal it will be automatically transferred into your Payoneer master card which you can draw at any time from any bank branch.
Here below in this passage, I have told you the complete method of how to withdraw money from Paypal in Pakistan in Urdu through a Payoneer account. If you have your registered account on Payoneer then you just have to transfer your Paypal amount into your Payoneer account which is an easier method. So when your payments are shifted to your Payoneer account now you can get your cash withdrawn from the Payoneer master card.
Make a Paypal Registered Account
Get Registered With Payoneer Master Card
Transfer Paypal Amount Into Payoneer Account
Withdraw Paypal Amount From Payoneer Master Card
Hence this is all about how to withdraw money from Paypal in Pakistan in Urdu. Hope you have learned the Paypal solution in Pakistan or you can also said that the Payoneer is the Paypal exchanger in Pakistan through which you can withdraw your amount easily.