Now in Pakistan people can earn the money online by doing entry jobs without investment, Like Captcha entry jobs. Captcha entry jobs are the trusted online earning methods not only in Pakistan but also in all across the world. People from around the world work on online captcha solving in order to earn money through internet. Those who are looking for the Online Captcha entry jobs without investment in Pakistan can check how to apply for online captcha entry jobs. Everyone can apply for online jobs in Pakistan if they have a computer and internet. First of all, you have to know What is Captcha entry jobs in Pakistan? There is a bundle of images that cannot be recognized by the customers and they pay to recognize these images. There are many companies which play the role of intermediary. There are two Main companies which are granted. First one is Megatyper and second is 2Captcha. To do online captcha jobs in Pakistan, four requirements must have which are:
Fast Computer
The high speed of Internet connection and
Free time as you can serve on it
Ability to type 30 words over a minute
Online Captcha Entry Jobs Without Investment in Pakistan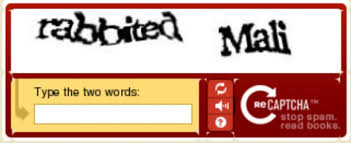 How to Work?
If you want to earn money through online Captcha entry jobs in Pakistan, you have to know about the authentic companies. There are various online companies which are offering captcha entry jobs, but the 2Captcha and Megatypers are the most reliable and realistic sources. In the following side, we are telling you about how to get register with any of these companies and how to start work with them. You can even click on any of the names of the relevant company.
2Captcha:
2Captcha is an online company which helps customers to solve Captcha who find it difficult. This company has the contract with different companies which takes help from this company and pay them for these services. A person can register on 2Captcha site and he/ she will be given a unique username and password. After registration, you will get work that you can do and earn money. 2Captcha is best online Captcha company which is trustable. They pay in the least amount but pays for the work. Here is the registration form for 2Captcha given below.
2. Megatyper:
MegaTypers.com is an online company which provides data entry services to different companies. This company allows people to do home-based Captcha entry jobs that they can do it from their home. To do online Captcha filling jobs in Pakistan, the student first has to log in and then start doing work. Earning will depend on the time and speed of the person who want to earn money online by solving captcha in Pakistan. This is the registration form of Megatyper.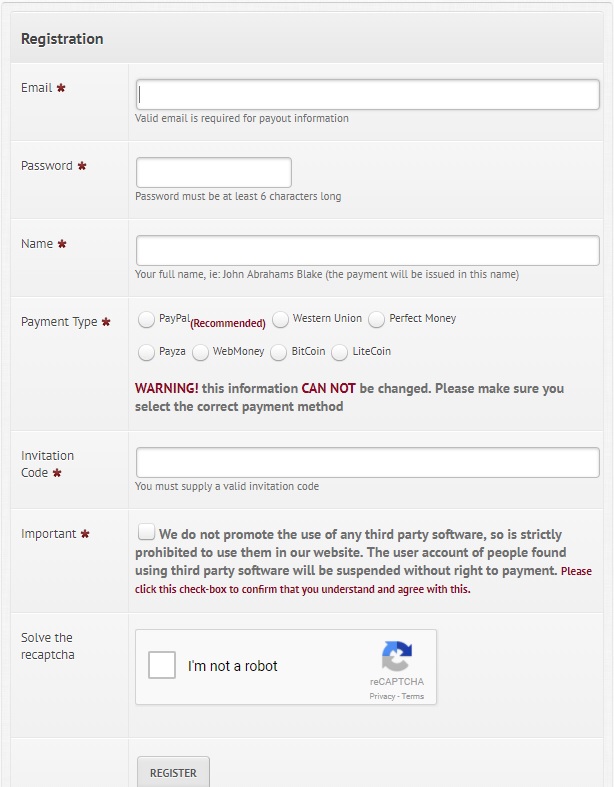 These are the sample online registration forms that you have to complete in order to start earning through Online captcha jobs. Complete the given information and you should read the guide and the rules when you signup and then you will see a new static page and press the button 'solve image 'and start his work and earn the money. The rate per image is shown above the image along with your balance. So you are notified about your new balance each time you type the correct letters from the image.
How To Receive Earned Money?
There are many ways to get the earning money and you can go to the different banks and shops which names are:
How Much Can You Earn?
To earn the money is just depends on you that how many hours can work on it but average amount from Rs. 15000/- to Rs. 20, 000/- monthly at the start. You can more earn money from that but the time factor is very important and speed of typing. Captcha entry jobs give you money on the bases of hours and each hour has the different amount that you earn, in addition to $0.75 will be given when you enter a single entry. Now try to entries more as you can and get the massive amount in your hand. One point is must keep in mind that entries should correctly and your earning money rates will be increased otherwise your wrong entries decrease the money and time will also waste. So keep fast your entry speed and be careful to put the entries.
A person can earn the least amount at the start but with the passage of time, it will increase. Earning also depends upon the referrals too. How much referrals you got, your income will be increased according to those referrals. There is only one way to pause the work i.e click on the "Submit and Pause" button. You can't pause it any other way. So all the necessary description has been completed and do not wastest your time.  Join the online captcha jobs and earn the money online by staying at your home.