Here I am discussing Freelancing Meaning in Urdu Explain With Examples. Freelancing is a source of online making money while sitting at your home or anywhere in the world. The word 'free' means you are not limited to work under a single person or company within a specific and limited job time, but it means you are free for doing your work at any time. Secondly, the word 'Lancing' means self-employed for a medieval mercenary. So the freelancing means you are self-employed to earn online money without a limited time or criteria. There are various examples of freelancing such as a work or a job you are doing online and getting money in return if you're freelancing. Writing an article or content, hosting or designing a website or blog, data entry, captcha entry, data entry are all examples of freelancing jobs. Well, it's a rapidly increasing trend of online earning in Pakistan without any investment and several people are doing this job and making their career better than those who are going out of their homes to do a job.
Freelancing Meaning in Urdu Explain With Examples
If you want to do freelancing, then before this, you need to know about what actually it is and how you can earn money. There are several works you can do online through freelancing. Freelancing in Pakistan is increasing day by day. Scroll down to get the details in this post.
What is Freelancing Meaning In Urdu
You can click on the following image to make it bigger and to read about what is freelancing definition.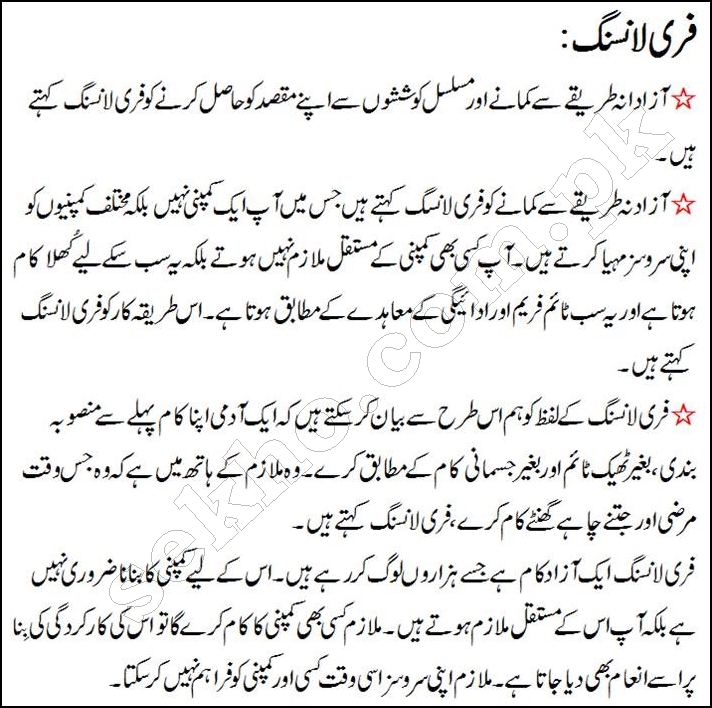 Free Lancing Example
As I have discussed examples of freelancer jobs in the above passage but here I would like to present the following image to you so that you can read the following examples in easier Urdu and easy wording that will be more understanding for you to get familiar with freelancing jobs in Pakistan.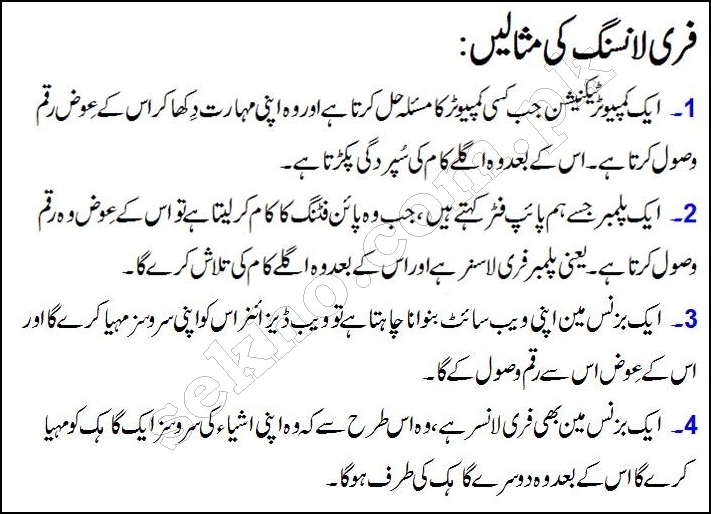 Hence this is all about Freelancing Meaning in Urdu Explain With Examples. I am hoping that you are all now ready to do this job because there is no age limit, qualification is required for this type of job. All you need is some skills. So, hopefully, this post has helped you. Give your feedback in the comment box.