Jazz users who haven't used their sim for months can check Jazz SIM Lagao Offer 2023. Through Jazz Band Sim Lagao offer, a person will get free minutes, free SMS, and Free MBs for a whole month without any charges. Jazz always says welcome to their valued customers and providers exciting offers to them. Those customers who may switch their network or those who are new to this network can get a welcome gift from this company. After the merger of Mobilink and Warid, this offer is valid to both users. So if you are using a Warid Sim or Mobilink Sim, you can get benefit from the Jazz SIM Lagao Offer 2023.
Jazz SIM Lagao Offer 2023 New/ Band
Jazz SIM Lagao Offer 2023 is for both Warid and Jazz prepaid customers can avail themselves of a lot of benefits relating to free on-net minutes, free SMS, free MBs of the internet, and much more. Here in this post, I have discussed all the details about Jazz's new sim lagao offer along with how to subscribe code, terms, and conditions. One more thing which is important to know is that people have to dial a specific code otherwise they will not get the benefits of this offer.
Both the top famous networks are now providing the best facilities for their prepaid and postpaid customers and this offer is one of them because this is not a limited-time offer but it will renew on the activation in your new sim. So keep on reading this post to get more details about Warid / Jazz.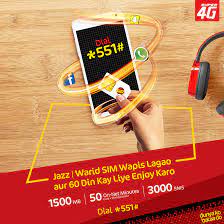 Jazz Sim Lagao Offer 2023 Code:
So if you are not a Jazz customer then I suggest you buy your new Jazz sim and you have a lot of things on the edge free of cost without any charges. The customers who want to try their band jazz sim lagao offer and did not the code. So here we tell you the code to avail of this offer in a propper way.
Jazz Sim LagaoCode: *551#
Jazz SIM Lagao Offer 2023 Details:
Those who haven't used their Sim for the last 30 days can activate their Sim and can dial a simple code to activate this offer. This offer is valid for a limited time. The free minutes, SMS, and MBs will be available all day except from 9 pm to 1 am. So during these hours, these free things will not be available. The Jazz Sim Lagao offer detail is as follows.
3000 Jazz/ Warid Minutes
3000 SMS
6 GB data (including 3 GB Whatsapp)
The activation code is *551#
Validity 60 Days
You can visit jazz.com if you are facing any problem.
Jazz New SIM Lagao Offer 2023:
People termed this offer with different names. But, in reality, this is the same as the above one. So, if your sim is not in use then you can avail of benefits from it.
Also Check: Mobilink Jazz SMS Packages
The same benefits which are mentioned above will be given to those customers who have recently purchased their new Jazz Sim. Jazz SIM Lagao Offer 2023 Activation code is *551# which is the same for Band Sim too. So if you are a new Jazz customer or willing to purchase the Jazz Sim then must avail of this offer.
Save