Here the two biggest mobile networks of Pakistan have introduced an amazing offer for the holy month of Ramzan. Yes of course! I am talking about jazz warid Ramadan offer 2018. In this offer, the prepaid customers will get a lot of benefits including free call minutes, SMS, and internet MBs for the whole month unlimited. If you want to subscribe Jazz warid Ramzan offer 2018 then read this post completely and you will get complete data about this package from this page including subscription code, charges, validity timings, and term conditions. In the end of this post you will get the terms and conditions which is also known as the fair policy and you must also read that policy so that you can be safe from any hidden deduction or consumption of your balance. Jazz Warid Weekly monthly call Packages 2018 is given here. Under this amazing offer jazz warid Ramadan package 2018 you are getting amazing benefits which are written down to this passage. Keep on reading.
Jazz Warid Ramadan Offer 2018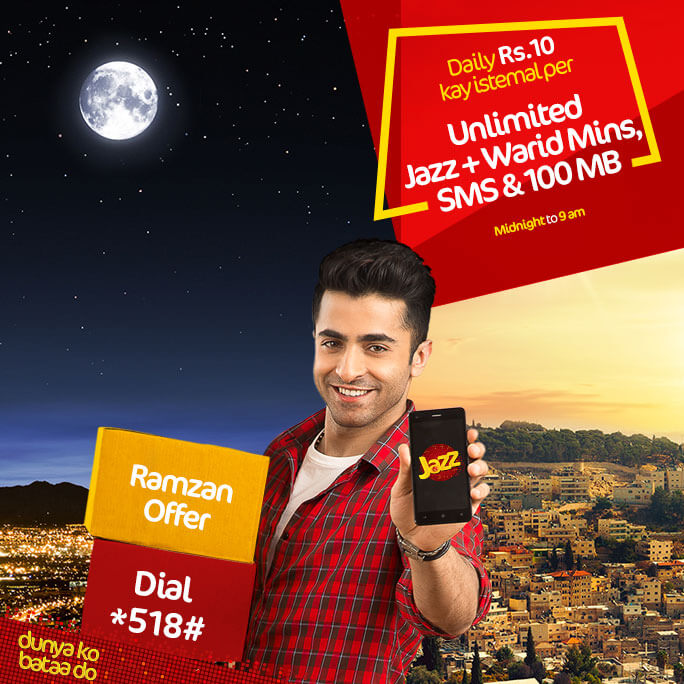 Jazz Warid Ramadan Offer 2018 Details
Jazz Warid Call Minutes:………………….

Unlimited

SMS On Any Network:…………………….

Unlimited

Internet Data : ………………………………..

100 MBs

Incentive validity:…………………………..

12am – 9am

Subscribe through USSD :……………………………..*518#
Status Request USSD – Offer ……………………….*518*2#
Status Request USSD-Incentive……………………. *519*2#
Information………………………………………………….*518*3#
 Warid Jazz Ramadan Offer 2018 has not announced and this offer is of 2017
Fair Policy/ Terms and Conditions
Limit behind unlimited free minutes is maximum 540 jazz + warid minutes (60 minutes x 9 hours)
Limit of SMS is 1500
Limit of data is 100 MBs (2G, 3G and 4G according to your mobile and place)
Offer will be valid fill the whole Ramadan month and then it will be automatically deactivated
Balance will be deducted daily at night 12 AM
Taxes and other deductions are applicable as per the PTA rules and regulations
Jazz Warid Internet Packages 2018
Hence this is all about Jazz warid Ramadan offer 2018 free call minutes, SMS and MBs. This is a very convenient offer for all of us and we must get benefited with is. Share your comments and reviews with us in the following comment box.