Traffic signs play important role in the regulation of traffic without causing any serious accidents. Traffic Signs In Pakistan With Meanings In URDU, English is available on this page so that every Pakistani can get information about these traffic signs. On roads, different traffic or road signs are placed which ensures the safety of the drivers and pedestrians. These marks are designed to let drivers know what to do next either he has to increase the speed limit or have to control the speed, and the next road is rocky or zigzag. Basic Road Signs are of three types including mandatory signs which are round or circular in shape, Warning signs which are triangle in shape and informational signs which are square in shape.
Traffic Signs In Pakistan With Meanings In Urdu, English
in this post, we are discussing Urdu and English both Languages for a better understanding of Pakistani people. Following are the Traffic Signs In Pakistan.
Mandatory Traffic Signs In Pakistan Examples:
These are some Mandatory traffic Signs in Pakistan are listed below.
Road Closed
Slow
Stop
No entry
Overtaking prohibited
Maximum speed limit 50KM / Hour
Overtaking by good vehicles is prohibited
No entry
No U-turn
Stop for Police Post
No Parking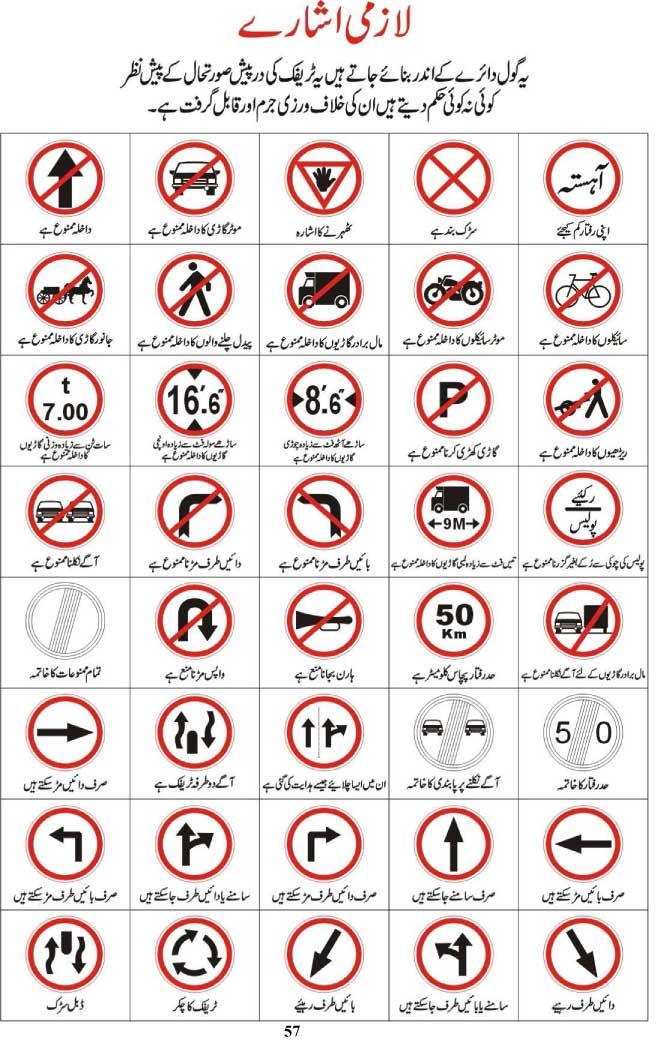 Warning Traffic Signs Examples:
Turn Left and turn right signs show in Triangle. Warning Traffic signs in Pakistan are in a triangle shape and some of the examples are listed below.
Carriageway Narrows
Steep Ascent
Dangerous Decent
Slippery Roads
Road Dips
Uneven Road
Road Leads on to Quay or river bank
Children Crossing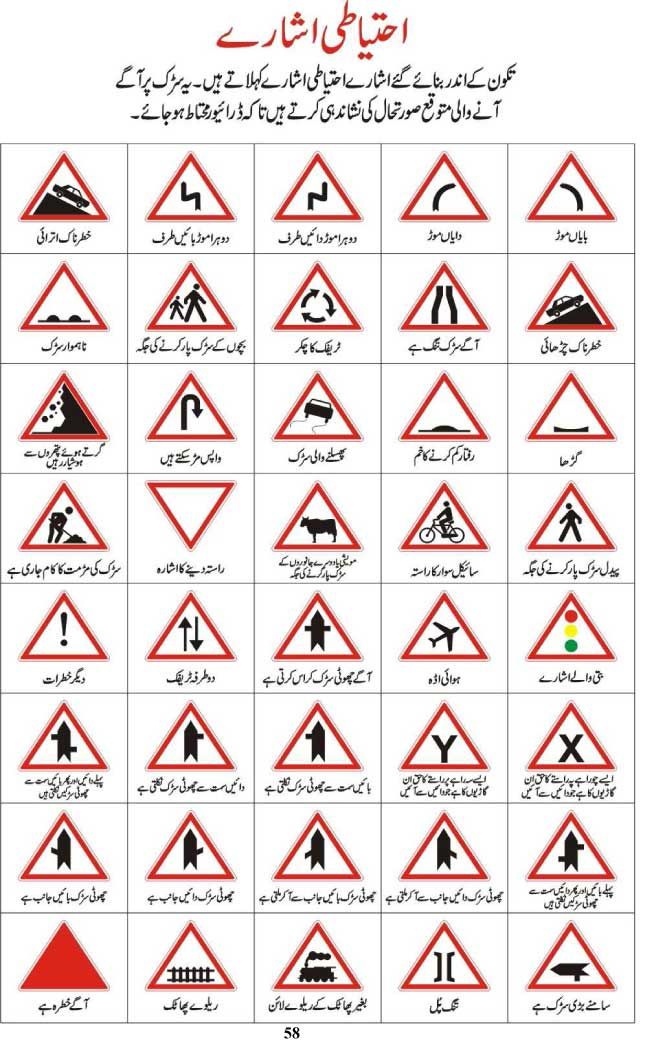 Informational Traffic Signs Examples:
Some of the Informational Signs are
Hospital
Parking
Bus Stop
Telephone
Breakdown Service
First Aid Station
Hospital ahead with accident and Emergency facilities
Also, Check  How To Get M-Tag Motorway Pakistan
Mandatory signs are compulsory to follow and work as an order while warning signs are those signs which warn the driver about some danger like curved roads etc. There are Traffic Signs In Pakistan that are also being followed in Pakistan including Motorway Road Signs, NHA road Signs, Constriction roads ETC.
These are some Traffic Signs In Pakistan which are mentioned on this website. So if you are a driver then you must have to understand and follow these signs. These signs will also help you to get a driving license.