Car enthusiasts will be astounded after viewing the Prince Pearl Car Price In Pakistan 2022 Pictures and First Look of this one of the cheapest cars. Prince Pearl Car is one of the newest car brands that is going to hit the Pakistani car market with its new 800cc car. The car has not been launched yet, but it is expected to be launched in 2022. The manufacturers of this car have also not announced the price, but for our viewers, we are sharing the expected price of this upcoming model. This car comes with the latest water-cooled engine with a 796cc engine capacity. It is like other front-wheel-drive cars, which have both automatic and manual transmissions. More information about this vehicle can be found on the sidebar. So check out the latest pictures of this newly launched car.
Prince Pearl Car Price In Pakistan 2022
In Pakistan, Prince Car Manufacturer Company is going to launch its masterpiece at a reasonable price. The new Prince Pearl car is a four-seater that offers an outstanding mileage of around 25 km/L. In the city, it claims 22 km per hour, and it has a capacity of 27 liters. Further details about the Prince Pearl Car Price in Pakistan in 2022 are given below. It is an 800 cc car with amazing features which attract customers. A number of customers are waiting when this company launched this and now their waiting time is over. Because the regal Automobiles is launched brand new Prince pearl car with reasonable price.
| | |
| --- | --- |
| Prince Pearl Car Available | PKR 1,299,000 |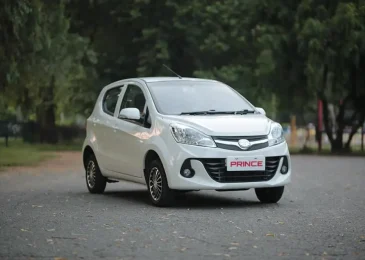 Prince Pearl Car Interior:
The interior of this lovely vehicle is equipped with the latest versions of new features. In particular, its power steering, along with its touch screen, increases the comfort level of users. Every person who loved the new and latest functions, which gave them an extraordinary feeling, like a luxury vehicle, This brand is also known for its quality equipment, which is commonly used in every new model.
Prince Pearl Car Features:
Those people who are looking for the Prince Pearl Car Features can check the below table in which we are sharing the complete detail of this car. The feature of this car is outstanding with power pieces of equipment. You can feel comfortable when you experienced it during the long drive. Each and every feature is modified according to new trends so that this car meets the other brands regarding performance.
| | |
| --- | --- |
| Fuel Capacity | 27 L |
| Mileage in City | 22 KM/L |
| Mileage in Highway | 25 KM/L |
| Transmission | Automatic/ Manual |
| Engine | 800cc |
| Torque | 60.5nm at 3500 RPM |
Prince Pearl Car Fuel Average:
Every customer is looking for a car in which fuel consumption is low but the speed and other features are not affected by this feature. Prince Pearl Car fully meets all requirements because it is fully designed according to the latest technology.
Currently, the exact price fo for this car has not been announced yet. People who want to get more details about this car can check Prince Pearl First Look pictures. We are sharing the exterior and interior Road Prince Pearl Car pictures so that you can check the car detail from this website.