If you are farmer then yes this page is very important for you because Solar Tube Well Scheme in Punjab 2015 details is available that is introducing by Punjab Agriculture Ministry. Before main our main topic information we want to share short background of this Solar Tube well scheme. In Pakistan Electricity loadshedding is one and only major problem for all people. In rural areas Electricity loadshedding different is very high as compare to Urban areas and due to this problem tube well and not working on Electricity  so that is the reason farmer use other energy source like diesel. here we want to mention through diesel tube well working in rural areas but due to diesel cost at the end of day farmer face big lose and keep in mind if your country farmer is facing lose then Pakistan agriculture will destroy within few years that is the reason other energy source is producing by Government of Punjab specially small farmer.
Solar Tube Well Scheme in Punjab 2015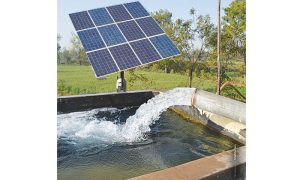 Solar Tube Well Scheme:
Punjab is agriculture land and Pakistan 80% GDP base in Punjab agriculture that is the reason our government want to provide small and big advantage for farmer and through that benefits farmer can try to save their cost. Solar Tube Well Scheme one major advantage is provide Electricity and Diesel source energy alternative free of cast energy solution.
Advantages and Eligibility Criteria of this Scheme:
80% installation charges will provide by Punjab Government
Those famers will eligible who have less than 12.5 Acers Agriculture land
Through Solar tube Well you can get alternate Energy with free of cost for you Tube well working
Give you land water through Solar Tube Well and get maximum profit
This Scheme is valid on that agriculture land where Water is available in 50 to 80 feet under land
How to Get:
After few weeks through Newspaper advertisement you can get details abut how to get Solar Tube well
at the end of Solar Tube Well Scheme in Punjab 2015 brief we want to mention in First experimental Phase only 100 Solar Tube Well will install after success thousands of Solar Tube well will installer in Punjab.