Prime Minister Mohammad Nawaz Sharif announced a new scheme for students that read in Colleges and Universities of Pakistan. The name of sachem is PM Laptop Scheme 2023. The eligible criteria and online form detail is given on this page so those students want to know about the PM Laptop Scheme 2023 eligibility criteria online forms registration and keep in touch with this page. The laptop will give to those students that have great academic record in his colleges and Universities. This scheme is by Federal Government and announces that we will distribute the Laptop across the Pakistan. Federal Government will give out about 1, 30,000 laptop in every year to the hardworking students in Pakistan. PM Laptop Scheme 2023 is one of the main projects of Government. The Government Issue the laptop to those students that have 3.30 CGPA in recognizes University under HEC or 60% marks in annual system. Our Government distributes the laptops to the Master degree students and M.Phill students. Undergraduate students also get laptops on the base of merit. The Minister of Education Rana Mashood Khan says that laptop will give out free 1, 30, 000 laptop across the Pakistan. Higher Education makes lists of students that will fulfill the required merit and will be able to get free laptop from Federal Government of Pakistan.
Federal Government designed a new Hardware assembling Plant in Sunder Industry where external companies come and will investment. South Korea, China and Taiwan show its presence. Those companies will work to gather and make a new design of laptop. The one laptop price will be equal to Rs. 40,000. These laptops will better than previous laptop scheme. The students will get all services of laptops in his cities. If the students have any kind of problem then they can fix the problems.
PM Laptop Scheme 2023 Eligibility Criteria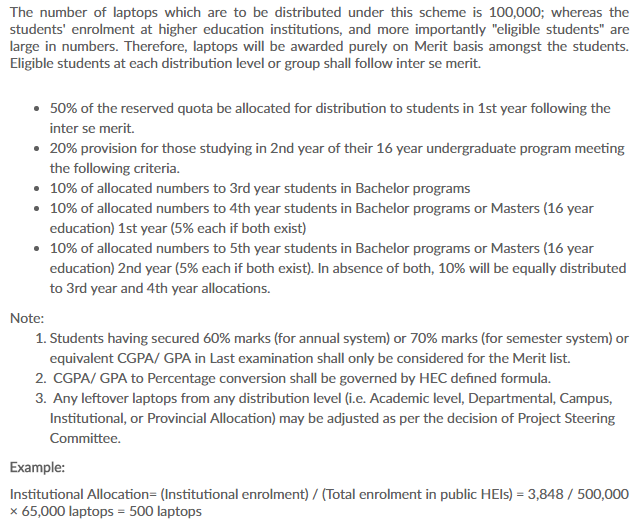 CLICK HERE FOR REGISTRATION (Registration Clossed)
PM Laptop Scheme enhances the encouragement of students that are intelligent and future of Pakistan. Students use the new kind of technology from which he will be able to know the fashion and modern World. Students will get help through laptop and solve the educational problems. PM Laptop Scheme is all about students whose work hard and prove him selves by the educational record. here is the PM Laptop Scheme 2023 Eligibility Criteria Online Forms Registration
PM Laptop Scheme 2023 form will be uploaded here when the Federal Government will issue and you can download form in this page. So those students that have good educational record and fulfill the requirement of CGPA 3.30 and Percentage 60% should to keep in touch with this page.