Here is good news for the artists in Punjab to help them with a monthly endowment. Yes of course! Chief Minister of Punjab Mian Shahbaz Shareef has ordered for launching Artist Khidmat card scheme. Now all the artists who belong to film, TV, radio, theater, music, dance, painting, calligraphy writings, or sculpture arts are invited to send their application forms before till the last date of submission of application form. There are some necessary eligibility criteria and requirements which everyone has to be fulfilled. Below of this passage, I have written all the details about CM Punjab Artist Khidmat card 2018 registration application form, eligibility, last date to apply, how to apply procedure and all terms of conditions. Like Kisan Loan Scheme and Khidmat Card Scheme, this is a good opportunity for the entire artist who belongs to Punjab province and has skills of performing but their income is not enough to survive a good life. Selected artists will get a fixed amount per month which he or she will be able to withdraw from the ATM card. This is a pure, qualified and authentic scheme for Artist in Punjab. Each and every person will be able to get updates on his/ her status through messages and will stay up to date all the time. Keep on reading to get more relevant information about Artist Khidmat Card 2018.
Eligibility Criteria for Artist Khidmat Card 2018
It is necessary for each and every artist who is interested in this scheme to meet with this artist Khidmat card scheme…
Age: minimum 50 years
Working Experience: 25 years in relevant field
Monthly Income: No more than 15, 000/- per month
 Last Date to Apply: March 2018
How to Apply
So if you are eligible for this scheme then you are just required to download Artist Khidmat Card application form. You can also get application form by right click and save from the image showing below. After that get print out the application form. Fill your form dully with correct information according to your working and skills as well as you are also required to add a reference of your work. Attaching experience letter is preferable. When your application form is dully filled and completed you have to make sure that you have to completely done your application from. Now you have to send application form at (artist Khidmat card section, Punjab council of the arts, 53 Shadman-2, Lahore).  It is hereby intimating you that any application form that received after passing the last date will not be entertained with this CM Artist Khidmat Card Program 2018.
After receiving application form officials will analyze each form and will send a notification for interview. At the time of interview complete verification will be made by the officials and then a fixed amount will be stipend at your Artist Khidmat ATM Card.
Artist Khidmat Card 2018 Registration Application Form CM Punjab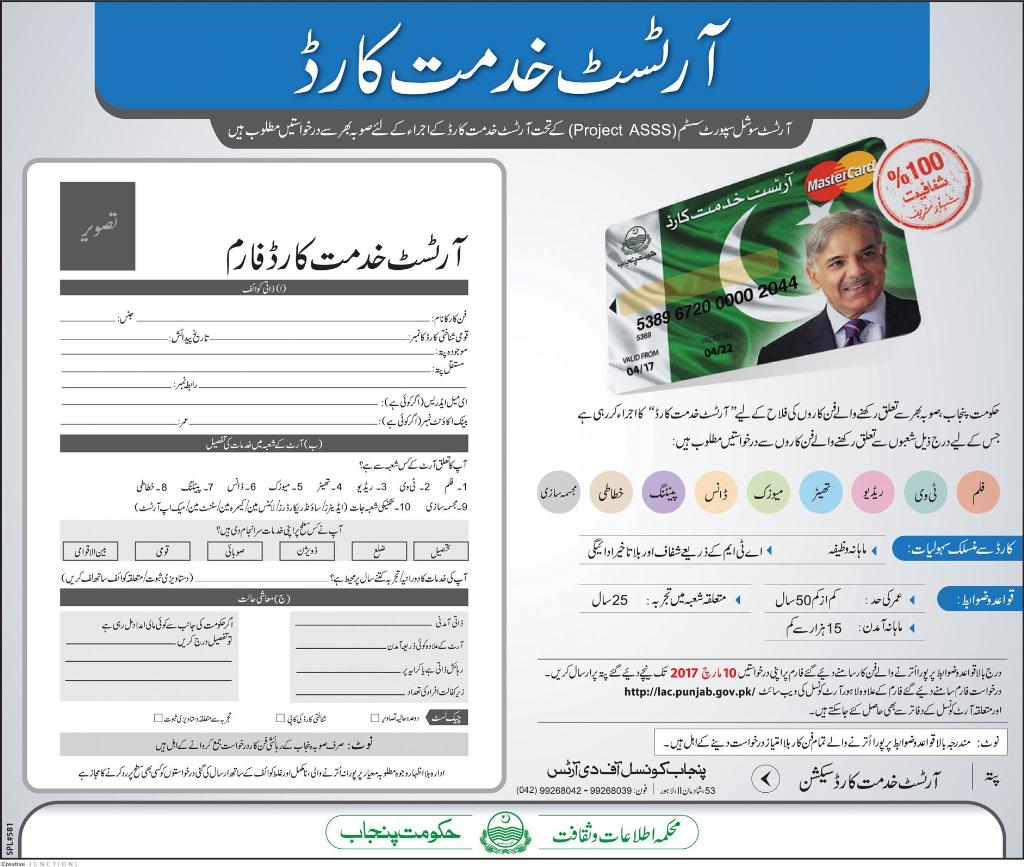 Now the late is from you to apply because officials are ready to receive your form. Any applicant find ineligible will be rejected and will not be proceed for interview process. On the time of interview candidates will be verified with detailed information. After the successful verification a candidate will be able to receive cash from any public type bank like national bank and Punjab bank. I think I have delivered all the information about Artist Khidmat card 2018 registration form CM Punjab. But in case you have any confusion or any query about this program you can ask us via the comments box below of this passage.