Social Welfare Department Sindh Government has come with the announcement of Ramzan Rashan Allowance 2017. In this allowance Govt Sindh has announce to stipend Rs. 2000/- to each family who are verified with NADRA biometric and are also qualified for this scheme. This is a very courteous initiative of Government of Sindh towards more than 18 lakh capable citizens of Sindh. You can collect your rashan allowance from UBL, Omni, easypaisa and jazz cash. You just have to read this entire post and make sure that either you are eligible for Government of Sindh Rashan Allowance 2017 or not. If you see that you are really capable for this allowance then never miss to visit the counter to receive your cash by hand. For the purity of this program the authorities have linked this scheme with your original ID card and NAFDRA biometric certification so that the real and deserving entitlements can receive their right other then the frauds or not capable for this allowance. Keep on reading to get the further details about this Sindh Government ramzan rashan allowance 2017 Rs. 2000 Eidi how to apply and who can apply.
Eligibility Criteria for Sindh Rashan Allowance
Each family member who is a permanent resident of Sindh province
The whole family income is not more than Rs. 20, 000/- per month
How to Receive Your Rs. 2000/-
If you are meeting the above criterion then you have to bring your CNIC card along you at UBL Omni, Easypaisa or Jazz cash shop. They will check your bio metric verification and then you have to wait until the confirmation message you receive. Once the confirmation message is received you can now receive Rs. 2000 in cash by hand.
From Where You Will Receive Your Cash (UBL Omni / Easypaisa or Jazz Cash)
This is very important to make sure your districts because as per the following table one who belongs to a district can only obtain cash from that branch.
Sindh Government Ramzan Rashan Allowance 2017 Rs 2000 Eidi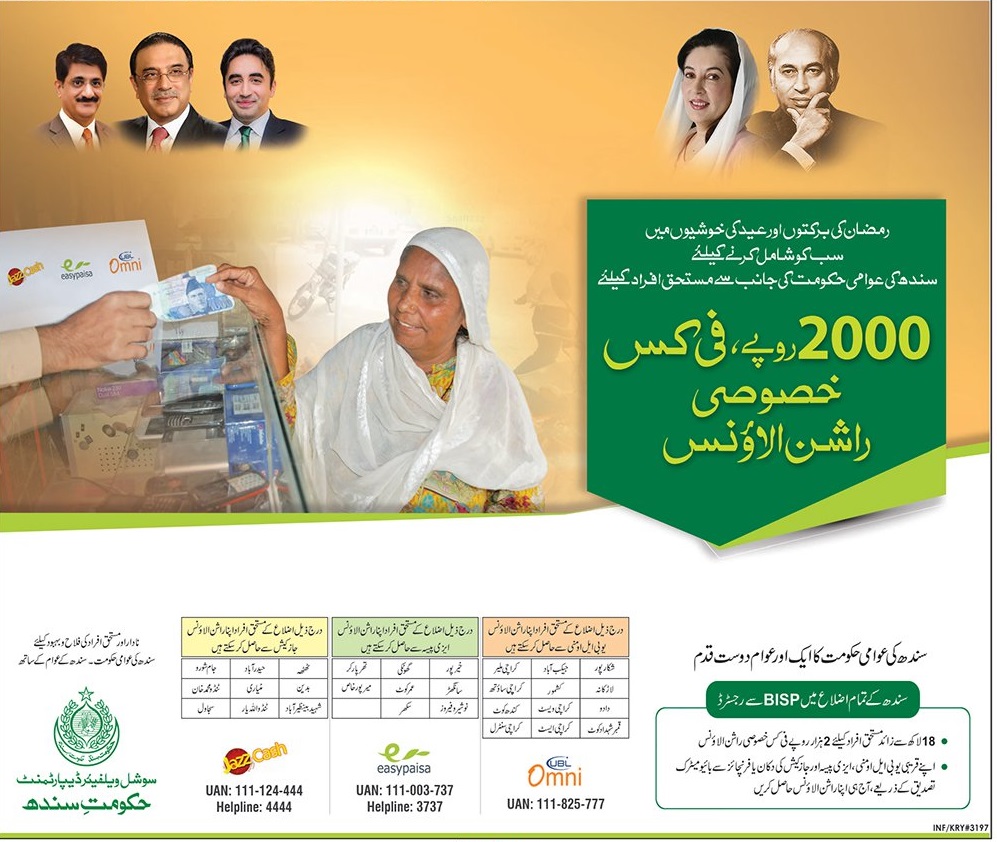 So these are the details about Sindh Government Ramzan Rashan Allowance 2017 Rs 2000 Eidi. Hope you are understand all the instruction and going to get your allowance. But in case you have any question in your mind set relating to this scheme you can send your comments in the following comments box and I will reply you as soon as possible.