Sui Southern Gas Company is offering SSGC Duplicate Bill 2019 Download / Print Online Copy to its customers. Well, it's an easier task to get your duplicate copy of Sui gas bill through the internet. But before going to that procedure I suggest you read this entire page so that in case of any confusion or omission you can overcome on it and can get an accurate errorless copy of your actual bill. Many times we feel the need to get the SSGC duplicate Bill and the first ever cause if that your bill has lost or damaged and is not in a proper condition. The Internet has made it easier for all the consumers to get all the facilities online while sitting anywhere. You can order new connection or complain about your connection online as well as you can also download the SSGC Duplicate bill print online without wasting your time of visiting the SSGC office. SSGC has specially managed a link that is helping out its consumers to provide a facility to download a print online copy of SSGC duplicate bill 2019.
SSGC Duplicate Bill 2019 Download
Sui Southern Gas company is a gas distribution company which was established in 1955 and had its head office in Karachi. It is offering many user-friendly services to its customers including downloading free SSGC duplicate bill online from their official website. Now customers can check bill online from the SSGC website which is www.ssgc.com.pk.
How to Download Duplicate Sui Gas Bill?
It has become easy to download Sui gas bill online. So in order to download the duplicate SSGC Sui gas bill copy for the current month, you have to follow these steps
Just hold any previous old bill of SSGC Sui of your desired connection
From that bill, you will see 10 digits of customer number
After you have to click on the following link (given below after this procedure); enter your customer number in the following box (customer number example is shown in the image below)
After entering the 10 digit code in the bar you have to select any of the correct options to form the below given three options that
Yes, I received the Bill
No, I have not received the gas bill yet
I am not sure/ I don't know (recommended)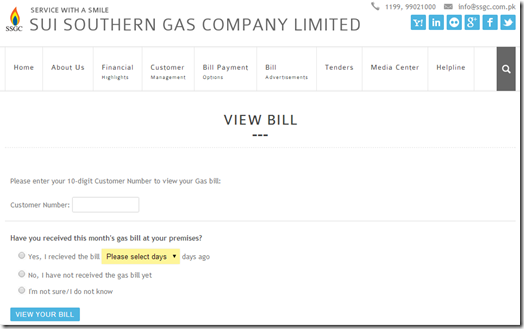 After selecting the best option according to your view you have to click on the view your bill
When your bill is viewed there on the top you will see an option of print out your bill option, just click on it and your bill will be downloaded to your mobile or PC
View Your Sui Southern Gas Company SSGC Bill online Click Here To:    
So this is all the procedure of how to get Sui Southern Gas Company Duplicate Bill 2019 Download. If you don't receive your bill of the current month or your bill or has lost due to any reason then just stay relax and follow the above steps carefully and gradually and then you can pay your bill within or after the due date in the prescribed bank branches. Or in case you have any further confusion you can send your query in the following comment box.