Right away in this article you will get to know all about the Leppa, Neelum Banjosa Valley Kashmir Pakistan tourist spot. As we all know that the capital of the Azad Jammu & Kashmir is situated at the place of Jhelum & Neelum rivers. It is all located at almost138 kms from the placeof Rawalpindi and in relation to 76 kms from Abbottabad. Near this place you will going to find two famous forts called as Red & Black Fort. These two forts are all located on the opposite sides of river Neelum.
What Is Neelum Valley?
                   Neelum Valley is all known as the green valley. It is all starting from the place of Muzaffarabad and winds along the Neelum river to Athmuqam, Sharda and Kel. This place is all famous known because of the scenic beauty alongside with the towering hills and mountains that makes this place best place for the romantic couples. Neelam Vallet is all located almost200 km long bow-shaped deeply forested region in Azad Kashmir, Pakistan. It is situated inside the North & North-East of Muzaffarabad that is all running parallel to Kaghan Valley. It even consists of the Neelam District that has two tehsils named as Athmuqam and Shardah.
Leepa, Neelum Banjosa Valley Kashmir Pakistan Tourist Spot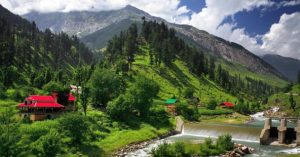 Transportation Facility:
                      You can easily reach at this place all the way by the Neelam road. The road condition that is all connecting the Muzaffarabad to Athmuqam is quite perfect and good. Sometimes the road is block because of the snowfall in the winter season. This snowfall even makes it difficult for the people to reach at the upper part.
Communication Services:
                       In Neelum Vallet there are varieties of landline telephones that are located up for the easiness of the people. These landline telephones are located in various locations adding in line with Dhanni, Jura, Chialana, Mirpura, Kutton, Kundal Shahi, Authmaqam, Nagdar, Keran, Sharda, Dhudnial and Kel. Mobile service is all accessible in the areas of Kundal Shahi, Authmuqam, Dhanni and Kel.
Guest Houses in Neelum Valley:
                     You can easily find the rest houses and lodges in the places of Keran, Kutton, Dawarrian, Sharda, Kel and Taobat in support of tourists stay. There are many private staying guest houses as well that are build up in Hotel Neelum Greenland.
So this was all in view about the Leppa, Neelum Banjosa Valley Kashmir Pakistan! If you want to feel the real beauty of Pakistan then doesn't forget to visit this place once in lifetime.