Do you know that which are the best places to visit in summer in Pakistan? Well we all know that summer is all about burning heat and this is the main reason that majority of the people move towards the areas that are slightest cold. Pakistan is all filled with the beautiful nature sights such as sky high mountains, lush green valleys, mighty rivers, beautiful lakes, and astonishing wildlife. The Paradise on Earth 'Neelum Valley' Mini Switzerland 'Swat Valley' and Mountain Kingdom 'Hunza valley' are named out to be some of the main attractive places of the tourists. If you are a student and going to spent the summer holidays in Pakistan then must make a plane to visit these places with your parents. Parents should try to bring their child in best visiting places for summer in Pakistan every year because they will see heaven on the earth. Even foreigners use to travel in Pakistan to watch these places but we miss to see these charming natural scenes in northern areas of Pakistan.
Best Places To Visit In Summer In Pakistan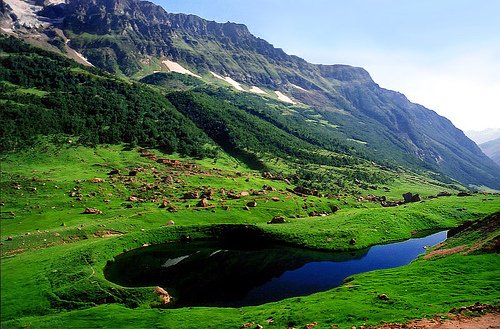 Neelum Valley:
This place is about 144 km long bow-shaped valley in Azad Kashmir Region. You can find this place as situated at the North & North-East of Muzaffarabad. This place is complete enriched with the scenic beauty, panoramic views, towering hills on both sides of the noisy Neelum rive. This place is all surrounded by some of the beautiful places adding with Athmuqam, Kutton Jagran, Karen, Neelum, Ratti Galli, Baboon, Noori top, Sharda, Sharda Fort, Sharda University Kel, Surgon, Halmet, Taobut and many more.
Hunza Valley:
Hunza valley is mainly known out as being the mountainous valley in the Gilgit–Baltistan region. This place is all spread at about2, 500 metres. The Valley has been divided into three Regions adding with the Upper Hunza (Gojal); Center Hunza and Lower Hunza. In its surroundings you will be findingRakaposhi Base Camp; Diran Base Camp; Hoper Glacier; Passue and Gulmit; Khunjrab Pass; Atta Abad lake and Nagar valley.
Swat Valley:
This place is located in the Khyber Pakhtunkhwa Province in Pakistan. It is mainly defined as the upper valley of the Swat River that is all rising in the Hindu Kush range. Some of the main places that are surrounded by Swart Valley are Swat Valley, Mini Switzerland, Mahodand Valley & Lake, Natural Ushu Valley & Ushu Forest, Malam Jabba (Famous ski resort in Swat Valley), Madyan, Swat & Kalam Vallies, Bonir, Der and many other naturaly good-looking sites.
Kalash Valley:
This place is named up to be one of the main attractions of the Pakistan. This place is situated in the Chitral district of Pakistan. In the past this place was known as old Greek civilization. This valley is taken as the definition of unique and amazing culture. Kalash Valley even celebrates many events and festivals such as Uchal Festival, Phoo Festival and Chomos Festival!
Don't forget to visit these amazing places of Pakistan especially in summer. These are cold places and give you a fresh feelings in summer hot weather. you can come here with your friends, children, family or if you are working somewhere you can come with all colleague group. These best places to visit in summer in Pakistan.