Do you know which are the top Murree beautiful places to visit travel guide? Well no doubt that as soon as the winter or summer season arrived all the people make their way into the Muree hillstation for taking fun from the exciting places of Muree. Murree is known as one of the beautiful places in Pakistan. It is situated near the place of Islamabad. Now you might be thinking that which places you should visit in Murree at the time of your tour?
Murree Beautiful Places To Visit Travel Guide
Below is a list of some of the famous and beautiful places that you should visit in Muree:
Patriata: This place is one of the famous places in Muree. It is situated at a distance of 15 km from Murree Hills. If you want to take fun in the high hills and mountains then this place would be best to visit out.It is a famous place because of its chair lift that gives the whole place with an international feel. You can enjoy 7km chair lift at the cost of just Rs.200 per person.
Ayubia, Muree: Aybia place is all surrounded by the four hill stations namelyGhor Daka, Khanspur Gali Changla and Khairagali. These four hill stations have been spread over an area of about 16 miles / 26 km. In this place you can find countless hotels, sports facilities, and world-class comfortable services as well.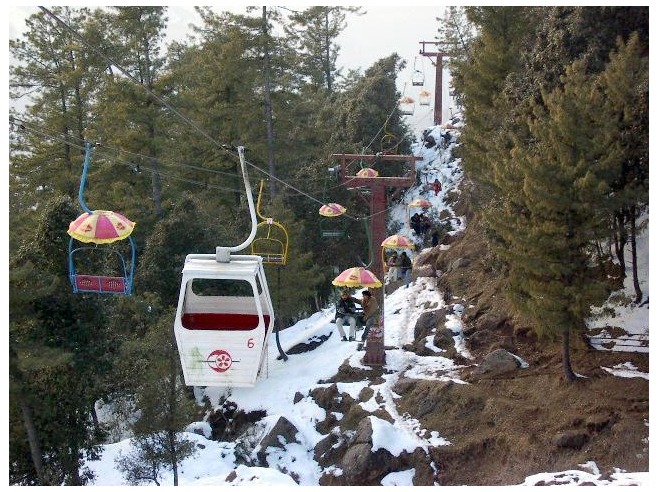 Mall Road: Mall Road is all defined as a small stretch of road that is filled with countless shops and restaurants. It is known as one of the famous attractions for the tourists. Sometimes you even find this place crowded with traffic because people are walking around on Mall Road.
Nathia Gali: Nathia Gali is situated in the Murree. This place is even having Nathia Gali Union Council which is located in Abbottabad District. It is all spread at a distance of 2500m (8200ft). This place is famous for its pine, maple, walnut, and also oak trees.
Kashmir Point: Kashmir Point is all located at the 15 minutes walk from GPO at a total distance of about 1 km. On this road, one of the famous educational centers Cadet College Murree is even situated.
So all the people out there whenever you will visit Murree don't forget to take fun from these places! You will just love it!