Those Students who want to join Accountancy field the great opportunity are available SKANS Lahore ACCA Admission 2017 are open through this page you can get Eligibility criteria, admission procedure, Fee Discount policy, Scholarship details, Class Time Table, Foreign collaboration details etc so do not miss read all given information. SKANS are offer ACCA Foundation Diploma or CA for all those students who are appeared in Metric or intermediate exam and now they are waiting for their result. These admissions are open in all SKANS campuses that are giving educational services in different Pakistan big cities like Lahor, Gulranwala, Islamabad, Rawalpindi, Faisalabad, Multan, Peshawar and Sialkot for admission in SKANS ACCA fondation diploma or CA read below all information.
SKANS Lahore ACCA Admission 2017
Admission details:
SKANS offer admission in ACCA Foundation Diploma and fast track CA those students who clear A level or intermediate exam or they are still result awaiting they are eligible for apply these programs remember limited number of seats available on first come first served basis.
Scholarship details:
SKANS offer ACCA or CA programs admission in 2017 with Students Scholarship and Students must be attempted and passed F1, F2, F3 papers in the same attempt and those students who will get 85 and above marks they can get 40% Scholarship and those who will get 80 to 84% marks they can get 30% scholarship and those who will get 70 to 79% marks they can get 20% Scholarship. Now we are discuss Scholarship Policy for ACCA manual Exam remember one thing student must pass a minimum of two papers with the following percentage of marks obtained. We are sharing chart through that you can get all more information
% of marks obtained
Scholarship %
Skills/Professional Level
85 and above
40
80-84
30
70-79
20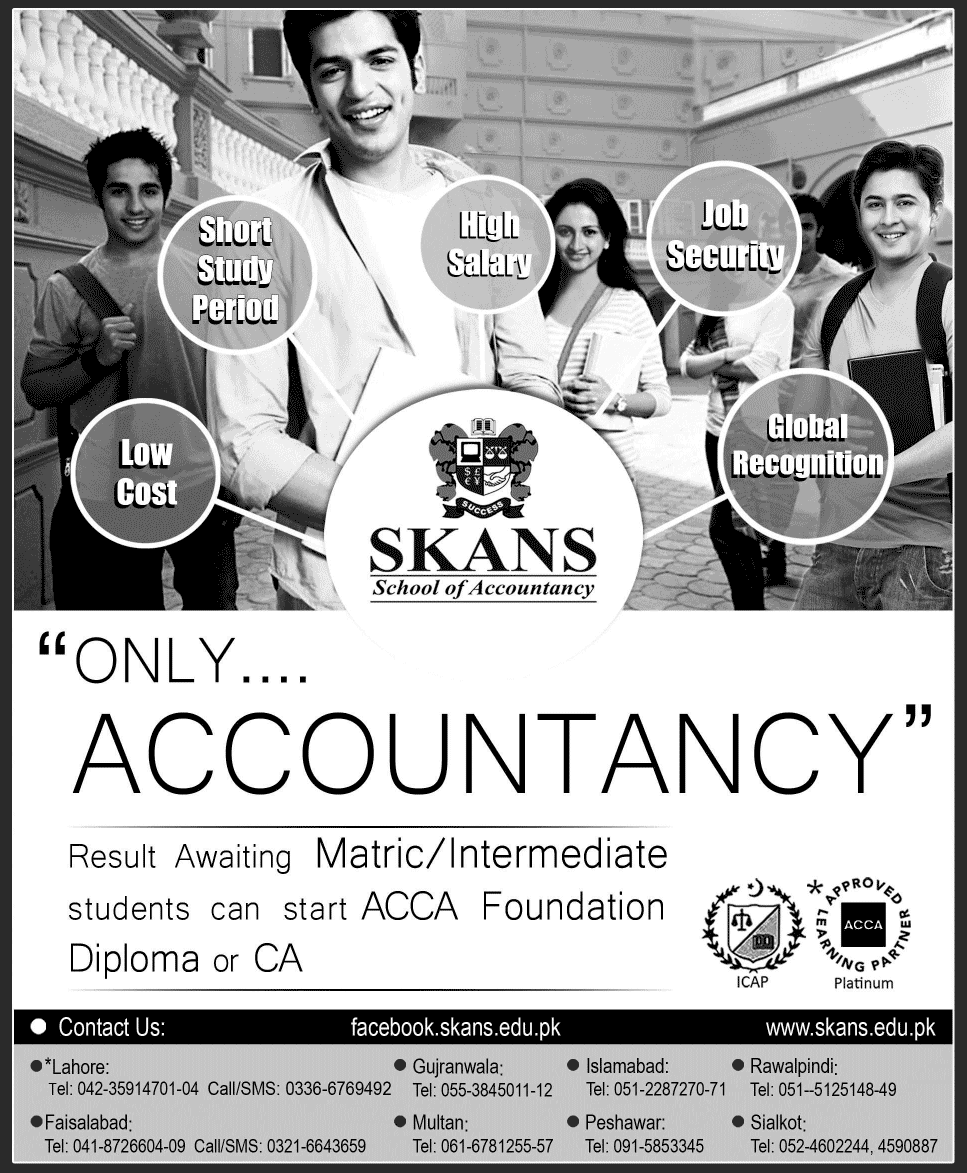 Now after SKANS Lahore ACCA Admission 2017 short details we are discuss about SKANS institute Since in 1992 SKANS School of Accountancy has been provided Accountancy field related study with best learning environment for student that is the reason SKANS has been wining excellent result in every year. SKANS offer foreign study for all SKANS students like UK and through SKANS students can complete their ACCA or CA study in different best universities and SKANS foreign affairs department are try to collaborate other countries for SKANS students. Now students get admission in SKANS educational institute and enjoy educational environment for your reminder SKANS Lahore ACCA Admission 2017 are open.