Right from this article you will be going to get all the information in relation with the Jheel Saif ul Malook facts history and travel guide. Jheel Saif ul Malook is named up as being one of the beautiful and lovely places located inside Pakistan. It is known as being the alpine lake that is all located at the northern end of the Kaghan Valley. This lake is all situated near the town of Naran. Naran is at the north east of Mansehra District in the Khyber-Pakhtunkhwa province, Pakistan. It is considered to be one of the highest lakes in Pakistan that has the altitude of 3,224 m (10,578 feet) above sea level. Weather on this place is almost moderate at the time of day time and the temperature drops to minus degrees at the time of night.
Location of Jheel Saif ul Malook:
                         It is locatedin district Mansehra of Hazara Division. It is all set at about eight kilometers in the direction of north of Naran in the Northern part of Kaghan valley. Malika Parbat that is known as the highest peak in the valley is even located near the lake.
Jheel Saif ul Malook Facts History And Travel Guide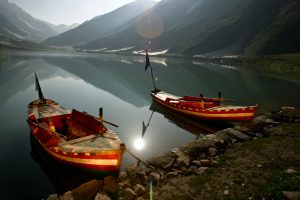 About Malika Parbat:
                           Malika Parbat is named as highest mountain in the Hazara Division. It is counted out to be the famous places to visit by tourists in Kaghan Valley.
Main Features About Jheel Saif ul Malook:
Jheel Saif ul Malook was all formed up by the glacial moraines that are even involved to block up the water of the stream passing all the way through the valley.
The fairy tale of Saiful Muluk was written by the famous Sufi poet Mian Muhammad Bakhsh. This fairy tale was linked with this lake. The story was all about the prince of Persia who fell in love with a fairy princess at the place of lake. Since that time this lake became the favorite spot for all the loved ones to come at this spot in the night time in the full moon.
In this place you will even be finding the large brown trout whose weight is around 7kg.
Around 26 species of vascular plant are found in the area in the company of Asteraceae that is the most commonly found specie. Some of the other species that are found in this lake are Ranunculaceae, Compositae, Ranunculaceae, Cruciferae, Gramineae, Apiaceae, Leguminosae, and Scrophulariaceae and Polygonaceae.
After reading out aboutJheel Saif ul Malook you will going to love out visiting this place. So now stop thinking and pack up your luggage right now and drive your car to Jheel Saif ul Malook right now.