ISSB interview questions and answers in Urdu are here for you to learn how to apply and crack the interview and the test of ISSB. Pakistan army is the greatest organization of Pakistan. It is one of the greatest armies of the world. Pak army find this place in the list of the armies just because of the strict rules of recruitment of the cadets. This is the reason that Pakistan army is leading all the other armies of the world and is a legend for the armies. Pak Army has very strict rules and regulations about hiring a cadet and Inter Service Selection Board ISSB is an authority that perform this task with full responsibility. It arranges ISSB test in Pakistan, and only those individuals are hired who pass this tough test. Pakistan recruits new troops every year that became a part of the Pak army after the training. But before all this the candidates have to prove their competency and have to prove that they are willing to be a part of the army and they are eligible to do so. There are various ISSB test preparation academy in Pakistan from where you can prepare for this test. After that, army took the different tests to choose the best of all the candidates and when the tests are commenced the best persons shows up with all the abilities and specialties to be a part of Pak army. This test is called the ISSB test. The test is very much tough for two reasons, 1st the reality is that it is tough and the 2nd is when you are near to your dream job you forgot everything.
ISSB Interview Questions And Answers In Urdu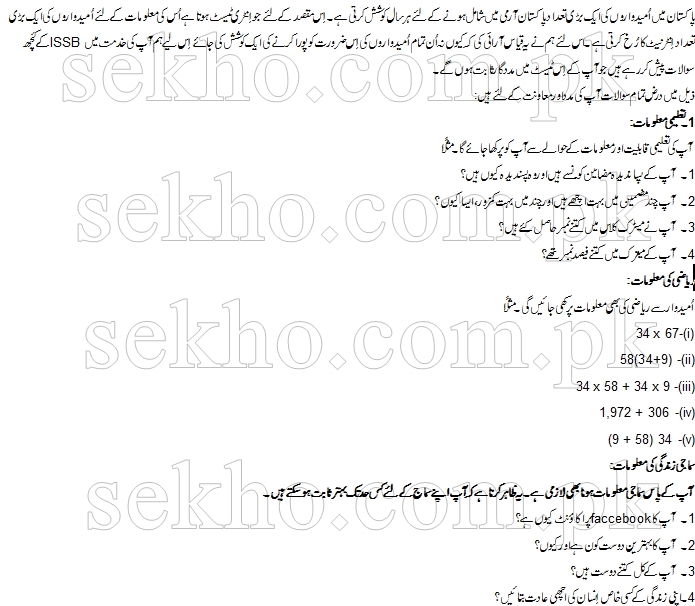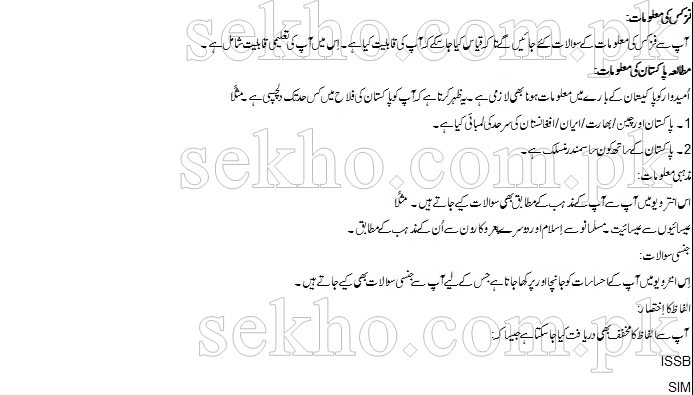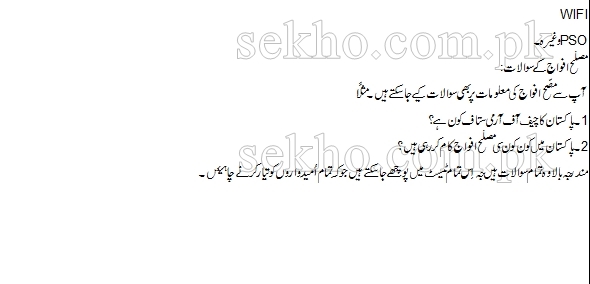 Following are the ISSB interview questions and answers in Urdu that are frequently asked by the chamber/ board of interviewers. ISSB Interview Questions And Answers In Urdu all the information is given to you in this article.
Academic Career Questions in ISSB Interview:
Academic career of each candidates explain a lot to the interviewing officer so that is why here you do have to face some difficulties if you have any kind of ambiguity. Questions asked in that section could be like
Name your favorite subjects and why they are favorite?
What is the reason that good in some specific subject not others?
How many total marks you obtained in the Matric Class?
What is the total percentage you got in Matric?
Marks obtained in Intermediate examination?
Name the institute and the address of the institute that you have passed the matric examination from?
Name the subject you don't like and why?
If you have ever failed or got supply in one subject then explain the reason?
Mathematical Questions in ISSB Interview:
There are many mind bluster questions about the mathematical formulas regarding Weight, Time, Space and Speed.
For Example:
Which of the following values is NOT equal to 34(58+9)?
34 x 67
58(34+9)
34 x 58 + 34 x 9
1,972 + 306
(9 + 58) 34
Social Life Questions in ISSB Interview:
The questions asked in that portion of Interview is all about your social life that means how you spend you life when you are outside of you home. The Questions in that category would be like
Why you have account on Facebook?
Who is your best friend and why?
Number of total friends you have?
Good habit of some specific person in your friend list?
How many female friends you have on your Facebook or any other social media?
So these are the ISSB interview questions and answers in Urdu. These are just basic idea about ISSB interview but they can ask any question at the time of interview. These further questions you can prepare from ISSB test preparing books available in market. But in the end you are suggested that you should be fully prepare with this ISSB interview questions and answers, otherwise you will be rejected and will be be proceeded to the next level that is your training session.