Officials of the Pakistan Army have invited the application forms for 150 PMA Long Course Registration 2022 before the Last Date. Only male citizens of Pakistan, AJK, and tribal areas who will meet the eligibility criteria are addressed to apply before the last date which is 10 May. The advertisement for joining Pak Army through Pakistan Military Academy (PMA 150 long course) was started on 8th April and ends on 10th May and all the candidates are hereby intimate to follow the PMA long course 150 registration last date. I would like to intimate you that in case of any application form received after the last date will not be entertained on any case by the officials of www.joinpakarmy.gov.pk. Before turning towards the eligibility details, you are informed that a candidate who is hired for a regular commission in Army, has to pass the preliminary test at his nearest Army Selection and Recruitment Center (AS&RC). After this, candidates are sent to ISB for final selection and shortlist the candidates. All the shortlisted candidates are then sent to Pakistan Military Academy PMA Kakul or any other academy for a training session. After the completion of training, a cadet is hired as a permanent commission in different corps of the Pakistan Army.
150 PMA Long Course Registration 2022 Last Date
So all those candidates, who are willing to join the Pakistan army through PMA long course can check all the details including 150 PMA Long Course Registration 2022 Last Date from this website. We are also sharing the advertisement for this course which is as follows.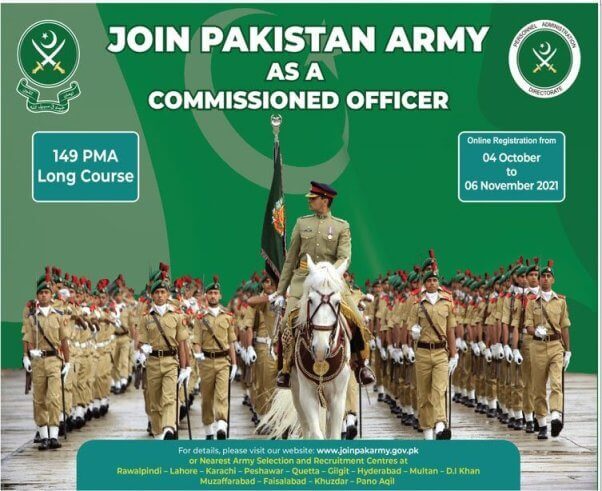 150 PMA Long Course Eligibility Criteria:
Before you apply online for a regular commission in Army you have to fulfill all the eligibilities as per the given instructions below. These 150 PMA Long Course Eligibility Criteria are including education, age, gender, nationality, medical, and physical test. So it is necessary for every candidate to check out these following aspects and then apply.
Education
it is mandatory for all the candidates to meet the following eligibility for 150 PMA Long Course Registration 2022 otherwise the officials will not entertain the application form of a candidate.
Candidate must be Intermediate or equivalence with 60% Marks and age limit is 17 to 22 year till 1st May 2022 (3 months age relaxation is allowed in upper and lower age)
OR a candidate having two-years Graduation (or PAK Navy and PAF Serving People ) age limit between 17 to 23 years till 1st May 2022 (3 months age relaxation is allowed in upper and lower age)
OR candidates with four years bachelor's degree and the age limit would be 17 to 24 years without any age relaxation
A candidate who is having BA, BSC, two years and 4years with 60% marks are also eligible for this course but with all this, they must have 50% Marks in the intermediate level.
In duty, Army soldiers can also apply with the age limit of 17 to 25 years
Gender:
Only male citizens are eligible for PMA long course 150 2022
Nationality:
Pakistani Citizens and AJK, Gilgit Baltistan, Tribal Areas of Pakistan
Must withdraw dual nationality
Marital Status:
unmarried citizens of Pakistan who are meeting the other eligibilities
serving army soldiers over 20 years of age could be married
Physical Standards:
Minimum Height: 5.4 feet height (162.5 cm)
Weight: As per body mass index
150 PMA Long Course Registration Last Date:
Their dates are not announced yet
150 PMA Long Course Registration Procedure:
If you are meeting with the above-written eligibilities then you have to get the online registration of PMA long course 150. There you have to fill up the form and attach all the required documents with it and submit it to the Army Selection and Recruitment Center. You will have to pass the following preliminary selection for PMA long course 150.
Preliminary Selection:
Written/ Intelligence Tests. Written/Intelligence tests will be based on multiple-choice questions from English, Math, Pak Studies, Islamiyat, and General Knowledge. The candidates declared successful in written/intelligence tests will undergo physical/medical tests and interviews at AS&RCs.
Physical Tests. The candidates must qualify the following physical standards at the time of preliminary selection:-
(a) 1.6 Km Run – 8 minutes
(b) Push Ups – 15 repetitions in 2 minutes
(c) Sit Ups – 20 repetitions in 2 minutes
(d) Chin Ups – 3 repetitions in 2 minutes
(e) Ditch Crossing – 7'.4" x 7'.4" and 4' deep.
Successful candidates will be interviewed at AS&RC and shortlisted for the ISSB test.
Successful candidates will receive notice for ISSB tests through the website as well as a call-up letter.
All those candidates who will pass this basic entry test will be sent to the Pakistan Military Academy PMA for two years of the training session. Remember that the officials of the Pakistan Army reserved the right to cancel a candidate at any stage during his training session.
Till then I have discussed all the details about 150 PMA Long Course Last Date and Procedure. I am hoping that you are all now well aware of this PMA 150 long course online registration form procedure last date. In case of any further queries, you can send your FAQs in the following comments and we will provide proper feedback to your comments thank you.