If you are searching for PTCL Charji Packages 2023 and price in Pakistan then you are here on the right page. Here you are getting details for both Charji Evo Wingle and Charji Evo Cloud. Through these PTCL Charji devices, PTCL is providing the fastest browsing and fastest downloading with portable facilities. You can buy any device according to your need and requirement. Such as the charji cloud is coming with a rechargeable battery while the Charji Evo single is coming with plug-and-play technology. So now you are all the time in connection to the internet with these PTCL Charji Packages 2023.
PTCL Charji Packages 2023 
PTCL Charji Packages 2023 And Price In Pakistan have been announced by the PTCL company. In Pakistan, different companies provide internet services but PTCL is the one and only company that is providing the fastest internet at an affordable price.PTCL is one of the most popular and well-reputed telecommunication companies that comes with different 5 internet packages at a reasonable price instead of other networks. Here we tell you the detail of all internet packages of PTCL Charji Evo with price along with validation time. This is a dual-mode mobile hotspot device. You can connect to 10 Wifi devices simultaneously. The Following Packages are For the whole month (30 days).
| | | |
| --- | --- | --- |
| Number | Line Rent | Volume |
| 1 | Rs. 1,149/- | 25GB |
| 2 | Rs. 1,399/- | 35GB |
| 3 | Rs. 1,675/- | 50GB |
| 4 | Rs.1699/- | Unlimited* |
| 5 | Rs. 2,199/- | Unlimited* |
*Additional volume bucket at Rs. 500 for 5 GB.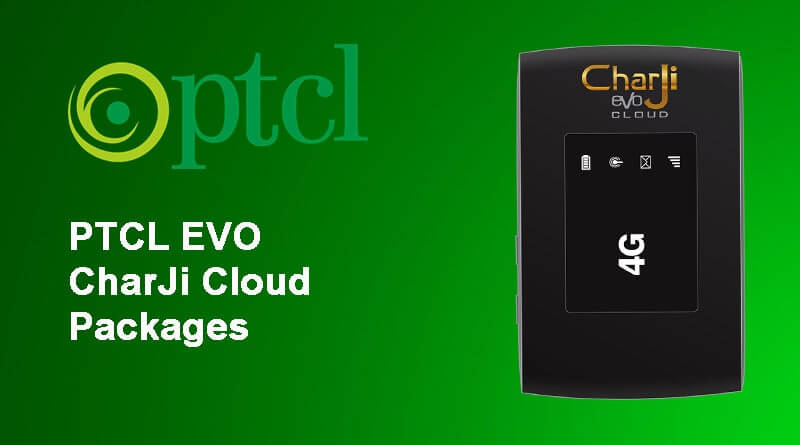 PTCL Charji Device Price 2023:
PTCL gives a large coverage area to their loyal users and is also considered the best company that provides quality internet packages. PTCL Evo Chargi starts internet service at a reasonable price, but other packages are not too expensive.
Device Price
CharJi EVO
Rs. 2,500
Last few months ago PTCL is introducing PTCL Charji Packages 2023 for PTCL internet package users.
PTCL Charji Packages Unlimited For Lahore And Karachi:
Now the users of Lahore and Karachi can get unlimited data for Rs. 1,699/- per month. There are no extra charges for this package. You can watch and download unlimited videos and games and do online streamings.
To subscribe to this offer you can dial 1218 or write in your message 'Unlimited<space>MDN' and send it to 0512181218.
CharJi EVO for Azad Jammu and Kashmir:
Ptcl is also providing packages to a limited area like AJK. In the following table, we share PTCL packages for AJK users.
Device Price
CharJi EVO Cloud
Rs. 2,500/-
AJK CharJi Packages

No
Volume
Monthly Line Rent
1
150GB*
Rs. 1,699
2
35GB
Rs. 1,400
3
25GB
Rs. 1,150
These packages are limited we will update when PTCL will introduce a new package. If you are an existing user of PTCL and you want to change your PTCL package then you can dial 1218 or if you are from Azad Jammu & Kashmir then you also have another option to send a text at 0512181218.
PC <space>35GB <space> MDN
PC <space>50GB <space> MDN
PC <space>80GB <space> MDN
PC <space>100GB <space> MDN
All packages' validity is 30 days.
Features of PTCL Charji Packages 2023:
Note: This page is being reviewed frequently. As soon as PTCL will announce the new prices the table will be updated.
Fastest internet browsing
Use social websites and networks at the fastest speed
Speed based on up to 3.6 MBPS
The download limit is based on the Unlimited option
Pricing is based on Economical
PTCL Charji Evo Device features:
Duel Mode mobile hotspot device
PTCL Charji Evo USB is also available with Plug and Play connectivity option, 3G speed internist, 32 GB micro supports SD card.
Strumming just like normal buffering
A face-to-face video chat option is also available on PTCL Charji Evo devices.
PTCL Charji helpline number:
You can contact to PTCL Charji helpline number through these numbers 080080800 or 1236
Evo Charji login IP address:
First, you can note down your Charji IP address from the back side of your device.
Open your browsers and search your IP address for the login.
PTCL Charji speed:
The downlink speed of PTCL is 5-15 Mbps and 2-5 Mbps is for Uplink.
After PTCL Charji Packages 2023 and price in Pakistan if you want to ask for any more FAQs relating to this post you can ask me via comments down of this passage.