How To Check Vehicle Registration Through Sms in Punjab all details are available on this page you can get this all through this page so keep in touch and read all given information. Punjab Excise and Taxation department launched An SMS services for public through you can check vehicles information. When you send SMS then you have only pay normal SMS Charges that is 1.50 per SMS. This is the method How To Check Vehicle Registration Through Sms in Punjab. if you get Vehicles information and you want to collect this then you must have Vehicles registration number and you can send Vehicles registration number to 9966 after this you can receive one sms by Punjab Excise and Taxation department in this SMS you can collect all information related your vehicles.
This service is launched to aid tax authorities in their request to collect all taxes implemented on cars. Information related to token, income and other taxes can be received by sending an SMS to 9966 and you can also received other details like owner name, those person name the car transferred or if has been re-sold this all information you can receive within one SMS. These services are very helpful department staff they can get information about any car or other vehicles just in one SMS and government will able to collect tax and through this facilitates public. In past we was get all information manually that is very long procedure but through technology we get lot of facilities that is helpful for us.
How To Check Vehicle Registration Through Sms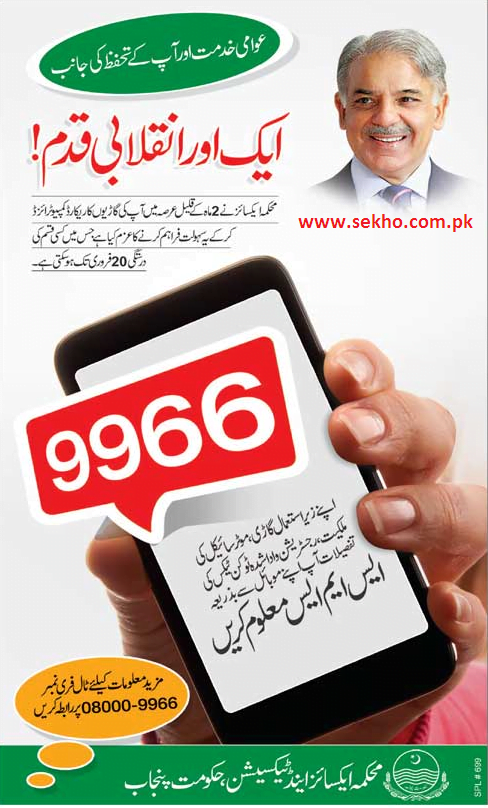 Punjab Car Registration Online Check MTMIS Vehicle Verification 
The Excise, Taxation & Narcotics Department is the main revenue collecting agency of the Government of punjab which plays a paramount role in resource mobilization. The Department has been entrusted with two functions i.e. Tax collection and Narcotics suppression. It has the exclusive authority of issuance & administering the intoxicating liquor and other intoxicating licenses. In the province of punjab following Taxes are being levied and collected through Excise and Taxation Department and the taxpayers in these categories are more than 5 million. The prime goal of Department is to rationalize, simplify the system of collection of provincial taxes, levies, to provide all possible facilities to the taxpayers and to boost up the Government exchequer & to clamp down drug traffic, abuse. This is how to check Car registration through SMS and How to check Bike Registration through SMS.