If you want to purchase any used or second hand bike then you must check the motorcycle registration number. We are telling you the motorcycle registration number check Punjab for Lahore, Faisalabad, Multan, Rawalpindi, Sahiwal, Gujranwala, and Bahawalpur. In Pakistan, the technology system is improved day by day that is the reason all province of Pakistan is providing a different online system in the different government department. Through these systems, the public can get details at home related to different queries like monthly billing, taxation details, and vehicle verification. Through this page, we are sharing motorcycle registration number check Punjab procedure for Lahore and all big cities. You must read out this entire post and follow the procedure as per the written statement so that you can make sure that you are buying a genuine product.
Motorcycle Registration Number Check Punjab
Excise and taxation department Punjab Pakistan has launched this service in Punjab all districts. The government of Punjab if you want to check motorbike registration number in Punjab Lahore then two ways is available for you. one way is based on the old method in this procedure you can visit the Excise department and verify the motorcycle registration number verification manually, yes this is a reality through this all method you can waste your all day so the second latest method is designed for your convenience, just through one click you can get online vehicle registration details about your vehicle.

Motorcycle Registration Fee In Punjab Pakistan:
Before motorcycle registration number check Punjab Lahore, I would like to make you up to date with the recent charges relating to the registration of new and old motorbike.
New Motorcycle Registration Number
Registration Fee
Motorcycle/Scooter, Tractor, Truck, Bus, Rickshaw &Taxi
1% of the value of the vehicle

(Rs. 1000 for a Rs. 100000 bike)

Second-Hand Motorcycle Registration Number
Motorcycle, Scooter, etc.
PKR. 150/-
Fee For Motorcycle Duplicate Book
Motorcycles & Cars
PKR. 500/-
Number plate price

Rs. 400.
Lifetime token tax 
Rs. 1,200.
Motorcycle Registration Number Check Punjab Pakistan:
In below side one link is available through this link you can get one new page. On that page "Enter Vehicle No" option is available and in front of this option you can see one blank block just put your Motorbike number and click on "Search Button" option after this procedure you can check motorcycle registration number all over the Punjab Pakistan.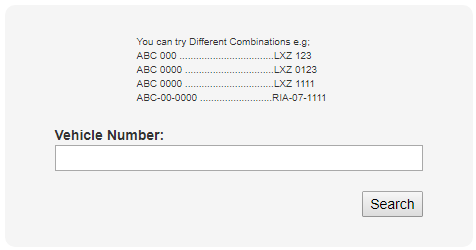 This is the complete procedure for motorcycle registration number check Punjab Lahore Pakistan. Excise and taxation department Punjab is taxes and duties collection department that is working under the Punjab government. Through his department Government of Punjab is collected Motor Vehicle tax, property tax, Excise duty, Professional tax, Hotel Tax, Entertainment duty, and Luxury Tax on Houses and Farm Houses. In Pakistan, unregistered Bikes ratio is available in high stats that is the reason excise and taxation are developed check motorcycle registration online Lahore system through this system you before purchasing any bike you can get details information about that bike registration without any time waste. In case of any further details about to check motorcycle registration number in Punjab Lahore, you can send your comments in the following commenting section.