We have given you the information below regarding the procedure of checking duplicate bills for Multan Electric Power Company (MEPCO) Online Bill Check 2022. Multan residents can even check their electricity bills online if they use electricity and are from Multan. Below you will find the steps to guide you step-by-step through the process of checking your electricity bill online. It does occur, often, that the bill distributor does not deliver the bill on time, and the customer gets angry about it when the bill is not delivered on time. Therefore, in such a case, you are able to get a copy of your MEPCO Online bill by following the instructions on this website or by visiting the official MEPCO website.
In order to check your online consumer bill duplicate copy, when you visit www.mepco.com.pk, you will find a link to customer service. Click on the customer service link to check if your duplicate copy of your consumer bill can be found by visiting this website.
MEPCO Online Bill Check 2022
The Multan Electric Power Company, or MEPCO, is a company that specializes in electricity supply, which was founded in May 1998. An electricity distribution license has been granted to the company by NEPRA for the southern Punjab region. Currently, it is providing customers with duplicate bills that can be paid online by customers.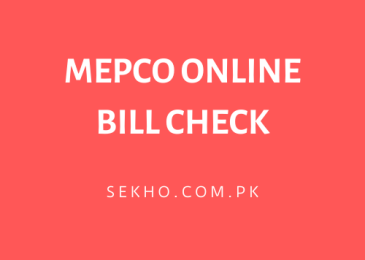 MEPCO Online Bill Check  Multan
MEPCO is offering MEPCO Online bills to its customers. Now they can use MEPCO's Duplicate Bill Copy 2022 Online. The procedure is very simple and you just need to follow the below steps in order to check your electricity bill online by sitting at home and using the internet on your mobile and laptop.
Open Google Chrome first
Search for MEPCO Online Bill or Click Here
Now a form will be open
Enter the Reference No which is given on your Bill
Select the Type of Electricity Bill
Click on Submit in order to check your duplicate bill
Now select the page size
Click on print in order to print this bill
FAQ's
How Do I Find My Old MEPCO Bill?
CLICK HERE to check your old bill
Now enter the reference number that you can find on your old bill
Your bill will open there.
You can find it from there.
How Do I Pay My MEPCO Bill Online?
First of all, open your billing application.
There will be an option of Bill Payment. Click it.
Now select the category.
Enter the bill reference number there.
The information regarding your bill will be on your screen.
Click the pay bill button to pay your bill.
After the payment of the bill, you will get a bill payment confirmation message.
How To Check Mepco Bill Without Reference Number?
The MEPCO Reference Number is a 14-digit code that is given on the top left corner of the MEPCO bill. It is written in the form of 00 0000 0000000 U.
So here are the complete details of the MEPCO Online Bill Check 2022 Multan Consumer Bill that you can get from this website. The procedure is very simple if you have the internet and a printer. If you don't have a printer, you can visit your nearest net cafe to get your online bill.