This article is written for the Sir Syed Ahmed Khan essay in Urdu and English with Quotes. A student of Matric, Inter and Bachelors (BA) can prepare this essay for his/ her educational examination. Sir Syed Ahmed Khan was born in 1797. He was the great well wisher of nation, poet and writer. Where he has formed Ali Garh College there he has also served Muslims of South Asia with his writing. Sir Syed was born in the era of Urdu literature. That was the time when Nawab Fakir Muhammad Khan wrote Anwar Sahily, Mirza Irjab wrote Fasana Ajayab and Mir Amaan Dehelvi wrote Qisa Char Darweish. In that era, Urdu philosophers were becoming famous due to their fluency and cleanliness in Urdu literature. Press club had formed. Sir Syed Ahmed Khan released his news paper Syed-al-Akhbar along with his brother Syed Muhammad Khan. The first book of Sir Syed Ahmed Khan was Asar-Ul- Sanadid but he left this pattern and started working on simple language. His literature has following importance peculiarities. scroll down this passage for getting Sir Syed Ahmed Khan essay in Urdu.
Sir Syed Ahmed Khan Essay In Urdu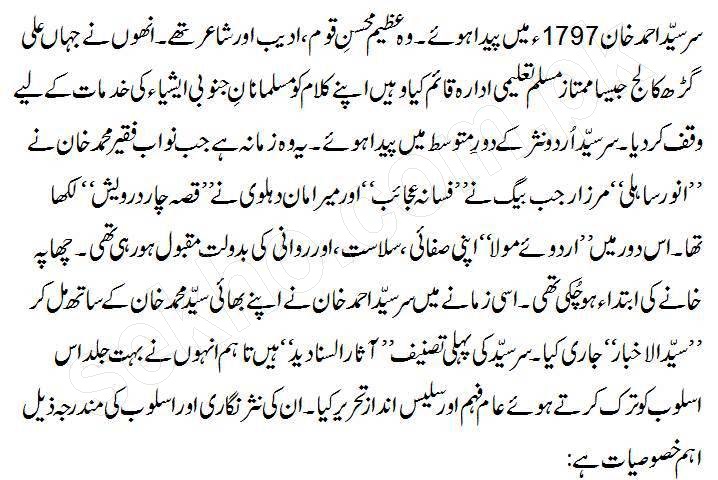 Simplicity and Continuity:
In the writings of Sir Syed Ahmed Khan there is always simplicity and continuity. He used simple words in his writings so the simple people can understand easily.
Humorous:
Sir Syed made the beautiful level of essay writing. In their writings he used sense of humor. Sometime this sense of humor become taunt and his behavior become taunting for his opponents.
Purpose:
Writing of Sir Syed contains purposes. His every writing gives message and whatever he wrote he tried to convey its meaning to the hearts of others.
Importance of English:
He used English in his writing that is why his writings become famous.
National Aches:
In the writing of Sir Syed National aches are prominent. He was very influenced with Indian people especially Muslims. They want to see people on the way of progress. That is why he has guide people through his writings with great attention.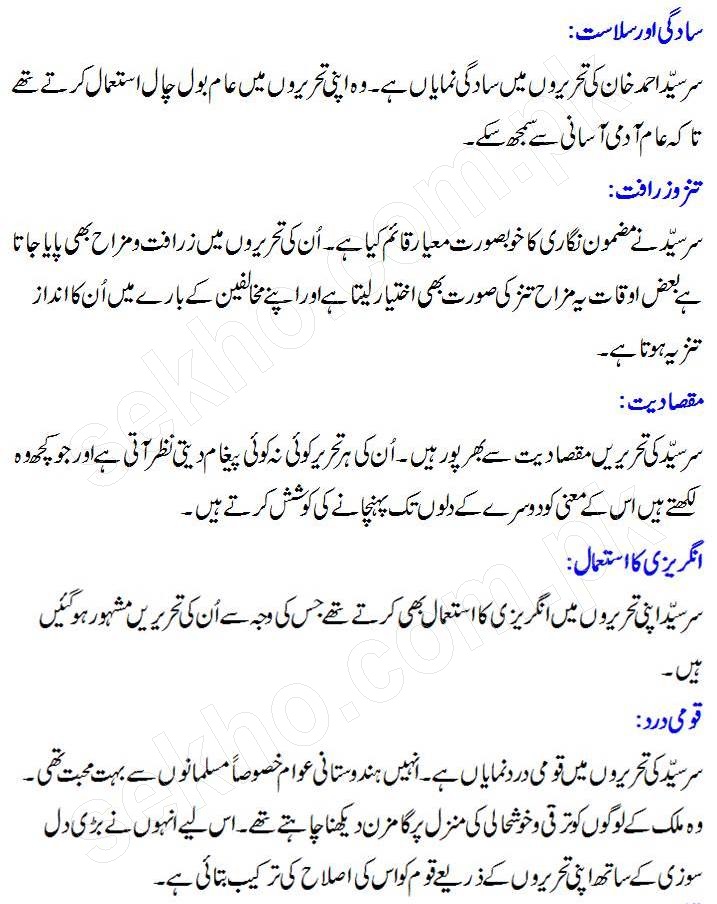 Educational Services:
Sir Syed Ahmed Khan is the first person who has made Urdu as the weapon for overall benefits. That is why if we say Sir Syed is the greatest Scholar of Urdu than it won't be wrong. His basic purpose is to work for the benefits of Muslims of Hind and for their unity. He helped people with his speeches as well as with his writings and stressed upon the importance of language along with nation. He had written a lot and helped in writings of others. His list of bibliography is too long. In short, with the struggle of Sir Syed not only brought change in thinking but also made language simple and easier. There is no single topic on which he hasn't written anything. He has made Urdu as educational language and died in 1816.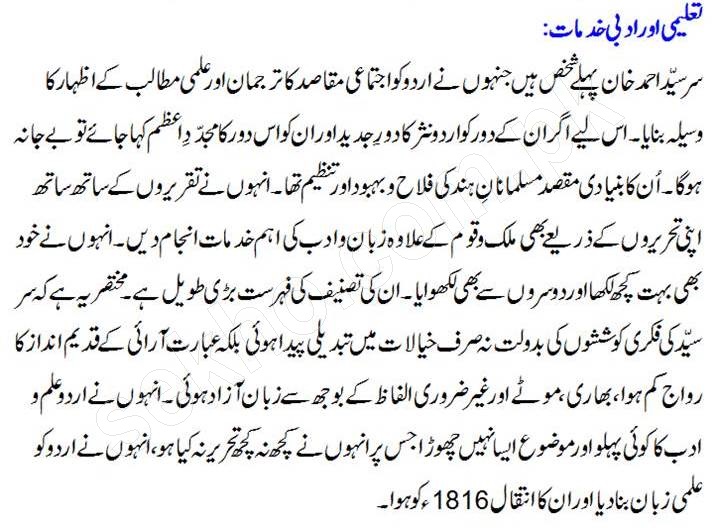 So this is the Sir Syed Ahmed Khan Essay In Urdu and English with Quotes. Sir Syed Ahmed Khan Educational Services are also added in this essay which is specially written for Matric to graduation level students.