The concept of "Shaheed Ki Mout" (martyrdom) holds immense significance in Urdu literature and culture. It refers to the death of a martyr, someone who sacrifices their life for a cause they believe in. Martyrdom is deeply rooted in the history and traditions of the Urdu-speaking community, serving as a powerful symbol of bravery, sacrifice, and patriotism. This article explores the meaning and importance of Shaheed Ki Mout Essay in Urdu, its historical context, its portrayal in literature, and its impact on the Urdu-speaking community.
Shaheed Ki Mout Essay in Urdu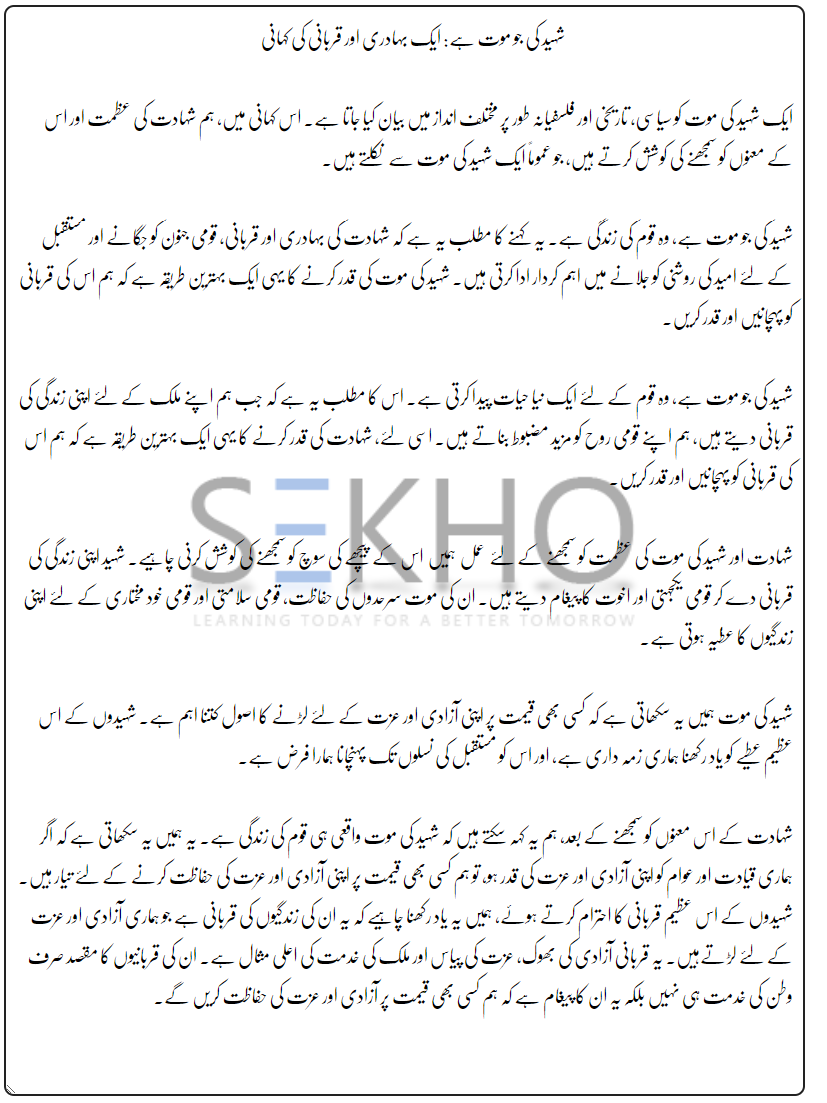 Shaheed Ki Mout Essay in Urdu is given in the above image.
Martyrdom in the Islamic Context
The concept of martyrdom has deep roots in Islamic teachings. In Islam, martyrdom is seen as a noble and elevated status attained by those who sacrifice their lives in defense of their faith. The Quran and Hadiths emphasize the rewards and virtues associated with martyrdom, promising eternal bliss and a special place in Paradise for those who die as martyrs. This Islamic perspective on martyrdom further strengthens the significance of "Shaheed Ki Mout" in the Urdu-speaking community.
Urdu literature abounds with remarkable examples of martyrdom, where poets and writers vividly portray the valor and sacrifice of martyrs. From the epic works of Mirza Ghalib and Allama Iqbal to the verses of Faiz Ahmed Faiz and Ahmed Faraz, the concept of "Shaheed Ki Mout" finds its resonance in the hearts of Urdu readers. These literary masterpieces capture the spirit of martyrdom, the indomitable will to stand up against oppression, and the eternal flame of hope that burns within the martyrs' legacy.