In this post, Human Rights In Pakistan Essay With Outline is available. Read it and get to know the real importance of human rights. The issue of human rights has not only attracted media attention but has also become a major subject of controversy in countries like America, China, India, and Pakistan. Islam has set forth public and private rights in a codified form on the basis of which a modern social welfare state could be established. Hazrat Muhammad (P.B.U.H) also presented the concept of human rights in His celebrated last farewell address. He laid emphasis on the equality of all men before God, the rights of slaves or servants, women and wives and the rights of all to enjoy their property and money freely. The democratic developments in England, France, and the US resulted in the form of the law guaranteeing the rights of human beings. The UN charter of human rights is again a repetition of its principles. Our own constitution contains a chapter on basic human rights of liberty and equality in all possible forms through its implementation is still a far cry.
Human Rights In Pakistan Essay With Outline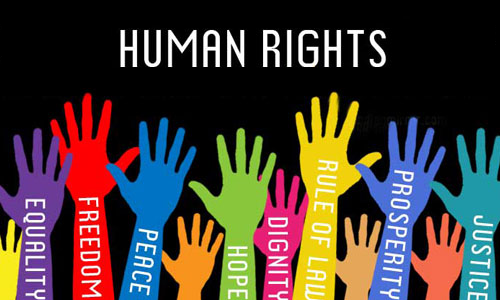 Human Rights In Pakistan Current Scenario:
The violation of human rights is common in the less developed countries in Asia, Africa, Europe and Latin America. But even in the advanced parts of the world, in Europe and America, human rights are abused though not on such a vast scale. The most painful and shameful violation of human rights has taken place in recent times in Afghanistan, Kashmir, Palestine, Bosnia, Iraq and in various African countries. There has been an international outcry against human rights violations in Kashmir. In Africa, thousands of people have been killed and in Central Asia, many more are being killed and wounded on account of political and religious differences.
Contributions by International Agencies to Protect Human Rights In Pakistan:
No doubt, certain international human rights agencies are working together for the protection of human rights. The future of human rights is brighter in developed democracies and as much darker in half democracies, dictatorships and autocracies. Even in the Islamic States the sun of human rights is clouded by backwardness. The use of reason and intelligence can help in the lifting of these clouds from the fair face of justice. There is a dire and extreme need to start working on this global issue before the situation gets worse. It is high time to start making some efforts and attempts so that one can get his / her rights properly and fully.
Human Rights NGOs in Pakistan:
Human Rights Commission of Pakistan
1987
House No 107, Tipu Block New Garden Town, City: Lahore
Telephone: 042-5865969; Fax: 042- 5883582 Field Office:Khyber Pakhtunkhawa,Balochistan,
Hyderabad, Multan, Islamabad, Gilgit, Makran, Sukkur
Society for Human Rights & Prisoners Aid (SHARP)(Website inactive)
Rawal Arcade F-8 Markaz
Islamabad
Telephone: 051-2251318-2214211
Fax: 051- 2250640
Pakistan Council for Social Welfare and Human Rights
Muradia Road Model Town,
Sialkot 51310 – Pakistan
Ph: 0092-52-3563809
Fax: 0092-52-4588276
Pakistan International Peace and Human Rights Organisation
2001
P.O Nindo Shaher, District Badin, Sindh. Postal Code: 72250 Contact No: 0297-820106, 0333-2668296
Pakistan International Human Rights Organization
1999
Head Office
# 12, 1-D, 2nd Floor, Rahmat Plaza, Nazim-ud-Din Road,
Blue Area, Islamabad – Pakistan.
P.O. Box 3040, G.P.O Islamabad, Post Code: 44000
Tel: +92-51-2828791
Fax: +92-51-2872092
Human Rights Council of Pakistan (Website down)
1992
House No. 143 Sector I-10/4
P.O Box 2720 Islamabad – PakistanPhone: +92-51-4441738
Fax : +92-51-4441737
Cell No. +92-333-5128523
Rose Human Rights Welfare Organization
Nai Abadi, Noor Pura, Pasrur Road, Sialkot. [email protected]
Forum for Human Rights Pakistan
2005
F-70, Block 8, KDA Scheme 5, Kehkashan, Clifton, Karachi-Pakistan Tel:
+92-21-35374574, 35836992
Fax: +92-21-35364574
SAFHR-South Asia Forum for Human Rights
1990
SAFHR-Pakistan office
D-3/1, Block 7, KDA Scheme 5.
Clifton
Karachi
Pakistan Telephone: 021-35830418
HARDS-Human And Rural Development Society
Old Bhurgari Flats Hirabad
Hyderabad, Sindh, Pakistan
Cell# +92-336-3046991
Field Office: Nawabshah
Freedom Movement
2011
Rahim Yar Khan-64200
Help For Human Being Organization
2011
h#b.15 Al-Meeran Town near citizen colony Jamshoro road Qasim Abad Hyderabad Sindh Pakistan
Hyderabad, Pakistan-71000 Tel:0333 2629506
Pakistan Care-Foundation (Pcf)
215/B, Own Paradise Garden West, Karachi, Pakistan
(021) 34222226
This is the complete Human Rights In Pakistan Essay With Outline. Further, you can add your comments about Human Rights In Pakistan In The Following Commenting Section.