Essay on Cultural Festivals in Pakistan as Culture of the nation is the customary esteem of that country. Culture of any country comprehends some specific values, virtues and code of conduct that hold bythe nation of that country. Each nation has its own society. In the same way being an independent nation, Pakistan, it comprises of very diversified cultures. Pakistani society is a mixture of distinctive areas and tribes, for example, Sindh, Punjab, Khyber Pakhtun Khan and Balochistan. If we talk about food, lifestyle or clothing, but the culture of Pakistan is of its matchless superiority.
Pakistani nation is very close to its culture and celebrate cultural festivals with great zeal. There are some festivals, which are celebrated nation wise with full unity but if we focus on provinces of Pakistan, every province has its different culture and they celebrate different festivals also.Being an Islamic Republic Nation, religious festivals are celebrate with great fun and enthusiasm. Let's have a detailed look on the list of some religious festivals which are celebrated in overall Pakistan:
Eid-Ul-Fitr
Eid-ul-Fitr is a religious festival for Muslims and it is celebrated at the end of Ramadan after fasting and on 1st of Shawwal of every Islamic month. People celebrate this festival with lot of keenness and joy. Girls wear henna on their hand on chand raat which is the last night of Ramadan.
Eid-ul-Azha
Eid-ul-Azha is another Eid is about observing the great sacrifice that was offered by Prophet Abraham (A.S.) celebrated on 10 Zilhaj on 12thmonth of Islamic Calendar. People get together for collective prayers in masajids and make sacrifice of  goats, sheep, cows or camels. Their meet is distributed among the family relatives, friends and poors.
Eid Milad-u-Nabi
Eid Milad-un-Nabi is celebrated to observe the birth of our beloved Prophet Muhammad (Peace Be Upon Him) on 12th of Rabi-ul-Awwal which is the 3rd month of Islamic Calendar. On this holy day, streets and mosques are decorated and Milads are conducted.
Shab-e-Barat
This is another religious Cultural Festivals in Pakistan which is celebrated on 14th of Shabban of Islamic Calendar. On this night, people offer prayersand send sweets and dishes to their relatives and children play with fireworks.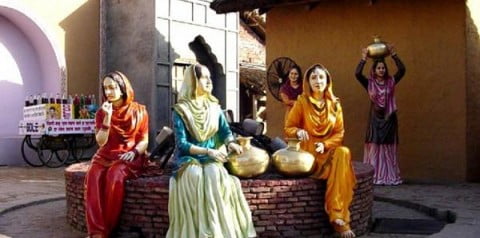 The above mentioned festivals are religious festivals. Some other cultural festivals are also celebrated on the arrival of seasons. Like:
Basant
Basant is celebrated on the arrival of spring season in the mid of February. Form last few years government has banned this Cultural Festivals in Pakistan due to security and its dangerous and life risk purpose but in few cities of Pakistan people still celebrate this festival. On this day people fly kites, get together for parties, and arrange festive dinners.
Some other festivals are celebrated which vary from province to province. As instance, in Sindh Horse & Cattle Show and Jashan-e-Larkanawhich exhibits the traditional sports, folk dances and handicrafts.
In Balochistan, Sibi festival is celebrated for fostering their culture and encouraging their people to flourish their values, work and handicrafts. Another festival that is celebrated only in Gilgit, Hunza, Skardu and Chitral is Nauroze which is their sports festival.
There is a long list of cultural festivals celebrated in Pakistan which includes national days, religious festivals and some other festivals related to geographical area. Some of which are mentioned below:
Pakistan Day / Resolution Day
National Horse & Cattle show
All these festivals in one or the other way exhibit Pakistani Culture and its society values and norms which is presentable all over the Pakistan with pride