Let's get the Essay on Cultural Festivals in Pakistan. The culture of the nation is the customary esteem of that country. Each nation has its way of living. In the same way, being an independent nation, Pakistan is a land that comprises very diversified cultures. Pakistani society is a mixture of distinctive areas and tribes, for example, Sindh, Punjab, Khyber Pakhtunkhwa and Balochistan. If we talk about food, lifestyle or clothing, the culture of Pakistan is matchless.
Essay on Cultural Festivals in Pakistan
The Pakistani people are very close to their culture and celebrate cultural festivals with great zeal. There are some festivals, which are celebrated nation-wise with complete unity. If we focus on the provinces of Pakistan, every province has its different culture and they celebrate them in a different style. Being an Islamic Republic Nation, religious festivals are celebrated with great fun and enthusiasm. The top festivals are Eid ul Fitr, Eid ul Azha, Eid Milad un Nabi, Independence Day, Defence day, Resolution Day, Mela Chiragan, Navroz festival, Shindor Polo Festival, Quaid's Day, and Iqbal's Day. In addition, some events are observed with devotion and respect like the 9th & 10th of Muharram. Muslims also observe the month of Ramadhan. There are some other events non-muslims celebrate like Christmas, Easter, Guru Nanak Birthday, and Holi. Let's have a detailed look at the list of some religious festivals and get an Essay on Cultural Festivals in Pakistan:
Eid-ul-Fitr:
Eid-ul-Fitr is a religious festival for Muslims and it is celebrated at the end of Ramadan after fasting and on the 1st of Shawwal of every Islamic month. Muslims celebrate this festival with a lot of keenness and joy. Girls wear henna on their hands on Chand Raat which is observed after the last fasting of Ramadan.
Eid-ul-Azha:
Also called Bari Eid in the Urdu language, this event is celebrated in the remembrance of a great sacrifice that was performed by Prophet Ibrahim (A.S.). It is celebrated on 10 Zilhaj. Muslims together offer Eid prayers in Masjids and make sacrifices of goats, sheep, cows or camels. Their meat is distributed among the family, friends and the poor.
Eid Milad-un-Nabi:
Eid Milad-un-Nabi is celebrated to observe the birth of our beloved Prophet Muhammad (Peace Be Upon Him) on the 12th of Rabi-ul-Awwal. A public holiday is announced on this day each year. On this holy day, streets and Masjids are decorated and Milads are conducted.
Shab-e-Barat:
This is another religious Cultural Festivals in Pakistan celebrated on the 14th of Shaban. On this night, people offer prayers and send sweets and dishes to their relatives and children play with fireworks.
Laylat ul Qadar (Night of Power):
During the last 10 odd days of Ramadan, Muslims pray all night to find the night of power. The exact date is uncertain so the Muslims pray on the odd nights to find forgiveness. It is the night when the Holy Quran was revealed. It has a lot of importance in Islam as there is a Surah named Surah Al Qadr that tells the importance of this night. Also read Mehnat Ki Azmat Essay In Urdu
Events Related to Pakistan History:
Along with religious events, some events are prominent in the history of Pakistan. Following are the events that are observed throughout the year.
23 March is celebrated as Pakistan Day. It is remembered as the day on which the Resolution of Pakistan was passed.
Youm-e-Takbir is celebrated on 28th May in remembrance of the day when Pakistan became 1st Islamic Nuclear Power.
On 14th August, the Independence day of Pakistan is celebrated.
Defence Day is celebrated on the 6th of September in memory of the martyrs of the Indo-Pak war 1965.
9th November is celebrated as the birthday of Allama Muhammad Iqbal.
On 25th December, Quaid-e-Azam Muhammad Ali Jinnah's birthday is celebrated.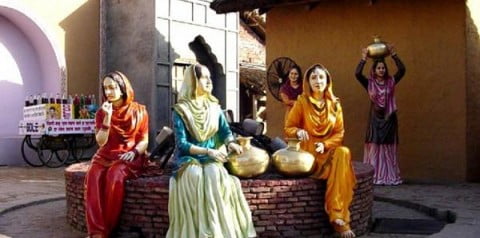 Cultural Festivals in Pakistan:
There are some local cultural festivals celebrated in Pakistan. Their detail is given below.
Mela Charagan is an annual festival in Punjab that marks the death anniversary of Sufi poet Shah Hussain.
The horse and Cattle show is held in Lahore every year in which there is a display of horses, camels, and folk dances.
Every year in July, Shandur Polo Festival is held in Chitral. People come here not only from Pakistan but also from other countries.
In Sindh province, Jashan-e-Larkana is celebrated that includes traditional sports, folk dances and handicrafts.
Urs Shah Rukn-e-Alam is held in Multan every year at Tomb of Shah Rukn-e-Alam.
In Balochistan, the Sibi festival is celebrated for fostering their culture and encouraging people to flourish their values, work and handicrafts. Another festival that is celebrated only in Gilgit, Hunza, Skardu and Chitral is Nauroze which is their sports festival.
These are all the festivals that are held in Pakistan every year. Government announces public holidays during some of these events. Some events mark the local holiday. So, this is all about the Essay on Cultural Festivals in Pakistan. Hopefully, you like this post. Follow us for more relevant posts.