Pakistan is blessed with so many beautiful places of nature. There are so many places in Pakistan which are soul refreshing, and impacts good effect on your mind by their lush green forests, elegant mountains, open fields, roaring waterfalls, mesmerizing lakes etc. There are a number of places but we are going to discuss 15 most beautiful places in Pakistan where you must visit. Each place is blessed by the stunning views and sceneries of nature and have its own charms. Most of the times we make to visit any point but we could take a right directions and that is why we get bound at that point. Many times we even have go towards a direction but we missed that place to visit. All you require is the right direction which is necessary before starting any journey. Just keep on reading this post to get the 15 beautiful places in Pakistan with name and I suggest you that you must visit these places to make a memorable trip.
15 Beautiful Places In Pakistan With Name Must Visit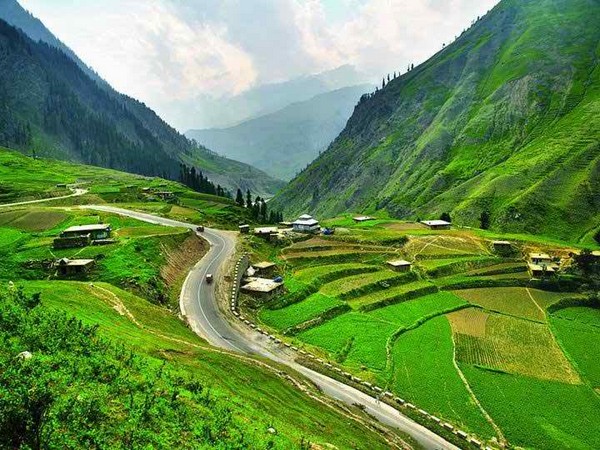 Neelum Valley:
Neelum Valley is one of the beautiful places in Pakistan. It is dense thick forested region present in Azad Kashmir. The elevation of this beautiful valley is 1615 m. the milky-white water falling from the mountains gives a mesmerizing scene of nature. It attracts the tourists from all over Pakistan to visit this fascinating valley.
Kalash Valley:
Kalash Valley is also the best place to visit in Pakistan. It is situated in Chitral District in Northern Pakistan. The inhabitant of this valley is called Kalash People. Kalash Valley is surrounded by the Hindu Kush Range. Its elevation is 1128 m.
Gojal Valley:
Gojal Valley is one of the elegant places which fall on the list of 15 beautiful places in Pakistan. It is situated at the far north of Pakistan. Gojal Valley borders China and Afghanistan with its border meeting the Chinese border at Khunjerab. It is the largest tehsil of Gilgit-Baltistan region.
Sawat Valley:
Sawat is undoubtedly the magic of nature which captures the heart of tourists from all over the world. It is also known as the mini Switzerland of Pakistan. It is a river valley and the administrative district of Khyber Pakhtunkhwa.
Kaghan Valley:
Kaghan is one of the dazzling places in Pakistan located in Mansehra district. Kaghan valley is also the major routes of the Lake Saif-ul-Malook. It is one of the best tourist points comprises of Lake Lulu Saar, Babusar pass, Lake Dutipat etc.
Guraiz Valley:
Guraiz valley is also one of the best among 15 beautiful places in Pakistan and you must visit this valley. Not matters it winter or summer. It is a lush green valley covered with the densely forested area. Guraiz Valley is located in the high Himalayas. It is located in between the border of Azad Kashmir and Gilgit Baltistan. It is restricted by the army but tourist can visit this wonderful place by the permission of army and enjoy the sizzling views of this valley.
Jhelum Valley:
Jhelum Valley is a 50km long valley comprises of lush green mountains. It is located in Jhelum district in Azad Kashmir. Garhi Dupatta, Chinari, Awan Patti, Chakothi,  and Chikkar are the most beautiful popular places attracts the tourists.
Leepa Valley:
Leepa Valley is one of the stunning places to visit. It attracts the tourist from all over the world. In winter season it gives divine look in addition to snowfall. It is located 105 km from Muzaffarabad. Best tourist point especially in winter.
Hushe Valley:
Hushe Valley is one of the highest mountainous valleys in Pakistan, due to this reason it is often called the Heaven of Mountain. It is the most famous tourist point for all over the world. Tourists from all over the globe visits and conquer the Peaks of Mountains of Hushe Valley.
Naltar Valley:
Natlar Valley is one of the famous places due to its charming colorful lakes. This beautiful valley is full of pine trees. Another special quality of this place is that the world tastiest potatoes are cultivated in Natlar Valley. It gives a look of paradise due to its beautiful views.
Shangrila Resort:
Shangrila Resort is the most famous resort. It is one of the most famous tourist spots in Skardu. Tourists from all over the Pakistan rushed at this place every year to enjoy the beautiful scenes of the resort.
Siri Paye:
Siri Paye is one of the wonder of nature and most beautiful place in the corner of Kaghan and 6 km from Shogran Valley. It's a green plateau on the top of the Hindu Kash. There are numerous freshwater ponds and wild yellow flowers fields refresh the soul of tourists of visitors.
Ayun and Bamburet Valley:
Undoubtedly there are no words t describe the beauty of this place. Actually, the Ayun district is the village of Chitral and located 12 km from Bamburet Valley. Both are most smashing and fascinating places of nature to visit. You must try to visit this place to enjoy the beauty of nature.
Ranikot Fort:
After China Wall Rannikot Fort is the second wall in the world. It is also known as the great wall of Pakistan.  It very logs wall spread on the fort to the mountains. Most of the people do not know about this spectacular place. I must recommend visiting this historical fort located near Sann, Jamshoro District.
Bahawalpur:
Bahawalpur is one of the best places to visit. It is one of the blessed cities with historical places. The most common destinations of historical tours are Darbar Mahal, Noor Mahal, Abbasi Mosque, Sadiq Ghar Palace, Lal Sohanra, Gulzar Mahal, and Central Library of Bahwalpur are the best tourist places must visit to refresh the historical memories.
Hence these are all the 15 beautiful places in Pakistan with name must visit during winter or summer. these places are the portray of natural art on the earth. You must let your eyes to watch these places live with your friends and family.