Jazz is considered as the No 1 mobile operator company in Pakistan. Like other tremendous services, Jazz is offering How To Share Jazz Balance. It allows its customers to share balance with their beloved ones during emergencies. How To Share Jazz Balance procedure is available on this website for Jazz customers. It is a Public Limited Company which was established in 1994 as a joint venture by Motorola and Saif group. The company was sold to Egypt based Orascom telecom and finally sold to Russian Company VimpelCom Group. Talking about its value-added services, it is also offering Jazz Share service. In this service now Jazz users can send minimum RS 15 to Maximum RS 500 so that you always stay connected with your loved ones. So check how to share balance in Jazz sim.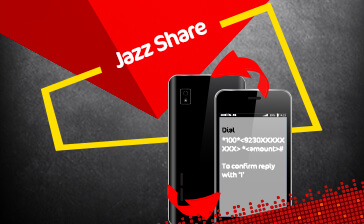 Jazz Share is one of the features of Jazz prepaid Sim. In this service, jazz customers can send the balance to others so that they can continue using Jazz services. If you are looking for how to share balance in Mobilink Jazz sim then follow this simple procedure.
Dial *100*<9230000000>*<Amount>#.
How To Share Jazz Balance from prepaid SIM:
Usage
Dial *100*<9230XXXXXXXX> *<amount>#
After this, confirmation will have to be sent by replying with '1'
Charges

Rs. 4.77 per share

*Tax inclusive
This is the code for sharing Balance in this network. When you dial this code and then press send/ call button, a reply will be pop up on your screen and you have to reply with 1 to share your balance. This mobile operator company charges RS 4.77 per share. Jazz will not responsible for any misuse of this service.
All Jazz Prepaid users, no matter which package they are using, they can use this service. This company is also offering different other balance share services like sponsor me in which a customer or beneficiary can ask someone to sponsor him/ her. If you are not using Jazz then you can convert your sim to Jazz network because this is the No 1 telecommunication company in Pakistan.