On this page, you are going to check Pakistan Railway Online Booking Seats 2021 Lahore, Karachi, Peshawar procedure online. Pakistan Railway is now offering online ticketing to its customers. A customer can reserve his seat online through the internet and there is no need to go anywhere to book a seat. Furthermore, you will be able to check the availability of the seat by sitting at home by following this online procedure. Pakistan Railways was established in 1947 according to the Pakistan Railways official website, here we want to clear one important thing that Railway system was introduced by the British government and after Pakistan and India separation Pakistani Railway system was controlled by the Government of Pakistan. The company is improving its services day by day because it is the cheapest way to travel all across the country.
Pakistan Railway Online Booking Seats 2021
All Pakistan railways user who wants to book the seat from Lahore, Karachi Peshawar or any other city can now book their seat online by sitting at home. Asides from this, you can also cancel your booking through the home which is also one of the best features of Pakistan Railway.
Online Railway Booking:
The procedure for online Railway booking in Pakistan is very easy. A person can book his seat online through the home and there is no need to visit the booking office at all. The procedure for Pakistan Railway Online Booking Seats is as follows.
Visit the official website of the Pakistan Railways which is www.pakrail.gov.pk
Now Select the Departure station and destination station
Select the date for which you want to book your seat
Click on Book Your Train Ticket
Now a popup message will appear on your screen
On that screen, you will be asked to provide the mobile number and password
Now log in with your Login Details
If you don't have an account then you can click on Click here to register button
Now Create your account by using your mobile number and password
Now enter your details and click on login to book your seat Online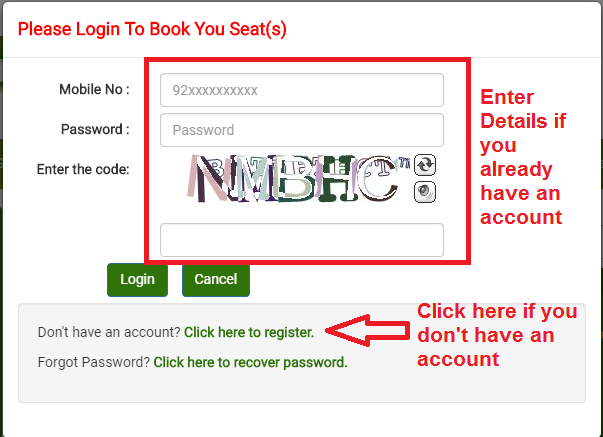 What is E-Ticket Railway?
E-Ticket Railway is an online ticket or electronic ticket of Pakistan Railway. Those Railway customers who want to purchase online tickets can purchase their tickets through the internet by using the E-Ticket Railway service 2021. This is one of the best services introduced by Pakistan Railways to its customers.
Pakistan Railway Ticket Price:
In order to check the fairs, click the above button. It will give you the rates of each class. Railway Ticket prices are different for each category. It is different for Economy, for AC, Business, AC Standard, and others.
Pakistan Railway Time Table:
Those who are planning to travel through Pakistan Railway can check Pakistan Railway Time Table 2021 online. The procedure is very simple, you can visit the official website and then click on the timetable to check the timetable of your concerned train. You can click here to check the timetable too. So check the Pakistan Railway Online Booking seat procedure.
So, this is all about Pakistan Railway Online Booking Seats 2021 Lahore, Karachi, Peshawar. If you want to book seats in Pak Railways, then the whole procedure is given above. If you still have any queries, then ask in the comment section.