National Assembly NA 120 constituency is considering as strongest seat for PMLN in Punjab. Supreme Court has disqualified our ex prime minister Mian Muhammad Nawaz Sharif due to corruption and properties in foreign countries. He is the former MNA of NA 120. After the disqualification of Nawaz Sharif, PMLN conducted a party meeting and in part meeting it is decided that MIan Currently Muhammad Shahbaz Sharif the younger brother of Mian Muhammad Nawaz Sharif will fight elections. If he became the member of National assembly from this seat, he will become the next prime minister of Pakistan for next 60 days. Election Commission of Pakistan is going to announce election dates in the first or second week of August and it is being expected that elections will conduct in the month of September. If the Shahbaz Sharif will win the elections he will become the next prime minister of Pakistan. PTI is also striving to win this seat of National Assembly because this seat will play vital role in elections.
NA 120 Lahore Old City Areas, By Election Schedule, Results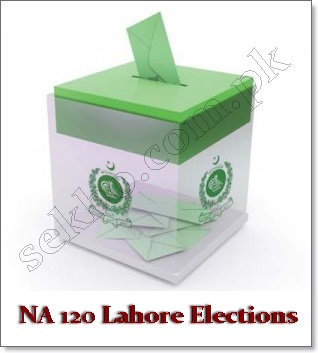 Election Schedule:
The next poll for this seat is going to conduct in next 45 days. NA 120 seat is currently vacant as the former Prime Minister was declared a corrupt person by Supreme Court and the court has disqualified him due to Panama leaks and for doing job in other country. It is being expected that Election commission of Pakistan will conduct elections in the month of September. The election date has not announced yet and it is being expected that election date will announce by the Election commission in first or 2nd week of August.
Election Result in 2013:
Nawaz Sharif (PMLN) 91666
Doctor Yasmin Rashid (PTI) 52321
Zubair Kardar (PPP) 2604
Hafiz Sana Ullah (JUI-F) 1152
Hafiz Salman Butt (JI) 952
Robina Advocate 813
Marghub Hussain 774
Allama Mujahid Abdul Rasool (PST) 631
Farrukh Habib 56
In previous election Mian Muhammad Nawaz Sharif was succeeded with heavy lead, as he got 91,666 votes and declared MNA of that area. Doctor Yasmin Rashid, who was from PTI, started that the elections were not clear and she lost due to corruption in elections. Many other independent candidates came head to head for this seat but they failed.
NA 120 Area:
National Assembly constituency NA 120 is consist of Old Lahore, This consistency includes many major areas like Islampura, Bilal Ganj, Urdu Bazaar, Anarkali, Cooper Road, Mayo Hospital, Sanda, Mozang, Lower Mall, Kareem Park, Moj Darya, Riwaz Garden, Sanat Nagar, Ram Nagar, Civil Secretariatm Bund Road, Ravi Colony. There are many other small areas which are also linked with NA 120. There are 456,960 voters are present in NA 120. It would be the do and die situation for Both Pakistan Muslim League Noon and Pakistan Tehreek-e-Insaf in coming elections.
NA 120 Result By:
PTI has declared Doctor Yasmin Rashid candidate against the Shahbaz Sharif for coming elections. People are curious to know that who will become the next prime minister of Pakistan. PTI is very confident to win the elections but the PMLN supporters are claiming that the Shahbaz Sharif will clean swipe in these elections. The situation is do and die for both parties as they are considering the most favorite parties for next elections. Other parties like Pakistan People Party and other parties are also looking for this seat too and their supporters are also in aggressive mood to win this seat in next elections.